May 24-30, 2006
home | metro silicon valley index | movies | current reviews | film review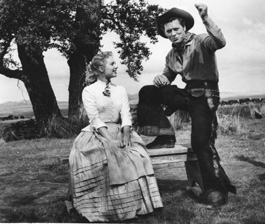 The Great Outdoors: Gordon MacRae and Shirley Jones sing up a Rodgers and Hammerstein storm in 'Oklahoma!'
High and Wide
'Oklahoma!' in 70mm: Everything's up to date in this epic musical at California Theatre
By Richard von Busack
THERE IS no shortage of tear-drenched ballads by the Kinks, but one of the best is on the band's Muswell Hillbillies: "She lives in a house that's near decay/ Built for the industrial revolution/ But in her dreams she is far away/ in Oklahoma USA/ With Shirley Jones and Gordon MacRae." Oklahoma! (1955) has always represented the ultimate escapist dream of a wild West and cowboying at its most exuberant. The success of "this pastoral opera" (Agnes de Mille) is partially due to MacRae and the kittenish 19-year-old Shirley Jones. Part of the charm, too, is that Oklahoma! is two kinds of Westerns in one. Certainly, MacRae out-Rogers Roy, to the delight of kids; here he was, the most robust singing cowboy in what was once a crowded field of competitors. On the other hand, director Fred Zinnemann gets to show his tough side; could either Anthony Mann or Budd Boetticher have elicited more twisted evil out of Oklahoma's smokehouse rat of a villain, Poor Jud? The opera-trained Rod Steiger's dead-serious performance gives the film a strong bass line. Steiger draws an almost James Stewart-style moment of frenzy from MacRae's Curly, blazing out disgust and anger at a wretch who can't understand the appeal of the sunlight and the big skies.
Tune by tune, Oklahoma! is Rodgers and Hammerstein's most artistically successful musical—it has fewer duds than Carousel or The Sound of Music. And as historian Ethan Mordent notes in his book The Hollywood Musical, "This is one of the most exact renderings of Broadway in Hollywood history ... the film followed the original version line by line, cut two songs that no one likes, retained the original orchestration and conducting, and let Agnes de Mille redo her history-making choreography." Accurate to Oklahoma as a state? Maybe less so. The film's locations (Arizona's San Rafael Valley, in Santa Cruz County near the Mexican border) aren't as lush and jungle as the Panhandle State. But even if alien corn and wax peach trees were shipped in from Culver City, the film still represents an indelible Oklahoma of the mind.
Oklahoma! plays, thanks to the Stanford Theatre Foundation, in a short run at San Jose's picture palace, the California Theatre. This is a rare screening of the film in its original 70 mm Todd-AO process. It is not well known that almost no novelty-screen process of the 1950s originated in that decade—not three-screen Cinerama (created in 1937), not 3-D on film (1921) and not VistaVision (a new name for an old process created in 1919). The exception was 70 mm Todd-AO. The technique was developed by Dr. Brian O'Brien of the American Optical (that's the AO) company and producer Mike Todd. Kenneth MacGowan writes in Behind the Screen that Todd sought a way to get a gigantic image with one projector and no retrofitting of theaters. Reportedly, he told O'Brien: "Doctor, I want you to get me something where everything comes out of one hole." The 70 mm format provides not just that one-hole convenience but also vast width and a superior illusion of depth. The opening sequence of MacRae riding high and the runaway surrey episode provide some of the traditional excitement of the Western movie tied up with the appeal of that eternally popular score.

Oklahoma! (1955) shows May 28 at 2 and 7pm and May 29-30 and June 1 at 7pm at the California Theatre, 345 S. First St., San Jose.
Send a letter to the editor about this story.