May 24-30, 2006
home | metro silicon valley index | movies | current reviews | film review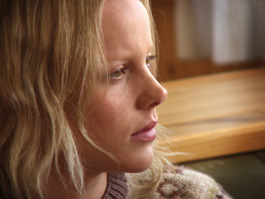 Outback O.C.: Abbie Cornish drifts from affair to affair in 'Somersault.'
Snow Maiden
Aussie 'Somersault' is too vague even to describe vague feelings of a runaway girl
By Richard von Busack
AFTER BEING busted making out with her mother's boyfriend, 16-year-old Heidi (Abbie Cornish) heads to the Australia ski resort town of Jindabyne. It's a short journey outside her hometown, Australia's capital, Canberra. But no matter how far you go, even to the Antipodes, you can always end up stumbling into an episode of The O.C. That's an extremely harsh judgement, I realize, and I'd like to back up. Slightly, anyway.
Heidi arrives in the mountains with a young runaway's hopeless hope of getting a job right away. She lives out her life like a sequence of one-night stands. The most promising of these pickups is Joe (Sam Worthington), a boy who enjoys Heidi on his own terms. He is a handsome, popular son of a landed local farmer, and unlike the rich kids around him, he doesn't think that the Australian Alps represent the limits of the world. But Joe has deep problems that he is hardly ready to face. For a time, Heidi finds shelter, thanks to a motherly woman (Lynette Curran) who runs a half-empty motel. After some hustling, the runaway teen lands a job behind the counter of a BP gas station, where she tends the cash register along with a wary local girl, Bianca (Hollie Andrew). This job gives her some independence, but Heidi's emotional dependence massacres her chances every time. And she suffers mockery from the snobby crowd that hangs around Joe.
Somersault looks like a better movie than it is because of director Cate Shortland's zero-degree visuals. No wonder it was acclaimed in Australia—no Aus movie has looked anything like it in decades, at least not since Jane Campion made Sweetie. The ice, snow and remoteness match the furtive, echo-heavy soundtrack by the band Decoder Ring. Shortland has an eye for long, lonely roads and mountain lakes that look like fjords. The natural richness contrasts with the squalid tourist-class accommodations. Roiling discos enclose steaming swimming pools. The gross, aimless drinking is contrasted to the more austere things that draw Heidi's interest: the rubbish heaps and the empty swimming pools full of scuttling leaves.
Shortland has a heavy hand with filters, and many of the landscapes are glazed with blue, until Heidi finds a pair of thrown-away ski goggles that rose-tint her world. If only Shortland hadn't done this effect twice, but then Shortland is a great repeater of gestures and images. Somersault has tension; you keep waiting for something terrible to happen that will crack this fragile girl. Shortland doesn't judge Heidi for her romantic folly. No, she just judges the boys who fall for Heidi's halo of shaggy blonde hair and her willingness to accept a free drink. They are only after one thing, these boys in their clownish ski caps. If only Heidi had done one selfish, hurtful thing to survive, like Agnes Varda's on-her-own heroine in Vagabond. The film's second-rateness is proved by the fact that the men are all creeps (except for the gay one). By contrast, the women are more in tune with the strange rhythms of the universe. They are mysterious creatures, in tune with the wind and the water, who preserve pictures of glitter-covered unicorns in their diaries.

Somersault (Unrated; 106 min.), directed and written by Cate Shortland, photographed by Robert Humphreys and starring Abbie Cronish and Sam Worthington, opens May 26.
Send a letter to the editor about this story.