05.27.09
home | metro silicon valley index | movies | current reviews | film review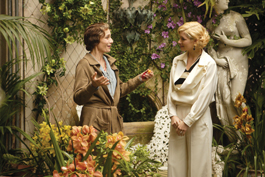 Photograph by Giles Keyte
MEETING MOM: Kristin Scott Thomas' Mrs. Whittaker (left) is hard for Jessica Biel to handle in 'Easy Virtue.'
Coward's Way Out
Stephan Elliott's version of 'Easy Virtue' does no good for Noel's reputation
By Richard von Busack
WHAT DRAWS a brash comedic temperament to a melodrama of manners? Stephan Elliott's The Adventures of Priscilla, Queen of the Desert is still the principal road movie about Australia—Terence Stamp's dry-ice delivery is tasty, and the director found alarming comedic qualities in Hugo Weaving that no director has seen since. And yet it's not a hilarious movie today; it pummels the viewer. Elliott has said he doesn't have the patience for costume dramas. It's hard to understand why he directed Easy Virtue; he is trying to refurbish Noel Coward like a man trying to refurbish an antique with Day-Glo paint. Elliott has opened the play up, certainly; he takes reverse angles through portholes, and uses reflections on glass. The story is opened up, but it is thoroughly clumsy. Only in the more or less preserved finale of the play (changed for a happy ending, but preserved) does Jessica Biel look less than awkward.
Circa 1928: Larita, an outré American female race-car driver (Biel), arrives at the English country mansion of her new husband, John Whittaker (Ben Barnes). Still in possession of the place is his dragon of a mother, Mrs. Whittaker (Kristen Scott Thomas), and his two mostly evil sisters. Preserved, like so many of the taxidermed animals hanging about, is John's formerly wayward stepfather, Mr. Whittaker. The older man becomes Larita's only ally as the round of parties, functions and social hypocrisies nearly drive her insane. Finally, an old scandal is disinterred, threatening to crush the marriage between the innocent Britisher and the experienced American lady.
To her credit, Biel has a goofy streak to go with her glamour: put racing goggles on her, and she looks a little like Deputy Barney Fife. And Colin Firth has been on a terrible tailspin lately; the role of Mr. Whittaker shows the beginning of a pullout. His Whittaker presents the ruins of a World War I vet. The character is but one representative of a popular figure from 1920s plays: what was then called "the man with the twisted smile," the bitter character bemusedly enjoying the gaiety of the Jazz Age while knowing that it was all a disgusting charade. You probably want to underplay such a part—that's where the fun would be. But Firth plays the "quietly sardonic" Whittaker as if he were auditioning for Jimmy Porter in Look Back in Anger.
Elliott's timing isn't bad, and Easy Virtue isn't a complete monstrosity, like the 2002 revamped-for-today's-audiences Importance of Being Earnest by Oliver Parker (there, Firth played Jack). But Elliott does go inadvisedly modern just as Parker did, adding a butt shot, a crunched Chihuahua and a bit about an English fox hunt I'd swear was pinched from Auntie Mame. There are cars in the film, so it's not a complete anachronism to use a jazz band's version of Rose Royce's "Car Wash" in the film—not an anachronism, yes, just an inexplicable peculiarity. Hitchcock told Truffaut that he had written the worst silent-movie title card of his career for his own 1928 film version of Easy Virtue. After the disgraced Larita is surrounded by paparazzi, she declaims, "Shoot! There's nothing left to kill." Noel Coward probably could have said the same about this script.

 EASY VIRTUE (PG-13; 93 min.), directed by Stephan Elliott), written by Elliott and Sheridan Jobbins, based on the play by Noel Coward, photographed by Martin Kenzie and starring Jessica Biel and Colin Firth, opens May 29 at Camera 7 in San Jose and CinéArts Santana Row in San Jose.
Click Here to Talk About Movies at Metro's New Blog
Send a letter to the editor about this story.