05.28.08
home | metro silicon valley index | the arts | books | review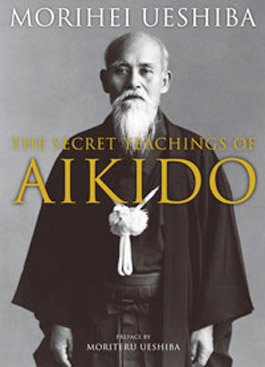 The Secret Teachings of Aikido
By Marianne Messina
The very reasons this book will delight and inspire spiritual questers and Aikido practitioners alike are the reasons it will frustrate and challenge them, too. Compiled from lectures and writings delivered to his Japanese students by Morihei Ueshiba (founder of aikido, died in 1969), the book's Japanese references presuppose a common background. Part Shinto (specifically Omoto-kyo)-based cosmology and part Eckhart Tolle (imagine the gray-whiskered founder of aikido as an Oprah darling), the "secret teachings" encompass disciplines common to many religious texts, from discussions of primary sounds as applied in mantra—Ueshiba calls a sound like "su," a "seed-syllable"—to hand gestures, as applied in mudra.
Approaching aikido technique, Ueshiba first establishes, "The universe is suffused with the void," nearly the same words Tolle uses to discuss "the power of now": "form and formlessness interpenetrate." Thus Ueshiba's book deprioritizes techniques: "Emptiness possesses the supreme power that activates matter. In order to be agile of body with lightning-fast techniques, one must dwell in the void." Understandably, this lesson could frustrate a novice aikido student expecting the book's "secrets" to include a few quick tricks.
The first book consisting entirely of Ueshiba's own words, The Secret Teachings has been called "the most important book no one will ever read" by Aikido of San Jose's sensei, Jack Wada. And it is unfortunate that Ueshiba's book will likely be shelved under "Sports and Fitness" while Tolle's is a bestseller. But Ueshiba's book does have more in common with books about mind-body systems like qigong, tai chi and yoga: "Attain enlightenment through practice," says a line from one of the lyrical Japanese poems that makes up the final chapter ("Doka"). The last prose chapter, however, begins to sound like practical aikido instruction, though only in the broadest sense. "Get behind the attack," he instructs, or "Always keep yourself in the center. If you lose the center, you lose control." Victory is not about the opponent: "In fact, in Aikido it does not matter if an opponent is there or not."
Ueshiba's martial art is now global and his astonishing skills renowned. Fuzzy Ueshiba videos circulate on YouTube—his attackers flying off before apparently making contact. His words, however, share the strengths and weaknesses of religious texts—they are either dubious or enlightening, depending on the reader. They present revolutionary ideas on the one hand and simplistic redundancies on the other. The Secret Teachings creates a whole symbology, redefining terms already traditionally rich, speaking in complex images, offering prescriptions that can be taken multiple ways—is it metaphor or visualization? Like a good book of Sufi poems it can resonate, whether you buy or understand it all, in irresistible glimpses: "Never become stagnant. Train your body, forge your spirit, and swallow the world in one gulp!" (By Morihei Ueshiba, translated by John Stevens; Kodansha International; 152 pages; $35 cloth)
Send a letter to the editor about this story.