05.28.08
home | metro silicon valley index | silicon valley restaurants | review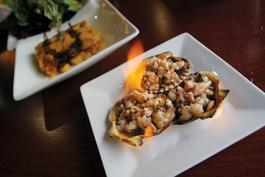 Photograph by Felipe Buitrago
LIGHT MY FIRE: A bit of tableside drama illuminates the conchitas al fuego at Nazca.
Peru to You
Nazca brings the diverse tastes of Peru to San Jose
By Stett Holbrook
DOWNTOWN San Jose's staid restaurant scene just got a lot more interesting with the opening of Nazca Peruvian Cuisine. First-time restaurateurs Martha and Jose Bohorquez spent eight months remodeling before opening in March. They added a sleek open kitchen and remodeled the dining room in dusky tones of red and brown.
The Bohorquezes love Peruvian food but tired of driving to San Francisco to get it. So they decided to open their own restaurant and traveled to Peru to recruit a consulting chef to design the menu and train the staff. The chef, Altaea De Bernardi, shuttles between Lima, Peru and San Jose to oversee the restaurant, while another Limeño, Amparo Zuniga, handles the day-to-day duties in the kitchen.
Nazca bills itself as a modern Peruvian restaurant. It offers a well-rounded menu of Peruvian standards as well as several fusion dishes that push the boundaries of a cuisine already steeped in numerous culinary traditions. While not all dishes hit their target, it is still a refreshing change to the same old steakhouses and chain restaurants that seem to dominate downtown San Jose.
Of all South American cuisines, Peru's is the most diverse, drawing on influences from China, Japan, Italy, Spain and its own indigenous populations. Add Peru's distinct culinary styles from the coast, the Andes and interior jungles and you get a wonderfully rich and complex cuisine. In fact, the world owes Peru a debt. Potatoes, chiles, corn and tomatoes all originated in Peru.
Ceviche, lime-marinated seafood, is probably Peru's best-known dish, and it's quite good here. Ceviche de pescado ($15.50) is available with the fresh fish of the day, and on all my visits the lucky fish was halibut. The diced, mild fish is the perfect vehicle to carry the bright, refreshing flavors of lime, aji chiles, cilantro and red onion.
The dish provides a lot of fish for one person so this might be one to share as an appetizer. Come to think of it, all of Nazca's portions are quite large, so consider sharing, a strategy that will help cut the cost of what can be an expensive lunch or dinner.
Tiradito is essentially sashimi, a traditional Peruvian dish that reveals its Japanese influences. Tiradito Nikkei ($15.50) combines thinly sliced raw halibut with what's described as an oyster and coconut milk vinaigrette but is really a thick glaze that was severely overapplied. I liked the salty, sweet flavor but could have done with just a squiggle of sauce instead of a bucketful. The most delicious dish I tried on the extensive menu was the tacu tacu de camarones ($15). It's amazing that what amounts to a crispy cake of puréed rice and beans can reach such heights of savory deliciousness. Add shrimp braised in a chupe sauce, a tomato-based seafood bisque, and it's even better.
Another dish that's far better than it sounds is mini causitas revoltosas, little, artfully arranged stacks of mashed-potato cakes topped with panko-crusted tuna tartare, crab meat, shrimp tempura and aji chiles.
Seafood dishes are particularly good at Nazca. Parihuela ($18.50) is Peru's version of bouillabaisse, a thick tomtatoey stew larded with clams, halibut scallops, squid, shrimp and a spiny langoustine. Conchas Philly ($13.25) is another winner—six bay scallops each served in a ceramic white spoon in a buttery miso sauce topped with crispy shards of phyllo dough.
I also liked the lenguado braseado ($21.95), deftly cooked pan-fried halibut ladled with a mushroom and tomato sauce and served over a dune of puréed corn. As good as the fish was, the kitchen relies too heavily on halibut. There are other fish in the sea.
Lomo saltado ($20.95) and aji de gallina ($14.50), two classics of Peruvian food, came up short. The first is a hearty dish of sautéed strips of filet mignon, red onions, bell peppers and french fries in a light soy sauce and garlic sauce. It's a huge plate of food and chomping through it became a chore halfway through. Aji de gallina combines pulled chicken in a monotonous creamy sauce made of aji chiles and walnuts.
For dessert, I was hoping for a taste of Peru's famous lucuna ice cream, a treat made with a unique Peruvian fruit, or alfajores, a layered cookie filled with dulce de leche. Instead there's a humdrum roster that include chocolate cake, apple- and banana-filled wontons, profiteroles and a mango sorbet/raspberry and meringue dessert. The pastry served with the profiteroles ($7.50) was heavy and muffinlike, and the sorbet dessert was coarse and crunchy. The fresh berries were good, though.
Service is knowledgeable and attentive, but there can be long waits between dishes, even when the restaurant is barely occupied. In spite of a few less-than-successful dishes, Nazca deserves to be much busier. I hope the kitchen and servers can keep up if and when the crowds come. Either way, most of the food is worth waiting for.
---
Nazca Peruvian Cuisine
Address: 167 W. San Fernando St., San Jose
Phone: 408.295.2828
Hours: Lunch 11am–3pm Mon–Fri, dinner 5–9pm Mon–Wed and 5–10pm Thu–Fri, Sat 11am–10pm
Cuisine: Peruvian
Price Range: $12.50–$28.75
Send a letter to the editor about this story.