05.28.08
home | metro silicon valley index | movies | current reviews | film review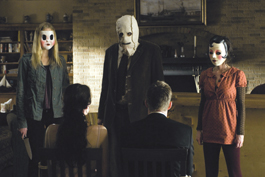 Glenn Watson/Rogue Pictures
MASK MASTER: Three masked strangers make life miserable for Liv Tyler and Scott Speedman.
The Invaders
Your home is your castle? Tell it to 'The Strangers.
By Richard von Busack
IF The Strangers is merely a home invasion movie, it is a home-invasion movie in the sense that The Birds is; what happens is punishment for humans who have lost faith in each other. Director Bryan Bentino starts off with some familiar wool-pulling: titles that assure us that The Strangers is based on a true story and that the FBI records 1.5 million violent crimes a year in America. Armed with these incontrovertible facts, we head to a rural intersection at 3am; inside a car we see a couple enduring the teary silence at the end of a bad fight. James (Scott Speedman) and Kristen (Liv Tyler) are reasonably young, and it isn't apparent what has set them off. Soon, it is clear, though, that they are not at home; they are staying at a place full of old-people's furniture and pictures. Since the house is always an important co-star in a home-invasion movie, Bentino smartly lingers over the surroundings. People just feel safer in their parents' house.Here's something else that's different: James takes what would be the female role in the usual movie angle on this lover's quarrel. He seems to have proposed marriage and Kristen seems to have rejected, and that's why he's teary and wounded. He goes to fetch her a pack of cigs at the convenience store. While he is gone, the strangers arrive. There are three of them, masked: two kewpie dolls and a hobgoblin (Gemma Ward, Laura Margolis and Kip Weeks). They work at their little 4am project with the fury of poltergeists and the stealth of assassins.
Bentino goes without popups, usually preferring the trick of letting us see what the persecuted couple doesn't. It feels so good when this movie ends, which I guess is praise. Bentino also seems to have done without the Marxist angle, used in the original French source, the 2006 film Ils. The small country house, with its shabby roof and imitation shutters, doesn't invite any of the audience's class contempt, unlike the house of Mr. And Mrs. Beige in Funny Games.
The soundtrack by tomandandy mixes nerve-winching sounds and intelligently chosen tunes. Bentino answers the question "Who'll be the first to be smart enough to use Joanna Newsom's music in a movie?" with that strange angel's "The Sprout and the Bean." A scratchy record of Merle Haggard's "Mama Tried" sounds like a musical explanation for inexplicable evil. Even the spokesperson for the three fiends seems a little musical: the voice under the mask comes across as jaded and dry—a sound-alike for Kim Gordon in Sonic Youth. Bentino offers no explanation for the mystery of how the trio can creepy-crawl so noiselessly, appear in front of someone they were behind and so forth. When some director solves the logistical problem, maybe I'll learn to like this kind of film instead of admiring its craft when it works—and The Strangers does work very well.

THE STRANGERS (R; 90 min.), directed and written by Bryan Bertino, photographed by Sova and starring Scott Seedman and Liv Tyler, opens May 30.
Send a letter to the editor about this story.