May 30-June 5, 2007
home | metro silicon valley index | music & nightlife | profile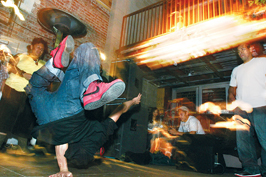 Photograph by Cathy Bauer
B-boys to the break of dawn: Stuck in a freeze, a B-boy reaches out for help.
Break It Down
Bobby Nguyen's breakdancing competitions are anything but routine
By Mike Connor
BOBBY Nguyen's official title as an employee of the city of San Jose is "Recreation Leader" at the Alum Rock Youth Center. But once it became clear that everything he does relates to break dancing, he adopted his working title: "Break Dancing Coordinator, City of San Jose."
How cool would that look on a business card? It's a part-time gig, but its mere existence is like a tiny halo floating atop City Hall's dome.
Nguyen himself is a lanky young B–boy with style to spare, and he's putting his fashion sense to good use by creating a line of clothing, which he'll undoubtedly be sporting this Saturday. Nguyen is hosting The Epitome, his fifth triannual breakdancing competition at the Alum Rock Youth Center, also featuring DJs, MCs and graffiti writers. It's not by chance that his events incorporate all of the four elements that comprise hip-hop culture.
"I wanna promote the positive side of hip-hop culture," says Nguyen. "The cars, the girls, the money—it's not about that. But some people get lost because they're not in our culture, so I wanna show 'em that this is what real hip-hop culture is about, and this is our community in San Jose."
Nguyen has immersed himself in the San Jose hip–hop community since he started teaching breakdancing classes in 2002. It was slow going at first, with eight or 10 kids in a class, but things took off when he switched the classes from a subscription plan to a flat $1 drop–in fee. The competitions began as a way to subsidize the cheap rates for the students, and over the years he's bounced around the city to a bunch of different teen and community centers, looking for the right combination of location, size and freedom to do his thing.
Nguyen fell in love with hip–hop and breakdancing (also called B-boying and B-girling) when he was a freshman at Piedmont Hills High School, where he was the "new kid."
"In the first week or two of school they have these opening rallies," Nguyen recalls, "I'm sitting there in the bleachers and I don't know anybody, and I see this guy come out with a bubble jacket, and they play this music and I'm like, 'What's he gonna do?' He's like hopping around, and then he just starts spinning and doing all this weird contortion stuff, and I was all, 'That's me.'"
Like most breakdancers, Nguyen taught himself by watching other people—sometimes in tiny little videos on the internet, which, back in '97, pretty much sucked for that purpose.
"YouTube has changed the face of B-boying," says Nguyen, sounding like an old-timer at 24. "It's unbelievable because now you can watch a whole video, or you can see people from Korea and Japan."
Indeed, if you haven't seen any breakdancing for a while, a quick search on YouTube will probably blow your mind, or at least help you to see that the phenomenon that started in the Bronx in the '70s is still global and still evolving. The styles are sophisticated and varied, while the acrobatic moves have become displays of superhuman strength and agility.
The judges at Nguyen's events look for both power moves and style, but Nguyen also has some other tricks up his sleeve to keep things interesting.
"Only one routine per round," he says, "and you can't do commandos." He's right, I can't—even if I don't know what they are, but Nguyen explains them as a team skipping their opponents' turn. Combined with the low price of admission and his willingness to allow cameras, food, nonalcoholic beverages and people to come and go as they please, Nguyen thinks his bias against routines and his emphasis on fairness and individuality are what set his events apart.
"I think that's the strong point," he says. "You have to show what you're made of."
Alum Rock Youth Center's Breakdancing Fundraiser happens on Saturday (June 2), 4–10pm, at Alum Rock Youth Center, 137 N. White Road, San Jose. Admission is $5. For more information, visit www.myspace.com/miavie.
Send a letter to the editor about this story.