May 30-June 5, 2007
home | metro silicon valley index | silicon valley restaurants | review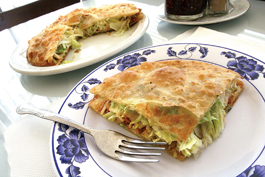 Photograph by Felipe Buitrago
I'm only Hunan: Meat pies at the San Jose institution Hunan Taste.
Hunan Resources
Even after 19 years, Hunan Taste is going strong
By Stett Holbrook
THE restaurant business, like American culture at large, is obsessed with youth and beauty. Forty may be the new 30, but it's still better to be 20. Just as today's movie stars, athletes, automobiles, and musicians will soon be cast aside for younger and more beautiful replacements, established restaurants face similar pressures from hot new restaurants that stride onto the scene with brash young chefs and newfangled cuisine.
Sometimes an old restaurant can Botox itself back to youth with a revamped menu or new chef, but more often than not the efforts end up looking like a bad comb-over that can't hide a balding restaurant concept. (Is there such thing as a good comb-over?)
Getting old sucks, but Hunan Taste seems to have found a fountain of youth. The San Jose restaurant is no hot young thing. The restaurant's spare, nondescript North Fourth Street location isn't turning any heads. And at 19 years old, it's no spring chicken either. But Hunan Taste is something quite rare. It's a hot old thing—in more ways than one.
The restaurant is run by the husband and wife team of Agnes Song and Sinchi "Sonny" Sirivoranankul. Sonny's from Thailand and Agnes grew up in Burma after her family fled Hunan province to escape social and political upheaval in China. Years later, Agnes' mother, Kongshank Song, went on to become a chef at San Francisco's Hunan Restaurant. When she retired nearly 20 years ago, she opened Hunan Taste. She later turned the restaurant over to Agnes and Sonny.
The restaurant continues to pack them in all these years later because the food is so good. As the name implies, the restaurant specializes in the fiery, hearty food of China's Hunan province, making it one of the few restaurants in the Bay Area to do so. The restaurant is not for those with a low tolerance for spicy food, though the kitchen can tone it down.
Inside, the restaurant's sponged yellow walls are hung with framed restaurant reviews (including two from Metro many years ago) and various awards. My two visits were at lunch and on both occasions the place was filled with city and county workers (the restaurant is four blocks from the Hedding Street courts) and savvy suits who know where to get a good meal.
By all means, start with one of the Hunan salads, either the bean sprouts ($6.75) or the sublime eggplant ($6.75). The mung beans are tossed with sliced cucumbers and dribbled with a world-class peanut sauce. It's light and refreshing. The eggplant is even better. Two halves of Japanese eggplant are steamed so the flesh becomes delicate and creamy and then dressed with a ginger and garlic spike sauce that's cool and lively.
Hot and sour soup ($5.50-$8.50) is another great way to start your meal. For me, the soup is often too sweet and too thick, but here it's like tasting it for the first time. It's more spicy than sour and has a light base that floats fat slices of bamboo shoots, wood ear mushrooms, bits of pork, bean curd and green onions. It's dusted with white pepper on top and it's just great.
The kung pao chicken ($8.50) is another revelation. You can get the dish at almost any Chinese restaurant, but it's often gluey and sweet and lacks the firepower for which it's known. It's not actually a Hunan dish. Szechuan and Guizhou province to the south both lay claim to it but chefs from Guizhou omit the peanuts. Whatever its roots, the thin but glistening sauce is barely sweet and loaded with crushed whole chile peppers, onions and flecked with red chile flakes and black beans. Crunchy roasted peanuts round out this flaming hot dish.
Smoked meats are characteristic of Hunan food and there are a couple of good smoked dishes here. Smoked ham with braised green beans ($9.25) is delicious and so is the colorful smoked chicken ($9.95), a dish made with tender pieces of chopped, smoked chicken stir-fried with onions, carrots and bamboo shoots in an incendiary black bean chile paste sauce.
Hunan shredded pork ($8.95) is another winner. Like-size strands of pork and bamboo shoots are stir-fried with wood ear mushrooms, fresh spinach and eggs in a sumptuous spicy black bean sauce that's deep, earthy and of course, spicy.
Sonny moves about the dining room with enthusiasm and energy that belies his nearly two decades on the job. When I had a question about the menu, I only had to look up to meet his eyes and he came right over. He considered my questions about Hunan food like he'd heard them for the first time and gave me several good suggestions. What a contrast to the sullen drones who also work as servers here.
As Hunan Taste closes in on two decades, it's still in top form. Sometimes the prize goes not to the young and the quick but to the older and the wiser. That gives hope to us all.
---
Hunan Taste
Address: 998 N. Fourth St., San Jose.
Phone: 408.295.1186.
Hours: 11am-8:30pm Mon-Sat.
Cuisine: Hunan.
Price Range: $5.75-$11.
Send a letter to the editor about this story.