May 30-June 5, 2007
home | metro silicon valley index | columns | live feed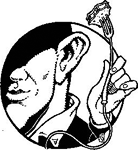 Live Feed
Hot Tamales
By Stett Holbrook
THE THIRD annual Story Road Tamale Festival gets bigger each year. This year's June 2 event at Emma Prusch Farm Park in San Jose is expected to be the biggest of all. And I'm not just talking about the crowds, which are expected to reach 20,000.
Festival organizers have invited three chefs from Mexico's Institute of Gastronomy in the state of Hidalgo to prepare a zacahuil tamale, a giant, pre-Columbian tamale seldom seen north of the border. The tamale comes from the Huasteca region on the Sierra slopes of northeastern Mexico. The huge, chile-powder-tinted tamale is stuffed with pork and sometimes even whole turkeys and chickens. The mixture is wrapped up in banana and maguey leaves and baked in a charcoal or wood fired oven that's covered with bricks and sealed with clay. The king-size tamales are typically served at festivals, weddings, quincearas and christenings and especially during Christmas time.
The zacahuil event is part of a cultural and gastronomic exchange between Mexico, the Story Road Tamale Festival, the Culinary School of Arts of San Jose's Center for Employment Training and the Fairmont Hotel.
The arrival of the zacahuil at Emma Prusch Farm Park starts at 11am. Upon arrival, a group of Aztec dancers and a delegation of the chefs and students who participated in the project will lead the tamale in a procession to the entertainment stage.
In addition to the zacahuil, the event will feature about a dozen tamale vendors selling traditional and more inventive tamales. Azucar, a downtown San Jose restaurant, will conduct a demonstration in the preparation of Cuban tamales. There will also be a contest for the best tamale as well as a tamale eating contest. Two stages of live entertainment will feature Pete Escovedo with the Nu Day Band as well as mariachis and folkloric dancers.
The Tamale Festival was created to help the Story Road area promote economic growth, bring community together and honor the history and culture of the Story Road neighborhood. The Story Road Business Association is a nonprofit organization comprised, managed and operated by small business owners and volunteers with the cooperation of the San Jose Redevelopment Agency. For additional information, go to www.storyroad.org or call 800.5.TAMALE.
Send a letter to the editor about this story.