May 30-June 5, 2007
home | metro silicon valley index | the arts | books | review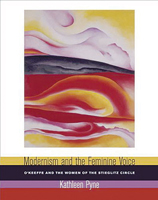 Modernism and the Feminine Voice: O'Keeffe and the Women of the Stieglitz Circle
(By Kathleen Pyne; UC Press; 339 pages; $34.95 paper.)

By now, the tangled artistic and romantic ties that connected photographer Alfred Stieglitz to his muse and protégé Georgia O'Keeffe in the 1910s and '20s is the stuff of legend. Stieglitz's portraits of the natural, sensual O'Keeffe, and O'Keeffe's sexually charged paintings of unfolding flower petals, defined the New York Modernist movement at the beginning of the last century, with its celebration of free love and identification of the feminine psyche as the root of elemental creation. In Modernism and the Feminine Voice, art professor Kathleen Pyne does a remarkable job of resurrecting the careers of the female artists who preceded O'Keeffe in Stieglitz's pursuit of a modernist aesthetic grounded in his curious notion of the "woman-child." In order to free his own masculine creativity, Pyne argues, Stieglitz needed to liberate women from their domestic straitjacket as proper Victorian wives and mothers. This meant striving for a reconnection to what Stieglitz—who was heavily immersed in the new field of psychology—saw as the "mystic, child and primitive" hidden within the repressive social definition of the woman. In his bizarre, posthumously published manifesto "Woman in Art," Stieglitz asserted that "woman's true self was definitively a child self, buried and veiled in obscurity at the site of her sexuality." Along the way, Stieglitz mentored, then dropped, several women photographers and artists, who haven't really gotten their due until now, among them Pamela Colman Smith, Anne Brigman and Katharine Nash Rhoades. From a modern (rather than modernist) perspective, the married Stieglitz's multiple attempts to seduce women artists in the name of creative liberation can look rather creepy. Eventually, Stieglitz found O'Keeffe, who "exemplified the natural intuitive creativity of the child." Stieglitz made O'Keeffe famous, but she soon needed to push back and carve out a more mature identity for herself. The book includes a generous selection of illustrations.
Review by Michael S. Gant
Send a letter to the editor about this story.