May 30-June 5, 2007
home | metro silicon valley index | movies | current reviews | film review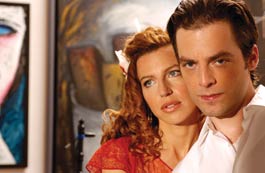 Star gazers: Tanna Frederick and Justin Kirk hope to make it big on the big screen in 'Hollywood Dreams.'
My Little Margie
Old-movie themes swamp Henry Jaglom's look at the acting trade, 'Hollywood Dreams'
By Richard von Busack
A THIN LINE separates "aspiring actress" from "crazy bag lady," as Hollywood Dreams suggests. Henry Jaglom's latest depicts the dedication of a climber. Margie Chizek (Tanna Frederick) is so recently arrived in L.A. that she hasn't had her teeth, her nose or her name fixed. A visionary producer called Kaz (Zack Norman) rescues her from homelessness. Alarms go off when we see how easily Kaz lets this woman into his household, but he harbors no immoral purpose. He is gay. While staying at Kaz's pool house, Margie starts up an interest in another protégé living there, Robin (Justin Kirk), a Jude Law–style actor who has been intriguing the press with the unclear matter of his sexuality. Former LA Weekly critic F.X. Feeney plays an newspaper interviewer trying to winkle the truth out of Robin. The strategies and counterstrategies on both sides during the interview are believable, if not the payoff: the newspaper article suggests that Robin and Margie are an item, thus scandalizing the gay mafia, which has a business interest in Robin's mysterious sexuality.
This group of sexually confused pretenders enlarges when Aunt Bee from Iowa shows up (Melissa Leo, a great actress in a decaying piece of improv). In an evening confessional scene, Margie admits she was a "L.U.G. in college": "Lesbian until graduating." Was that just an experimental stage, or was it a part of herself she killed off in the name of ambition? It's hard to imagine what Jaglom's end of the cinema world is like, but he doesn't seem to acknowledge the existence of the cinema world that we all know it. If there is a gay mafia running the movie business, it's probably not just one aged producer (Seymour Cassel). Another problem: in spite of its ultracheap surface, Hollywood Dreams reflects classic cinema, as if it were still the law in force. Margie's first place to live has a gang of girls living in one room, like Stage Door. All the references to Rogers and Astaire and the snippets from Born Yesterday and The Women—how would all of this all be part of the field of vision of a naive innocent girl from Iowa?
Dwelling in her self-imagined movie star world, Frederick is a tall thing with a bushel of red hair, a wide toothy mouth and a Second Avenue schnoz. She is the kind of full-force performer who makes you hide from little theater. But how can she be that naive? Margie is very athletic—we see her boxing in a sports bra, and she's corded with muscle. Somehow she can't imagine any kind of movie roles besides old-movie glamour. (Couldn't she have looked in the mirror and realized she was more likely to be cast as Eve Arden than Katharine Hepburn?) She's partially delusional—late in the story Jaglom grafts a Tennessee Williams trauma into the story—but no one ever calls her on her delusions. We do get glimpses of sinew under the fluff. Jaglom's aesthetics resemble those of the painter Degas. Here, as in Last Summer in the Hamptons, what interests him is not the spectacle onstage but the performers warming up for it. His specialty is a careful observance of the contortions of an artist, preparing themselves for the work ahead.

Hollywood Dreams (R; 101 min.), directed and written by Henry Jaglom, photographed by Alan Caudillo and starring Tanna Frederick and Justin Kirk, opens June 1 at Camera 12 in San Jose.
Send a letter to the editor about this story.