May 31-June 6, 2006
home | metro silicon valley index | columns | silicon alleys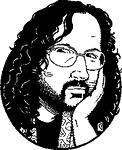 Silicon Alleys
Tour the Underbelly
By Gary Singh
LOCAL MUSICIAN, songwriter and celebrity Lisa Dewey runs her own sightseeing tours of San Jose because she's sick and tired of listening to her friends from out of town bash the place. At her home recording studio, she's hosted folks from as far away as Germany and taken them on explorations of what she calls "cool industrial wacky way-old-school San Jose stuff." That could mean dilapidated buildings in Japantown, the former site of the old brick roundhouse where Lenzen Avenue meets the railroad tracks or a hill at the Heritage Rose Garden just south of the airport. That last particular mound of grass, she told me, used to be a great place to bring a girl on a date, drink wine, chew tobacco and just get wrecked. As we stood on that mound, she pointed across the street to where a large oak tree used to be and complained that it was no longer there. She said she used to visit this mound, lie back and watch the planes fly immediately overhead. "It sounded like Star Wars," she recalled.
Now—full disclosure—Lisa and I go way, way back. We both graduated with music degrees at SJSU in the spring of 1994. I was in her senior recital and she was in mine. We also had three mutual friends pass away in a short amount of time during those days—a sequence of events that still lingers in both our psyches.
These days she has her own record label, Kitchen Whore Records, and several bands have rocked out at the 24-track recording studio in her house, which she calls the Dewey Compound. She has at least four albums out and has toured all over the country numerous times but remains steadfastly cemented in San Jose. If people can walk around Manhattan talking about a local place that made it into a Suzanne Vega song, then I can definitely have Lisa Dewey drive me around while we explore the bowels of San Jose. Also—and this is a another thing I always bring up whenever I run into her fans—on Oct. 28, 1993, I had Lisa onstage in a ski mask, while a dozen of us took sledgehammers to an amplified Honda Civic.
Dewey's tour of San Jose's underbelly took me mostly between and around downtown and Willow Glen. Turns out one of her favorite buildings is a ramshackle rundown heap on Sixth Street in Japantown. "The architecture in Japantown is very interesting," she said. Another main stop on Dewey's tour is the industrial wasteland that inhabits Bassett Street just west of Highway 87. Proceeding north on Terraine Street from the Fallon Statue, one is taken past empty warehouses, vacant lots, chain-link fences and weeds. Turning left underneath Highway 87 onto Bassett, the road ends at what has to be one of the best deadend streets in all of San Jose. There you can feast your eyes upon an old brick building that used to be the warehouse for Hart's Department Store—probably about 40 years ago. In fact, on the back of the building facing the railroad tracks, it still says "Hart's. San Jose's Big Department Store. Warehouse No. 2." You can either see this from the freeway if you're driving south on 87, or you can walk back behind the place and check it out, while segueing from the broken car parts, tires, rusty machinery, unearthed tree stumps and piles of clothes. The tour also includes a site inspection of the Dewey Compound itself, a place with two black cats and a '58 Chevy pickup. I was going to ask to see the bedroom, but I chickened out.
Throughout our tour, Lisa could not stop complaining about the driving habits of everyone else on the streets of our hometown. She constantly cussed everyone out. "The drivers in San Jose have gotten progressively worse," she said as we exited 280 onto Bird Avenue, headed toward Willow Glen, our final destination. We wound up kicking it at Taqueria Tlaquepaque No. 2 at the desolate intersection of Willow and Delmas. Even though she owns real estate, Lisa says she still likes to take dates to cheap taquerias. And her band, Lisa Dewey & the Lotus Life, will headline the San Jose Gay Pride Festival on Sunday, June 11.
Contact Gary Singh or send a letter to the editor about this story.