May 31-June 6, 2006
home | metro silicon valley index | silicon valley restaurants | review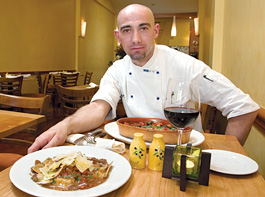 Photograph by Felipe Buitrago
Krystal Elegance: Chef Krystian D'Angelo with a couple of his gourmet creations at Vittoria.
La Dolce Vittoria
Stylish with a sharp, light menu, Vittoria is a perfect fit for Los Gatos location
By Stett Holbrook
SOME restaurants could exist anywhere. The food may be good, but they don't reflect their surroundings. They're just there. Others are a microcosm of their location at large, an extension of the neighborhood. Move them to another part of town and they wouldn't fit in.
Vittoria Ristorante Italiano is tailor-made for downtown Los Gatos. With its indoor-outdoor lifestyle, sidewalk cafes and elegant but understated displays of wealth, downtown Los Gatos exudes a kind of Northern California-meets-Tuscany image. The occasional Ferrari purring down the road only adds to the picture. Vittoria totally gets this.
Like the thin, well-manicured women sauntering down North Santa Cruz Avenue, Vittoria exudes a comfortable confidence that it's part of the good life. The 6-week-old Italian restaurant caters to the town's image with big glass doors that swing open to let the warm weather in. The yellow, sponge-textured walls and wooden floors and tables give the dining room a clean, sunny-weather glow. The prices and décor occupy that sweet spot between fancy and casual, kind of like the city itself.
Vittoria replaces Pigalle restaurant and is owned by the Giovannotto family, who also own Palo Alto's La Strada restaurant. Executive chef Donato Scotti runs the kitchens of both restaurants.
The open kitchen and glowing wood-fired oven turn out a Sicilian-based menu that hits the mark more often than not. The food is lighter and more elemental than many Italian restaurants, an approach that places ingredient above technique.
To get things rolling, try the trio of olive oils ($3). The oils come from Sicily, Tuscany and Sardinia, respectively, and if you've never experienced how different olive oil can be, you will. From the half-dozen antipasti, the fagiolata con gamberi (grilled tiger prawns with cannellini beans, $9) is by far the best I tried. Four grill-charred but still plump and juicy prawns are served with a tangle of finely sliced onions and fat cannellini beans in a barely there vinaigrette. The roasted tomatoes and sheaf of watercress served with it make this a refreshing, warm-weather dish.
Melanzane e bufala (marinated and roasted white eggplant with cherry tomatoes and imported buffalo mozzarella, $9) is good, too. While some of the thinly sliced eggplant was roasted too long and became a bit leathery, the interplay of the smoky eggplant and the basil-accented tomatoes was great. But for me, it is the mozzarella that makes the dish. The luxurious, creamy and faintly sweet cheese is as different from the rubbery supermarket variety as dirt clods are from diamonds.
On the menu, the insalata Siciliana ($7) sounded great—shaved fennel with imported Sicilian blood oranges, Italian parsley and Gaeta olives. On the plate, though, the salad fell flat. The fennel was dull and tasteless and the oranges pithy and less than sweet.
Vittoria serves several pizzas and I was intrigued by the posillipo ($11), a pie that combines capers, anchovies and olives. The only thing to make it sound any saltier would be a sprinkling of rock salt on top. The pizza does pack a sodium jolt, but I still liked it. The crust was thin and light and the rich, almost viscous tomato sauce helped temper the salty bite of the pizza.
Most entrees are strong. Risotto al nero ($17), risotto simmered in squid ink and shellfish, should become one of Vittoria's signature dishes. The risotto looks like a plate of polished black pebbles. It's only the melting mound of ricotta cheese and thin ribbons of basil on top that offset the inky color. Inside the ebony mass of rice are hidden gems of seafood—calamari, shrimp, clams, mussels and scallops. Each bite sings out with a slightly different flavor and in the background is a faintly spicy, tomato sauce. The dish uses premium carnaroli rice instead of the more commonplace arborio rice, and the results are fantastic.
Garganelli con spuntanture ($14) is a simple but hearty pasta made with tubular pasta, braised pork ribs and a carrot-laced tomato sauce. In lesser hands the dish could be heavy, but chef Scotti creates a dish that is fresh and light. In this land of boneless and skinless chicken breasts some diners might balk at the pork meat still clinging to the bone, but for me the bones imparted a deeper, richer flavor.
Equally good is the ravioli di manzo e grana ($15), big, house-made ravioli filled with braised beef short ribs and fat porcini mushrooms in a red wine-vegetable sauce. While I've had lighter, more silken ravioli, the wonderful flavors of the beef, mushrooms and vegetables topped with big shavings of tangy, salty grana cheese combined to make this another hearty yet not heavy dish.
Filleto di branzino ($21)—a basslike fish baked in a terracotta dish with fregola (a small, pea-shaped pasta), cherry tomatoes, olives and capers—looked and smelled great but somehow fell short of what I expected. The flavors tended to blend together and cancel each other out, and while the fish was moist and well cooked, the end result was rather drab. Grilling the fish and giving it a big squirt of lemon might have been a better way to go.
The one disappointment was the spaghetti alla Pugliese ($12), barley spaghetti with broccoli raab, olive oil, garlic and red pepper flakes. At its best, this dish is a rustic but deeply flavored pasta, but here it was oddly bland. The garlic and red pepper was all but undetectable and the broccoli raab watery and drab.
If you order no other dessert, make sure you get the panna cotta ($6.50). The unassuming little mound of custard contains worlds of rich, creamy sweetness than linger in the mouth for what seems like forever. Coming in a distant second place are the hard-to-screw-up affogato classico ($6, vanilla gelato doused with a shot of espresso) and the serviceable tiramisu ($6).
Service is smooth and professional. Servers know the menu and the short but well selected wine list well. It helps that the waiters speak English with thick but fluid Italian accents and throw in little nuggets of Italian like "mille grazie" and "molto bene" after you order. It helps maintain the spell cast by this quintessential Los Gatos restaurant and perpetuates the feeling that you're living the good life, if only for a few hours.
---
Vittoria Ristorante Italiano
Address: 27 N. Santa Cruz Ave., Los Gatos.
Phone: 408.395.6000.
Hours: 11:30am-3pm and 5-10pm Sun-Thu and 11am-11pm Fri-Sat.
Price Range: $11-$22.
Send a letter to the editor about this story.