May 31-June 6, 2006
home | metro silicon valley index | movies | current reviews | film review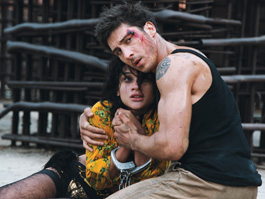 Photograph by Magnolia Pictures
Paris Is to Die For: David Belle and Dany Verissimo are on the run in a dangerous futuristic city of harsh lights in 'District 13.'
French Kick
'District B13' is a French film even die-hard anti-intellectuals will fall for
By Richard von Busack
LUC BESSON is a one-man disaster, the greatest misfortune to hit the French film industry since the fall of the Maginot Line. But as they say in Perigord, even a blind pig will find a truffle occasionally. As in the Transporter, series District B13 (Banlieue 13) has a shaven-headed hero (Cyril Raffaelli) proving his mettle by avoiding all female contact. As part of the stupidly happy ending, this hero gets a kiss that comes so completely out of nowhere, it looks like the lady lost a bet. There's the usual stuttery digital photography, the dullsville car chases and, of course, a soundtrack full of Parisian rap—the aural form of Ebola. As scriptwriter and producer of District B13, Besson once again aspires to be the Michael Bay of a Unified Europe, but something went wrong; this movie is actually entertaining. What happened?
Partially, it's the director, Pierre Morel, who keeps the action brisk. Mostly, it's the stunts, caught with a 150-frames-per-second camera. The result is far more impressive than the computer graphics that are mixed in at random. And the "Escape From Paris" story has a little weight to it after last summer's terrible riots. In 2010, the French government has finally walled off the concrete-tower poor suburbs ("banlieues") full of the unemployed who were swept out of central Paris by redevelopers. In one apartment tower lives a tattooed anti-crime crusader called Leïto (the amazingly flexible David Belle). With superhuman ease, he manages to outwit the local crime boss, Taha (co-scriptwriter Bibi Naceri, a cross between John Turturro and Julian Glover), but at last he's undone by the do-nothing local police. Six months later, a cop named Damien (Raffaelli) is assigned to break Leïto out of jail. Their mission: to retrieve an armed and ticking neutron bomb stolen by the suburbanites.
An element of the deliberately ridiculous complements the unintentionally ridiculous. "Le yéti," a circus-giant-size guard, proves there is such a thing as making the muscle too big in a movie. By contrast, the big boss's man-mountain henchman, wittily named "K2" (Tony D'Amario), could have given us a better X-Men III if he had played Juggernaut. (One savory moment: K2 making a moue—the pursed-lipped facial expression of a chef fretting over a sauce—as he tries to pick just the right pistol from a sack of weapons.) There is deliberate too-muchness in the tour of the villain's HQ, which has enough firepower for a military arsenal and a block-long barracks where his private army sleeps. How does Taha feed these people, when his days consist of sitting around stuffing his face with pounds of cocaine? Just before the crime lord starts the traditional shooting of his own incompetent soldiers (pour encourager les autres, as Napoleon said), K2 tries to defend himself for screwing up the capture of the elusive Leïto: "He's a bar of soap."
Slippery is the word for the lithe Leïto. He is a master of the art of parkour, whose practitioners hurl themselves over the balconies, ledges and doorjambs, like climbers working their way up skyscrapers. It's a beautiful and unforgiving sport. The most delightful sequence has Leïto levitating himself in some fashion I didn't quite catch, and breaking through an apartment's transom, feet first. Belle is a human fly. A French fly.

District B13 (R; 85 min.), directed by Pierre Morel, written by Luc Besson and Bibi Naceri, photographed by Manuel Teran and starring David Belle, opens June 2.
Send a letter to the editor about this story.