06.03.09
home | metro silicon valley index | the arts | visual arts | preview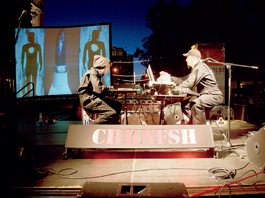 GOLDEN OLDIE: ChKnFsh mashed up obscurities from 1950s TV with electrostatic glee during the 2008 subZERO festival.
Adding Up To Zero
San Jose's high-tech arts biennial, 01SJ, brings subZERO cyberfantasia festival to South First Friday
By Gary Singh
SINCE ALL COMPUTERS can be simplified down to the base-2 binary system of ones and zeros, 01SJ turned out to be a perfect nom de plume for a Silicon Valley art biennial based in downtown San Jose. Similar festivals exploring the crossovers between art, new media, technology and critical theory exist in numerous other international locales, especially Europe, where such events like Ars Electronica, transmediale, Futuresonic and the Dutch Electronic Arts Festival in Rotterdam virtually take over their prospective cities for a week or so.
As San Jose's newish equivalent festival, 01SJ, occurs every two years, a unique idea emerged to ratchet up the hype in the interim: stage a street festival called subZERO every year, including off-years when the main biennial isn't taking place—so that the event as a whole stays on everyone's radar.
The first incarnation of subZERO took place on the Friday night during the 2008 01SJ Biennial and was easily the bohemian cyberdelic crème de la crème of the entire festival. In coordination with South First Fridays, each participating downtown gallery showcased tech-related works; bands performed on multiple stages; videos were projected on buildings; indie vendors and interactive exhibits flanked the three city blocks; and a wide variety of people showed up: kids, adults, hipsters, corporate types, burners, artists, politicians, punks, programmers and the lunatic fringe.
The entire vibe was high-tech, planetary and abstractly machinic. It was two parts Mondo2000 Magazine–era cyberpunk counterculture, one part chic urban hacker sideshow and one part field trip for the schoolkids.
If that seems convoluted, it is, and you're just going to have to go downtown and see what I mean, as this Friday (June 5) marks the second iteration of subZERO, from 6pm to midnight, all along South First Street, from San Carlos to William. The regular First Friday galleries (Caffé Trieste, Anno Domini, SJICA, the Quilt & Textiles Museum, Slave Labor Graphics, WORKS/San Jose, MACLA, South First Billiards, Space 47 and, a few blocks away, Kaleid Gallery) will again showcase something tech-related. Metro will introduce its new photo exhibit in its lobby. A crackpot variety of artists and vendors will occupy the entire street. Here are just a few examples of what will transpire:
Tristan Shone will perform on the William Street stage with his Drone Machines: custom-made industrial sound makers, fabricated from scratch of raw materials, and utilizing open source circuitry. The machines create a multitimbral sonic ocean requiring significant physical interaction by Shone himself.
Presenting what can truly be deemed "electric performance art," John Behrens and Omega Recoil will incorporate a team of high-level "rat scientists" using a 1.3 million-volt Tesla coil to perform experiments on living human test subjects wearing special metal suits.
Margaretha Anne Haughwout will operate a 21st-century divination set, built from electrical components and generating psychic readings as musical language-based scores that relate the inquiring individual to various meanings of power.
In a project geared for kids but suitable for anyone, Fabiola Hanna will provide a mobile interactive space inside a U-Haul truck, where visitors enter a multitouch world where movements result in various reactions of the space through lighting, drawings, sound and touch.
Over at the San Jose Museum of Quilts and Textiles, Corinne Okada Takara will take plastic bags and bottles she gathered from schools, as well as from Guadalupe River and Coyote Creek cleanups, and supply them for people to use as materials for creating small sculptures of algae and diatoms, to be integrated into large 3-D banners and installed across the facade of the museum.
Throw in alternative clothing vendors, photography exhibits, improvised percussion, DJs, 3-D visuals, urban yarn-bombing, shadow puppet theater, custom lowrider bicycles and alternative MIDI controllers—and you have all the fat pickings one would expect from a festival describing itself as an "artistically bent, hi/lo-techno-mashup where street meets geek."
SUBZERO takes place Friday (June 5), 6pm–midnight, in conjunction with SOUTH FIRST FRIDAY, all along South First Street in downtown San Jose. For details, see www.subzerofestival.com. (Full Disclosure: Metro is one of the sponsors of subZERO.)
Send a letter to the editor about this story.