06.03.09
home | metro silicon valley index | music & nightlife | classical preview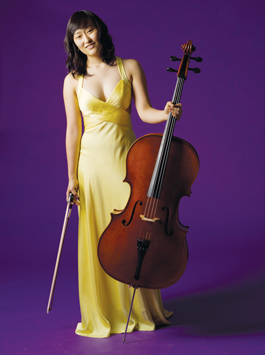 RISING STAR: Cellist Jennifer Choi appears with the El Camino Youth Symphony Sunday.
Classical Concerts in the Valley
A guide to the best concerts for the weekend of June 5–7
By Michael S. Gant
For its season-ender, El Camino Youth Symphony, showcases three young musicians: cellist Jennifer Choi and violinists Timothy Yu and Eric Jiang. Choi is on the verge of graduating from Monta Vista High, while Jiang and Yu are sophomores, at Lynbrook High and Cupertino High, respectively. Camilla Kolchinsky will led the symphony in a program of selections by Dvorák, Barber, Ravel, Wagner and others. Sunday (June 7) at 2:30pm; Flint Center, 21250 Stevens Creek Blvd., Cupertino; $6/$12; 650.213.7111.
Since this is June, most musical groups are winding up their performing seasons. Symphony Silicon Valley goes out in spectacular fashion with a performance of Haydn's Lord Nelson Mass, which the composer wrote during England's (and his homeland of Austria's) tumultuous conflict with Napoleon. An indication of how fraught the last few years of the 18th century were, this piece was originally known as the Mass for Troubled Times. Guest conductor Jane Glover leads the orchestra, and Symphony Chorale and soloists. The program also includes Prokofiev's Symphony no. 1 and Tchaikovsky's Serenade. Saturday (June 6) at 8pm and Sunday (June 7 ( at 2:30pm; California Theatre, 345 S. First St., San Jose; $38–$74; 408.998.TIXS.
The Redwood Symphony salutes Leonard Bernstein with a semistaged production of Candide. Saturday (June 6) at 8pm; Cañada College Main Theatre, 4200 Farm Hill Blvd., Redwood City; $10–$25; 650.366.6872.
Thinking globally and performing locally, the Choral Project finishes its 13th season with a program called "Across the Universe," with selections from Billy Joel, the Beatles and even Queen. Friday–Saturday (June 5–6) at 8pm; Campbell Heritage Theatre, 1. W. Campbell Ave., Campbell; $18/$25; 408.279.0161.
Andrea Bocelli, possessor of one of the world's great tenor voices, appears in a solo concert. At times, Bocelli's relentless pursuit of mainstream success obscures his talent, but he can still summon up a tremulous beauty from a warhorse like Ave Maria. Saturday (June 6) at 8pm; HP Pavilion, 525 W. Santa Clara St., San Jose; $75.50 and way up; Ticketmaster; 408.998.TIXS.
Santa Cruz's New Music Works presents its annual Avant Garden Party with cutting-edge contemporary classical sounds plus gourmet food from around the world. Guest artists include the Choros Ensemble and Laura Mallon's Singing Wood Marimba Ensemble. Sunday (June 7), 3–7pm; $25–$35; 2701 Monterey Ave., Soquel; www.newmusicworks.org; 831.425.3526.
Send a letter to the editor about this story.