06.03.09
home | metro silicon valley index | silicon valley restaurants | review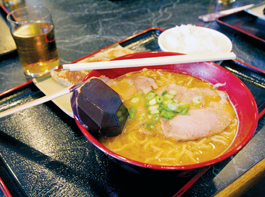 Photograph by Felipe Buitrago
PANCAKE POWER: Ryowa's ramen with steamed rice and potstickers satisfies the noodle urge.
Noodling
The ramen at Mountain View's Ryowa inspires dreams of noodle-making glory
By Stett Holbrook
IN THIS ECONOMY, everyone needs a Plan B, a backup strategy if things really go south. I love my job, but if I should suddenly find myself out of work, I've devised a second career for myself: ramen master.
When I say ramen, I don't mean the 33-cent bags of dried noodles and packet of salty dust beloved by dorm-dwelling students everywhere. I mean real Japanese-style ramen, a simple yet luxuriously satisfying bowl of fresh, springy noodles buoyed by an intensely rich and flavorful porky broth that has been larded with things like soft-boiled eggs, braised pork, spinach, pickled bamboo shoots and perhaps a few sheets of dried seaweed. That's ramen, one of the world's greatest foods: cheap, fast, nourishing yet deliciously hedonistic.
As a food critic and former line cook, I know just enough about the restaurant business to know it's not for me. It's hard work with long hours and thin profit margins. I'd rather eat for a living than cook. But I still fantasize about opening a little ramen shop.
Of course, one doesn't become a ramen master overnight. It takes training and discipline. According to my Plan B, I'd spend a year or so studying under ramen masters in Japan, traveling throughout the country to learn the intricacies of different styles of ramen. Finally, I'd find a stern but fair ramen-san who'd school me in the art of ramen. But first I'd have to humble myself and sweep up for months before I'd be allowed to even boil water. Then, after showing my earnestness and commitment, I'd be trained in the ways of ramen.
Once I had learned all I could, I'd thank my kind ramen master and come back to the United States and open my own ramen counter, a small place with just a few stools and an even smaller menu, maybe just a few varieties of ramen, including a classic shio and shoyu ramen. Customers who asked for California rolls or tempura would be politely asked to leave. With luck, those who remained would enjoy my ramen, and my fame and fortune as America's sole gaijin ramen master would follow.
At least, that's my fantasy. But then again, I don't speak Japanese, so that might make my ramen education difficult. And I don't think I could support my family as a ramen apprentice running around Japan. And then there's the part about all those long hard hours running a restaurant. I guess I don't have a Plan B after all. So I hope I can stick with Plan A, eating food and writing about it. And because Silicon Valley is blessed with several top-notch ramen shops, I can further my education in the way of the noodle without having to travel to Japan.
I can go to places like Ryowa in Mountain View.
Ryowa is a classic Silicon Valley ramen restaurant. There's typically a queue of people waiting to get in at lunch, mainly Japanese expats looking for a taste of home. If you find yourself waiting, you can browse the small library of manga books (Japanese comics) on the shelf. Inside, there are two square-shaped counters as well as a few tables. For the real ramen experience, sit at the counter.
Eight bucks gets you a choice of ramen, a plate of good, nongreasy gyoza and steamed rice. Spend 50 cents more, and you get fried rice instead.
The Ryowa sesame ramen is the restaurant's flagship, and it combines the salty tang of a miso broth with the nutty goodness of sesame paste. The opaque, yellowish broth is on the lighter side of the spectrum but still possess depth of flavor and character. The bowl is garnished with slices of unremarkable sliced pork, spinach, half a boiled egg and sliced green onions. The springy, thin-gauge noodles hold up well to the end. It's not a large bowl, which I appreciate. I have a habit of finishing all my food no matter how large the serving, and this one didn't leave me feeling all full and sleepy for the rest of the afternoon.
The butter corn ramen doesn't appear too often in local ramen shops and I was pleased to see it at Ryowa, but in the end I don't think it's worth seeking out. The broth is a rather mild-mannered shio (salt-based) soup with the addition of a pat of melting butter. Coupled with the butter, the corn adds a sweetness to the broth that rounds out the salty edge, but it's still a rather ho-hum soup. Better is the shoyu ramen, a soy sauce–based broth that's richer and more complex than that description would imply.
But my favorite of all is the tonkotsu ramen ($8.50 and not available as a combo meal). All of Ryowa's ramen are on the lighter side, but the tonkotsu, made from long simmering pork bones, is the richest and most thoroughly delicious. Pork will do that. Here's to Plan A!
---
Ryowa
Address: 859 Villa St., Mountain View.
Phone: 650.965.8829.
Hours: 11am–10pm Mon–Thu, 11am–10:30pm Fri–Sat and 11am–9pm Sun.
Cuisine: Japanese.
Price Range: $8–$8.50.
Send a letter to the editor about this story.