06.03.09
home | metro silicon valley index | movies | current reviews | film review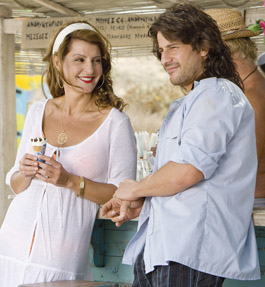 Photograph by Teresa Isasi
WHEN IN GREECE: Tour guide Nia Vardalos gets close to driver Alexis Georgoulis in 'My Life in Ruins.'
Grecian Formula
Nia Vardalos' comeback vehicle, 'My Life in Ruins,' stalls out and refuses to start
By Richard von Busack
WITH David Sedaris as 10 on the Greek-humor scale ("The Greeks invented democracy and then called it a day"), My Life in Ruins, the comeback vehicle for Nia Vardalos (My Big Fat Greek Wedding) is about a 2. The witty Mike Reiss of The Simpsons and Queer Duck scripted, but the underpowered direction by comedic workhorse (or plowhorse) Donald Petrie never gets the fun started. Vardalos plays Georgia, an Athens-based tour guide who has a degree in history. She has to settle for hauling a group of passengers around the ancient ruins of Greece. Said tourists are all of a kind: dumb Americans, horny divorcees, frosty Brits, tottering old people.
Her latest passenger load is no exception. Harland Williams and Rachel "Debbie Downer" Dratch play the ugly Americans who can't figure out why the Venus de Milo doesn't have any arms. Ian Oglivy is the crusty Englishman, and Caroline Goodall is his even chillier wife. While riding herd on this pack of ice-cream-seeking tourists, Georgia somehow doesn't notice the attentions of her studly but hairy driver, Procopi "Poupi" Kakas (Alexis Georgoulis). Poupi Kakas: these are the jokes, fokes. Unofficial ring leader of the tour is salty alter kocker Richard Dreyfuss ("I take preparation H, because I'm an asshole"); his constant joshing hides a broken heart.
The makers are probably hoping for a girls'-night-out audience that wants to recapture the thrill of watching Mamma Mia!, with the Greek locations and piles of historic rocks on display. Unfortunately, Vardalos and her charges are standing between you and them throughout the film. Vardalos is pert enough and can react well if she's given a good setup. She's an actress who would be good in about a 15-minute dose; unfortunately, she's in almost every scene. The low point somehow is the tour's visit to Delphi; Dreyfuss' Irv hides behind the stones pretending to be the Oracle. I had a strange flash to the scene in the book Babbitt, where a group of drunk Ohio businessmen of the 1920s are trying to contact the spirit of Dante using a Ouija board and some fake Italian-waiter accents ("Say, see if you can get old Dant' to spiel us some of his poetry ...") It's Irv himself who shows the desperation and lack of real feeling in this movie. The old man's see-Greece-and-die experience is waffled over by nervous filmmakers who couldn't figure out whether Irv should take the final bow or not—whether he should pine nobly for his late wife or do a little product placement for Viagra, actually naming Pfizer as its manufacturer. The coyness level of My Life in Ruins is nothing like late-period Doris Day. But you despair for a film that says there's no middle ground between stuffing the passengers with a bunch of boring historical dates and utterly vulgarizing everything that happened in history or culture. You would learn about as much about ancient Athens from watching this as you would learn about navigation from watching The Love Boat.

MY LIFE IN RUINS  ( PG-13; 98 min.), directed by Donald Petrie, written by Mike Reiss, photographed by José Luis Alcaine and starring Nia Vardalos, Richard Dreyfuss and Alexis Georgoulis, opens June 5.
Click Here to Talk About Movies at Metro's New Blog
Send a letter to the editor about this story.