06.03.09
home | metro silicon valley index | music & nightlife | band review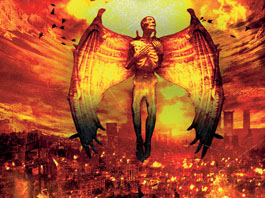 FLAME GAME: Death Angel's new DVD cover offers a glimpse of the apocalypse on tour.
Fatal Attraction
Thrash-metal champs Death Angel plan to mix it up and get sideways at VooDoo Lounge gig
By Gary Singh
IT SEEMS like every time Death Angel descends upon San Jose, the band is preparing for another overseas tour. In November 2006, Death Angel sold out the Blank Club before heading off to Japan. The following spring, it flattened the place again and then subsequently split for open-air festivals in the Philippines and Europe. This time around, the group's appearance at the VooDoo Lounge precedes yet another European jaunt, where it will promote a brand-new DVD/CD package, Sonic German Beatdown.
Death Angel originally emerged from the '80s Bay Area thrash scene—the same toxic stew that spawned Exodus, Testament, Possessed and, well, you know who else—but disbanded in 1990 after a horrific bus accident. We would not see any other material until 2004's comeback CD, The Art of Dying, and its follow-up, last year's Killing Season.
Now the band can claim its first-ever live video. Since Death Angel feels comfortable performing both in small clubs and open-air festivals, two different gigs appear on the DVD: one from the 2007 Rock Hard Festival in Gelsenkirchen, Germany, and the other from a 2008 club gig in Adelsheim. Each show features a different setlist, and the package also includes an audio CD of the entire 2007 show.
"It's really raw and practically unedited," explains guitarist Rob Cavestany over the phone. "We wanted to give the fans the real deal—how you see us live. In the shows, you'll see where we get on the edge of losing it—stuff's going wacky—but the way that it rides through in a live situation with the intensity of everything happening live. That's just how we wanted it to be. We didn't want to doctor it all up."
And doctor it up they did not. Sonic German Beatdown is in no way a multizillion-dollar production—it's pretty uncooked, and you get a fly-on-the-wall perspective of those two shows. You get newer material from their two recent albums plus a healthy dose of tracks from the "old days," meaning, cough, the late '80s.
While purists continue to crave nothing but old-school thrash, Death Angel thrives on variety. They like to mix up the riffs and get sideways. They have no problem playing the older, more brutal material right alongside their recent work, which seems more like straight-up early Maiden-influenced metal rather than speedy, murderous, violent thrash. Not that there's anything wrong with such material—it's just that diversity is what matters.
"We mix up our set depending on where we're playing," Cavestany says. "It keeps it interesting. It keeps you on your toes and keeps you thinking. If you keep doing the same thing, it gets kind of robotic after a while."
This week at VooDoo Lounge, fans can see Death Angel up close. They'll be playing older songs that they haven't played live since the '80s—tunes fans have been requesting. Cavestany emphasizes that variety must take priority, no matter what. Huge crowds, small clubs, old songs, new songs—everything's fair game. Whether it's walking onstage to a huge ocean of fans in Europe or a small venue like VooDoo Lounge, the band digs it.
"What it depends on, is the crowd itself," he said. "And if the equipment is behaving properly, the vibe of the venue, the promoters and all that. It could be the smallest club and just be one of the greatest, most fun shows. It's just a lot more old-school in a small clubs. People get up right in your face, and if the situation's right—if the security's flowing with the people and everybody's stage diving and crowd surfing—it just gets really, really wild in a compressed, intense way. It always reminds me of the old days, and we like getting in peoples' faces and interacting with the crowd like that."
Despite heralded comebacks, stadium shows and even a new DVD, things have not been entirely smooth for the Death Angel family as of late. Bassist Dennis Pepa departed the band last year, and original drummer Andy Galeon bailed just recently. Both appear in the video, but they will not be at the San Jose gig. Sammy Diosdado has replaced Pepa on bass, while Bay Area mainstay Will Carroll is filling in on the skins.
DEATH ANGEL plays Friday (June 5) at 8pm with TAUNTED, MUDFACE, BOMB & SCARY and PSYCHMATIC at VooDoo Lounge, 14 S. Second St., San Jose. Tickets are $15/$20. (048.286.8636)
Send a letter to the editor about this story.