06.03.09
home | metro silicon valley index | columns | style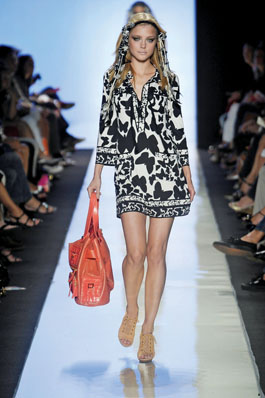 THE BUTTERFLY EFFECT: A tunic by Diane von Furstenberg features a bold black and white butterfly motif.
Style
Winged Victory
By Jessica Fromm
THE FASHION FORWARD will be fluttering around this summer decorated in moths and monarchs thanks to the rising popularity of the butterfly motif. Integrated extensively into prints and jewelry this season, the little winged insects set a cheery, ethereal, carefree tone in otherwise tough times for both the world and the fashion industry. The resurgence in popularity of the butterfly reflects their fragile, graceful characteristics as symbols of ever-changing beauty and metamorphosis (not unlike a recovery from recession), not to mention their natural ability to come in spectacular color combinations.
Long a favorite inspiration for designers, the last time the butterfly phase was in full swing was back in the '90s, when every girl 12–40 started sporting minibutterfly clips and barrettes in their hair. Mariah Carey latched onto the trend and has been carrying the torch for the butterfly in the celebrity spectrum ever since. Now, she can proudly do so without looking dated.
Butterfly-adorned styles play up looks that are elegant yet playful, without being trite. One can incorporate the butterfly trend into a wardrobe in several ways, with accessories being a great jumping-off point. With all the bangles and pendants adorned with fluttery beauties available in stores right now, it won't be hard to indulge, like a chunky butterfly cuff by Jessica Kagan Cushman or a gold Luella entangled butterfly necklace by Dannijo, both sold at shopbop.com.
The next step up is a charming butterfly top, like the Twenty8Twelve silk violet top, which features scattered clusters of bright butterflies. The trend can also go in a charmingly retro-inspired psychedelic direction, with dripping, tie-dyed butterflies to brighten up the wardrobe on casual screen-printed tees. Badgley Mischka recently showed a variety of haute evening gowns sporting soft violet butterflies, while Juicy Couture used metallic foil-tone butterflies all over their bathing suits and summer dresses.
One great thing about butterflies is that, like any bold print, they can become a great figure camouflage. Diane von Furstenberg used a bold black-and-white butterfly pattern as one of her signature themes for spring '09, incorporating it into airy tunics and dresses. Look for this print to be much copied by other designers in seasons to come, especially as the butterfly trend extends into the fall with a more geometric, goth-tinged feel.
Send a letter to the editor about this story.