05.28.08
home | metro silicon valley index | the arts | stage | review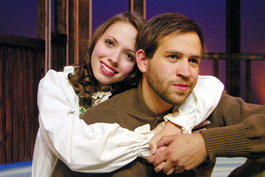 Photograph by Ben Brotzman
DREAM LOVERS: Mary (Jaclyn Blythe) dreams about her first love, Charlie (Patrick Kaufmann), in 'Mary's Wedding.'
Four Plays In Nine Acts
California Theatre Center knows that summer rep season is the time for all work—and plays
By Marianne Messina
SUMMER ARRIVES with graduations, vacations, and in South Bay theater, the beginning of California Theatre Center's repertory season. For the company's two new cast members and new set designer, all these signs of summer happened at once. "Basically, I had four days between the day I graduated and the day I moved here," says Jaclyn Blythe. She came from Shenandoah University, Va., and went straight into rehearsal as the title character of Stephen Massicotte's play Mary's Wedding.
Meanwhile, by the time his classmates walked down diploma aisle at North Carolina School of the Arts, CTC's new, young-lion scenic designer, Kenneth Constant, had taken charge of CTC's design shop, designing and building sets for all four of the company's summer plays. Constant attributes his undaunted momentum to what he calls the "intensive, intensive, intensive studies" at NCSA. "They'd break us down and work us back up again repeatedly."
CTC's schedule of rotating plays makes the idea of building each show out from one basic set logistically appealing. From there, Constant approaches the four plays—Mary's Wedding, The Dock Brief, Liberty Inn and The Matchmaker—as "nine acts" in need of design. "Most of our tricky, tricky stuff is going to happen in Matchmaker," Constant hints. As a farce with overheard conversations, mistaken identities, cross-dressing and people hiding in closets, under tables and behind screens, Thornton Wilder's The Matchmaker will need some theatrical legerdemain.
This summer, CTC's schedule opens, ambitiously, with a two-play evening. "It does age me a lot," quips artistic director Gayle Cornelison about the extra rehearsals. Running just over an hour each, Mary's Wedding and John Mortimer's The Dock Brief are both plays that Cornelison has long wanted to do: "I am really interested in discovering how our audiences will react to two different plays in the same evening."
He saw that the plays were compatible and felt that the season was right. He hopes that "one play about young adults making choices that will shape their future, and another about mature adults pondering the choices that made them who the are, will be enriching and meaningful for our audiences."
Mary's Wedding takes place inside a dream. The night before her wedding, Mary dreams of bittersweet moments with her first love, Charlie (Patrick Kaufmann), who went off to war shortly after they met. Kaufmann, another new member of CTC's full-time cast, came up through the company's Summer Theatre Conservatory training program. Charlie being his first lead role, Kaufmann says, "You get that adrenaline rush because you know you have to put it up immediately."
He points out that the play's spaciousness, its "poetic" presentation, its shifting "time zones" can pose significant acting challenges. "There's a lot of desire and anticipation in this show—and waiting." And yet he sees the "anxious energy" of waiting as key to the story's poignancy.
While Kaufmann considers Charlie as somewhat naive, Blythe considers Mary "very genuine, very sincere ... very reflective." The script calls for Blythe also to play Charlie's gun-toting superior officer on the front lines (another part of Mary's dream). "It's a way of Mary giving herself some closure," Blythe explains, "putting herself there when Charlie was in harm's way, I mean, to protect him as if she was there with him."
CTC's resident director, Will Huddleston, who plays "the world's worst barrister" in The Dock Brief, also directs Liberty Inn, adapted by Dakin Matthews from Garlo Goldoni's Italian comedy. According to Huddleston, the play's heroine was as exceptional, historically, as the play is funny. "Mirandolina is a beautiful female innkeeper that must fend off aggressive aristocratic suitors while ironing. She is an entrepreneurial working heroine of a comedy written in 1753." Huddleston boasts of the play's high points: "Coin tricks, sword fighting, an imperiled actress in disguise, a gourmet meal" and "onstage ironing." Too shocking to miss.
CTC presents MARY'S WEDDING/THE DOCK BRIEF and LIBERTY INN and THE MATCHMAKER in repertory, June 5–July 27, at the Sunnyvale Theatre, 550 E. Remington Dr., Sunnyvale. Tickets are $18–$25. (408.720.0872)
Send a letter to the editor about this story.