06.04.08
home | metro silicon valley index | the arts | visual arts | review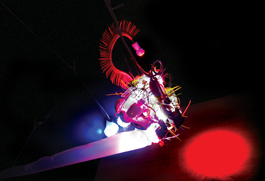 Photograph by Felipe Buitrago
This MUST Be
the Place
01SJ Global Festival of Art of the Edge takes place June 4–8 in downtown San Jose. The 01SJ Global Festival of Art on the Edge is a convergence of vision, technology and creativity that could really only come from Silicon Valley
By Gary Singh
THE 01SJ Global Festival of Art on the Edge—or 01SJ for short—is not one of those harebrained schemes to "put San Jose on the map," or yet another attempt to alleviate San Jose's inferiority complex. The festival isn't taking place in San Jose just because Vancouver, Venice and São Paulo all have world-renowned cultural biennials and we don't. The festival is happening here because, plain and simple, it must happen here. This is San Jose and Silicon Valley's identity, or at least one of its identities. If there exists a definitive North American cultural locale where high-tech engineers collaborate with installation artists, where open-source enthusiasts trade ideas with painters, where graphic designers pool resources with environmental researchers and where PhotoShop geeks mingle with outlaw electronics tinkerers at art receptions—Silicon Valley should be that place. "It's not a question of 'Why here?'" says Steve Dietz, the artistic director for 01SJ. "It's like, 'Yeah. Damn. This makes sense.' "And I hope it works."
In 2006, 01SJ debuted under a slightly different moniker, ZeroOne San Jose, and ran in conjunction with ISEA 2006, the 13th International Symposium on Electronic Arts, a migratory academic conference where scholars, cultural producers, curators and media theorists congregate and yak about the latest ideas and practices involving art, science and emerging technologies. Previous ISEAs have taken place all over the world, and a team of local folks proposed to bring the conference to San Jose as a foundation to launch the first 01SJ Festival.
This year, the major difference is that the ISEA Conference won't be here—it's in Singapore this time—so all the emphasis is on 01SJ itself, meaning more festival visibility, more world premieres, more commissions, more local and global outreach and more projects expanding beyond just the five-day festival.
In addition to all the works that you can physically view and/or participate in, artists are here in residence, collaborating with folks from the high-tech industry. Elementary schoolkids are working with digital-media programs on a global scale. International digital artists are coming here to work with youth in at-risk neighborhoods. And some of the biggest names in Silicon Valley, including Adobe and Cisco, are sponsoring the events. (Full Disclosure: Metro is one of the media sponsors of the festival.)
"Two years ago, everyone said, 'What the hell is ZeroOne?' There were a lot of [answers] like, 'Well, you just have to come see it,'" says Dietz. "But I swear—and this is true—this year, the only people asking me 'What is it?' are the press. Everyone else is asking me, 'Which is the best day to come?' I think we really had an impact in 2006. ... What happened is exactly what we thought was going to happen—if you come, you will see something that really amazes you and you'll want to come back."

REACH FOR THE SKY: Rubén Ortiz-Torres shows off his customized scissors lift, 'High 'n' Low Rider,' which will be unveiled at the opening ceremonies at SJ01 and then displayed at MACLA.
Ground Zero
A key theme running throughout 01SJ is collaboration. Fittingly, 01SJ was not just one person's idea. It was the result of a long intertwined process between several different entities and a logical convergence of many previously separated endeavors. At least as many accounts of how it happened exist as there were people actually involved, and what follows here is only one version. So with all due respect to those I'm leaving out, away we go:
Joel Slayton arrived in San Jose in 1984 for the original CADRE (Computers in Art, Design, Research and Education) conference, held at Mission College and San Jose State University—one of the first nationwide summits in the United States to deal primarily with art and technology. Soon thereafter, SJSU decided to offer classes in digital arts, and it hired Slayton, who then founded the CADRE Institute. A few more similar conferences and symposia took place throughout the rest of the '80s, and CADRE came of age as an internationally renowned academic program well into the '90s.
"It was always part of our mission to do a large internationally, or at least nationally, visible program to bring artists here," Slayton recalled. "But after a while it became a little too much for us."
Meanwhile, fundraising whiz Beau Takahara, who had previously worked at the San Francisco Museum of Modern Art and the Tech Museum, teamed up with Andy Cunningham of Creative Communications, who had organized the Interactive Media Festival in Los Angeles in 1994 and 1995. Together, in 2000, they incorporated as GroundZero: The Art and Technology Network, with the intention of some day organizing some sort of major festival celebrating the creative intersection of art and technology.
Slayton agreed to join them. "They had this really cool idea about how artists would work with the industry in Silicon Valley to do experimental artwork that would potentially benefit industry in some interesting and strange way," he said. "So I got involved on the board."
After the attacks of 9/11, the phrase "ground zero" became attached to the collapse of the World Trade Center towers, so the group changed its name to ZeroOne instead.
Independently of all this, Peter Giles of the Tech Museum was spearheading his own meetings with several other institutions throughout San Jose about organizing some sort of major citywide cultural event, and all of these machinations at least partly dovetailed with a 1997 strategic plan commissioned by the city and the county called 20/21: "A Regional Cultural Plan for the New Millennium."
"The idea of an international-caliber festival celebrating Silicon Valley–style creativity at the intersection of disciplines was a major recommendation of that cultural plan," explained Kim Walesh of San Jose's Office of Economic Development. "And then when we did the city's economic development strategy at the end of November 2003, the concept of positioning San Jose as the North American epicenter for art and technology was a major recommendation, as was this notion that cultural development and economic development need to be more tightly linked."
After several more meetings, everyone decided it would be advantageous to bring the International Symposium of Electronic Arts (ISEA) to San Jose and use it as the academic platform to launch the first 01SJ festival, which would run simultaneously. New-media sage Steve Dietz was brought in to write the proposal, and the whole shooting match was then submitted to ISEA through the San Jose Convention and Visitors Bureau.
"I remember being at a focus group of 50 people in the convention center," Walesh recalled. "There were artists there, there were corporations there. A whole diverse group of people just working the idea. Then the opportunity came to host the ISEA conference, and that was an international bid, and we kind of all looked at each other and said, 'OK, it's do or die; let's put in a proposal. Let's go for it. Let's bring it here.' Then that becomes the line in the sand to do our ZeroOne festival around that, which would then have legs, and identity, and live."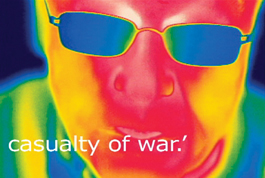 PASS THE SUNBLOCK: Peggy Ahwesh's 'Warm Objects' heats up the screen in the Future Films series.
01 Takes Over
Jump ahead to Wednesday, June 4, 2008. The opening ceremonies of the second 01SJ Global Festival of Art on the Edge will erupt in front of the San Jose Museum of Art at 7:30pm. All sorts of luminaries will convene for the occasion; playwright Luis Valdez will speak, and artist Rubén Ortiz-Torres will show High 'n' Low Rider, a scissor lift that's been transformed into a lifelike sculpture.
The Green Prix Environmental Art Award will be presented to a Paris-based team called HeHe (Helen Evans and Heiko Hansen), whose laser light projection Nuage Vert measured real-time vapor emissions from a coal mine in Helsinki. And in a collaboration between the city of San Jose and SJSU—a motif popping up all throughout the festival—folks will also be able to experience architect Michael Herrman's interactive-environment project Urban Observatory, which will occupy the Circle of Palms. CADRE grad students Bruce Gardner and Ethan Miller were awarded grants to develop the visualization aspect of the work.
Then, at 8:30pm, the action shifts a couple of blocks. The City Hall Rotunda will host another grand-scale video projection, this time by Australian artist Craig Walsh, and accompanied by San Jose band the Mumlers.
Walsh's 12-channel projection, Incursion 37:20:15.71" N - 121:53:09.51" W, is part of a series of installations that comment on contrasting contexts of specific architectural places. In this case, since the City Hall Rotunda sits near the former site of the Grateful Dead's first gig with that name in 1965, Walsh will create a surrealistic, psychedelic environment on the glass windows of the rotunda. Afterward, the festival will continue on the campus of SJSU, where Eddo Stern's installation Portal, Wormhole, Flythrough awaits.
Another must-see hoedown, called SubZero, takes place Friday night all along South First Street, from San Carlos to William Street. More than 50 artists and bands will participate, along with every gallery in the neighborhood. Art cars, robot artists, wearable digital art, interactive computer music performances and edgy installations will literally take over the whole street from 6pm to midnight.
Finding a Future Edge
In addition to all the stand-alone exhibitions, installations and one-off performances, several new initiatives and pilot programs are also intertwined in-between the seams of the festival, suggesting that 01SJ will expand even further in its next incarnations.
For example, the CADRE Lab at SJSU has joined together with Montalvo Arts Center in Saratoga to create FUSE: CADRE/Montalvo Artist Residency Research Initiative, a perfect example of the collaborative rhythm that runs in, around and through the 01SJ festival.
FUSE connects Silicon Valley companies and CADRE students in unorthodox partnerships with visiting artists to inspire new forms of technology-based production and experience. In other words, three artists are awarded residencies and then live at Montalvo while working with SJSU grad students and Silicon Valley industry partners to research and develop their projects, which will be featured at 01SJ—the idea being to blur the boundaries between art production and industry research.
One of the artists awarded a residency is a Tijuana-based collective called bulbo, which works with at-risk youth by giving them a digital-media outlet to tell their stories and voice their opinions about all the crap going on in their neighborhoods. For its 01SJ project, bulbo has partnered with CommUniverCity, an already established linkage between SJSU and the Five Wounds/Brookwood Terrace neighborhoods, to help gang-impacted youth establish priorities and goals, which include improving the quality of life, building community, engaging in civic life and eventually going to college.
Together bulbo and CommUniverCity have created FW/BT Mobile Broadcast Unit, a public art project to have teens from those neighborhoods create video content via cell phones to express their concerns about local issues and give them something to do besides gang-related activity. During 01SJ, these videos will be exhibited at SJSU and visitors can upload their own video responses in order to create a dialogue between the youth and San Jose State. In other words, the project allows youth to change the way people see them in the context of their neighborhoods.
"One of the larger goals that the neighborhood has identified for itself as a goal for its youth is the idea that, repurposing very basic technology, and thinking about technology in different ways, you can represent yourself to others," explained FUSE coordinator Kuniko Vroman. "It gave the youth an opportunity to see a reflection of themselves, and they didn't know necessarily that they'd ever seen that. That was the goal, that they have a primary voice, and that they can shape and change."
Another example of 01SJ encouraging the next generation of cultural producers is the Adobe Global Youth Voices program, for which Adobe Systems Inc. threw in some dough to support 19 different international artists, arts collectives and established nonprofit arts institutions to produce new work by young digital artists ages 11–21, during the months leading up to the festival.
A handful of those entities are local, while the rest are from around the world. A reception at the Tech Museum on Saturday will showcase not just the works generated by the youth but also the documentation of how each of the projects was created.
Liz Slagus, director of Education and Public Programs at Eyebeam, a New York–based art and technology center, produced the Global Voices program. "I thought the documentation would be an equal part of the program because it's actually the process by which all these people are bringing their youth together and the way that they're working with them and what they're actually teaching them and how," she explained over the phone from Manhattan. "That was actually also of interest to me. And that I thought in sharing that, it actually would give more than just showing the projects. I wanted them to be in context. I wanted people to understand what it takes to actually put this stuff together."
The microgrants were $1,000 apiece—$500 for the work and $500 for the documentation. "What I like about new media art in general is that it's very collaborative," Slagus said. "And I think there's often this misnomer that it takes a lot of money to do these types of things because of the equipment that's involved. But just from some of the people I know who are doing this kind of work all over the place, that's not necessarily the case."
Inevitable Festival
Basically, it was only a matter of time before all the elements in Silicon Valley fused together to produce 01SJ: an emergent whole greater than the sum of its individual parts. It was almost mystical in the way it all came together, as 01SJ is something that came to light from within us, as opposed to yet one more entity inflicted on San Jose from the outside.
When considered in that respect, 01SJ is a San Jose identity. Pick your reference—Gnosticism, the Hare Krishnas, EST or the Oracle at Delphi: San Jose, with 01, is finally starting to "know itself" and achieve Self-Realization.
"It's the right fit for San Jose and Silicon Valley," Walesh declared. "It's organically emerging from who we are and what we have to contribute to the world. The commitment to this idea and its full realization over time is very broadly shared."
Slayton agreed. "This is where we live," he said. "I moved here 20 years ago to see this happen. And now it's happening. ... And I think the more participation people bring to it, the bigger this will become in the coming years. It's really important that people understand that it's growing. This is only the second one. Our expectations are huge. But give it 10 years, and this will be a destination thing that people around the world will come and see."
Steve Dietz perhaps summed it up best: "There's a lot of smart people here and we deserve a better culture."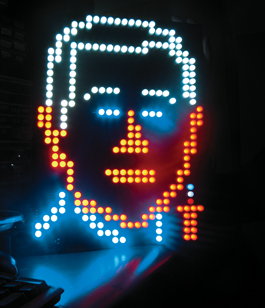 GLOWING BUSH: The president goes up in lights when the Graffiti Research Lab takes over Anno Domini Gallery for the SubZero Festival on June 6 on South First Street in San Jose.
01SJ Highlights
Wednesday June 4
7:15pm Park yourself at the San Jose Museum of Art for the opening gala, where artists will demonstrate and talk about their work. Rubén Ortiz-Torres will show off his traicked-out scissors life, a.k.a. High 'n' Low Rider, and playwright Luis Valdez will talk.
8:30pm Make your way to the City Hall Rotunda for a large-scale psychedelic video projection by Craig Walsh that will light up the rotunda. Politicos from the city of San Jose and techies from Applied Materials will speak from the lectern. San Jose band the Mumlers will perform its usual mix of avant-folk-brassophile-rock-alterna-spook weirdness.
9:15pm From City Hall, make your way around the corner to the SJSU side of the Martin Luther King Jr. Library for Eddo Stern's installation Portal, Wormhole, Flythrough, a structure resembling a 3-D time portal.
Thursday June 5
6pm The City Hall Council Chambers hosts a keynote address by Stewart Brand, the first in an engaging series of free talks by renowned urban designers, architects, planners and visionaries about how to plan a great city and its public spaces. (See page 36.)
8pm Composer Jason Freeman collaborates with legendary experimenters the Rova Saxophone Quartet for an interactive multimedia cocktail party at MACLA. Motion-sensing software tracks how the "audience" moves around the room and then uses that data to generate a real-time musical score and video accompaniment. It's a collaborative creation, a multiplayer game and a social network all rolled into one. $10.
Friday June 6
6pm On South First Street between San Carlos and Williams is SubZero, the block party of the year. Normally, the First Friday event along South First showcases six art galleries and whatever exhibits are opening that particular month. But for this event, in addition to six technology-themed shows within the galleries themselves, you'll see more than 50 artists and bands either occupying the street or performing on the stages—all celebrating unique and emerging arts movements ranging from contemporary music, street performances, do-it-yourself and interactive, on-the-edge art installations. Art cars. Homemade music machines. Robots that creating art. Interactive displays. High-tech poetry. Cell phones, turntables, barbershops, tool sheds, digital architecture, sewing machines, aliens and silk-screening. It's all here. Listen for the Fingerbangerz at 10pm and check out the radical hijinks of the Graffiti Reserach Lab at Anno Domini. If you attend one event the entire festival, this is it.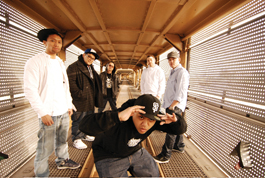 SOUND SYSTEMIZERS: The Fingerbangerz DJ collective performs for SubZero on June 6.
Saturday June 7
6pm Here's one for the kids, or at least by the kids. Nineteen artists, nonprofits and collectives from around the globe were awarded microgrants to produce and develop work by kids ages 11–21 during the months leading up to the festival. The results are on display in the Adobe Global Youth Voices show at the Tech Museum all throughout 01SJ, and the museum will host a reception for the exhibit from 6 to 8pm. The documentation was part of the process, so visitors can see just how each of the youth groups went about creating the work. This is a great opportunity to see the creative process at work for possibly the next generation of digital artists.
6 and 8pm DJ Spooky That Subliminal Kid, a.k.a. Paul Miller, performs a 70-minute multimedia performance work called Terra Nova: The Antarctic Suite at the Tech Museum's IMAX Theatre, transforming his first-person encounter with the harsh, dynamic landscape of Antarctica into multimedia portraits with music composed from the different geographies that make up the land mass. $15.
Sunday June 8
4pm The second lecture in the 2008 Great Cities Speaker Series will be presented by Bill Morrish, professor of architecture, Landscape Architecture and Urban and Environmental Planning, at the University of Virginia. Morrish will address "When Cities Tango: The Art of Glocal Public Space Design" at the City Hall Council Chambers. To meet the realities of today's cosmopolitan urban landscape, public spaces need to integrate formal, functional, productive and generative characteristics for their public art spaces. Morrish will explore existing case studies and future proposals for such infrastructures.
Exhibits
San Jose Museum of Art
"Superlight," the main show of 01SJ artists, features old- and new-tech materials and ideas, including Tantalum Memorial—Reconstruction and the amazing fantasy-creature environment called Twilight Zone created by Shih Chieh Huang; a number of the pieces are interactive. The show runs through Aug. 30 at the San Jose Museum of Art, 110 S. Market St., San Jose.
Anno Domini
Graffiti Research Lab—The New York City crew shows off its radical style of projection art inside and outside the gallery. Reception during SubZero; show runs through June 28. 366 S. First St, San Jose.
MACLA
Rubén Ortiz-Torres shows his High 'n' Low Rider; Favianna Rodriguez looks at the lives of immigrants in American Dream, a piece fashioned from interviewers with San Jose workers and Internet contributions. Shows through Aug. 9. 510 S. First St, San Jose.
San Jose Museum of Quilts & Textiles
Four shows relate to 01SJ's theme of digital arts: "Core Memory/Peripheral Vision," "Pixels & Pieces; Advanced Geometry," computer-generated quilts by Gloria Hansen; and "Awareables: Conscious Clothing." All end June 8. 520 S. First St, San Jose
San Jose Institute of Contemporary Art
Crater Bay Area, an interactive pice by Nora Ligorano and Marshall Resse, allows gallery-goers to sketch their own interpretations of the surface of the moon. The best creations can win a shot at moon-lot ownership. For Memories I'll Never Have, Brendan Lott picks images from the Internet and sends them to China, where they are reproduced as paintings. Both run through Aug 2. 560 S. First St., San Jose
Natalie and James Thompson Gallery
The gallery and FUSE display residency projects by members of the Bulbo collective, which explores issues of new media. Ends June 8. Art Building, San Jose State University.
Send a letter to the editor about this story.