06.04.08
home | metro silicon valley index | movies | current reviews | film preview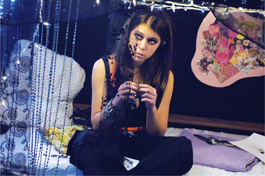 Photograph by Ben Mark Holzberg
WAITING TO CLICK: Tatiana Maslany plays India in 'Late Fragment,' an audience-participatory feature that shows Thursday at 9pm and Saturday at 2pm as part of the Future Films series at 01SJ.
Over the Horizon
Future Films at 01SJ point the way to new frontiers in digital filmmaking
By Richard von Busack
OFTEN, the moving image forecasts the future. As the playback of images taken from the past, it is "the time, and the record of the time," as Laurie Anderson put it. But the moving image also suggests the shape of things to come. Blade Runner, an expression of one English film director's horrified reaction to moving to L.A., predicted the texture of that city as it would be some 30 years later. (Indeed, The New York Times recently reported that a real estate developer wants to re-create the giant illuminated facade ads of Blade Runner on the exteriors of his new condo towers in L.A.)
One of the purposes of 01SJ is to indicate the future of film itself. Interactive and spontaneously remixed works, usually projected on multiple screens, will play at the Future Films programs at Camera 12 during the festival. I talked to Steve Dietz, the curator of New Media at the Walker Art Center and artistic director of 01SJ, about some of the highlights. One is Toni Dove's Spectropia (Thursday at 7pm and Saturday at 8pm), described during its stint at downtown L.A.'s RedCat Center as "part video game, part feature film and part VJ mashing." Dietz explains, "Spectropia is an interactive film about a sci-fi dystopia, a future in which history has been made illegal. It's a big-brother environment. Two live VJs make on-the-fly decisions as they sift through the rubble of history."
What we see online in excerpts is a tangled-haired female scientist prowling among the vacuum tubes and archaic computer circuitry, conjuring up phantoms of the past. One of these seems to be "a simulation of a simulation of a simulation" of once-famed bubble-dancer Sally Rand. Other padded-shouldered figments of the noir cinema era appear on the screens. They stutter, Max Headroom–wise, under the effects of limited animation. Motion-capture software makes them move and dance. Hovering through the air, like musk, are Debbie Harry's lusher-than-lush vocals.
R. Luke DuBois, Dove's collaborator on Spectropia, has his own piece at 01. Fashionably Late for the Relationship (part of the "Superlight" show at the San Jose Museum of Art) s a compression and/or remix of LiŠn Amaris Sifuentes' 72-hour performance piece one July at the traffic island in New York's Union Square. "A woman prepares herself to go out," Dietz says. "There are three different cameras: close-up, medium and long shot." As Dubois explained it to Broadcastengineering.com, "LiŠn will look like she's moving quite slowly, in soft focus, but everything else will go flying by." Dubois is an inventor and coder who created the algorithm that made Academy, a 76-minute film that excerpted and compressed every Best Picture award winner at the Oscars. "What you see is not a simple blur," Deitz adds. "You can track through it, and [tell] that you're watching Gone With the Wind."
Late Fragment (Thursday at 9pm and Saturday at 2pm), from Canada, is designed to allow the audience to have its say in the narrative. The interactive presentation focuses on the lives of three strangers, whose quests for justice are influenced by viewers with access to a remote control.
During matinees, Camera 12 will offer a mix of short films, particularly moving images derived from video-game engines, and so-called "pocket cinema," i.e., short pieces done on mobile technology. Much of it is machinima, a species of animation created from the foggy memories of decayed and rewired video games. (San Jose's M. Strange is one of the memorable figures in the field.) Cory Arcangel, one of the participants in the 01SJ film sťances, is famous for his short film of Super Mario; the game star suffers in existential crisis, paralyzed by doubt in the center of fields of strobing, retina-burning colors. Also in the show is work by Peggy Ahwesh, whose video-game distilled She Puppet showed at "The Brides of Frankenstein" exhibition at the San Jose Museum of Art in 2005.
As for Pocket Cinema, it's still in its infancy. Since Deitz is a curator, I did want to find out if there had been a D.W. Griffith of the Bat-Phone yet. "It's an emerging form, in my experience, but still very evocative," he replies." Giselle Beiguelman from Brazil takes images from her cell phone wherever she lands somewhere. It's very effective. There's more to the cell-phone photos than just standing in front of one and saying hi to Mom. I've yet to see Beiguelman's cell-phone art, but her ultra-high-speed appropriations of Hanna-Barbera and other '60s cartoons are visible on YouTube as Born2Kill. The melding of slapstick buffoonery and cheap-ass superhero imagery, scored to the Clash's "Know Your Rights," turns out to be a uniquely powerful anti-military message.
Natalie Bookchin has been sampling imagery from online security cameras for years to reproduce what she calls "the asynchronous time of the Internet." Meanwhile, artists Thomson + Craighead will be represented during the shorts fest. Previously, the two invented a time machine that delivers light from the island of Tonga, on the far side of the International Date Line. Light From Tomorrow is the title of this device, but it could sum up the entirety of the films at 01.
FUTURE FILMS show Wednesday–Saturday (June 4–7), 2–10pm and Sunday (June 8), 2–5pm, at Camera 12, 201 S. Second St., in downtown San Jose. Tickets are $10.
Send a letter to the editor about this story.