ISSUEDATE
home | metro silicon valley index | silicon valley restaurants | review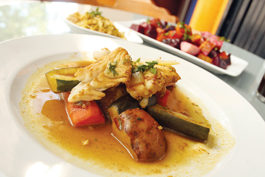 Photograph by Felipe Buitrago
National Treasure: Tagine—slow-cooked stew—is the signature dish of both Morocco and its San Jose namesake.
Rock the Casbah
Essadki brothers recapture the hospitality of their native country at Morocco's
By Stett Holbrook
BROTHERS Jay and Sham Essadki have created at Morocco's the kind of restaurant that downtown San Jose needs more of: distinctive food cooked and served by people with a personal investment in the happiness of their customers. From the food to the service to the paint on the walls, the Essadki's personal touch is all over the 3-month-old restaurant. While not every dish I tried succeeded, the food, lively atmosphere and hospitality make it a welcome addition to downtown San Jose.
The Essadki brothers moved to the United States from Morocco seven years ago with the express purpose of opening their own restaurant. It took that long for them to learn the ways of the restaurant industry and to raise the financing for a place of their own. They settled on San Jose because of what they see as the city's potential to grow into a dining destination and the help they received from the city's redevelopment agency.
The tentlike fabric hanging from the ceiling, Moroccan art and artifacts on the walls and dusky, low lighting have transformed what was formerly a taqueria into an inviting casbah hideaway. The music, however, is often too loud and ranges from Moroccan to bad Kenny G–like jazz. Stick with the Arab music, lose the bad jazz and turn it down a notch. I left with my ears ringing.
Morocco's bills itself as a Moroccan fusion restaurant, but most of the menu is traditional Moroccan food. What you won't find are belly dancers, tableside hand washing and other practices that the Essadkis say are stereotypes that have little to do with how people actually eat in Morocco. Jay Essadki, Morocco's chef, worked with his mother to create many of the recipes, calling her his "culinary counselor." Sham Essadki runs the front of the house with an effusive willingness to please. You get the feeling he'd help you find a place to park if you were unable to do so. (While the restaurant is across from a parking garage, the restaurant doesn't validate.)
Family-style dining is what Morocco's does best. For $26.95, you and your table mates get a choice of two appetizers, two salads, two entrees and dessert. It adds up to a lot of food, and if you decide you want more, just ask. Plates are replenished at no extra charge.
"That's what Moroccan hospitality is all about," says Sham Essadki.
From the list of appetizers, go straight for the shrimp pil pil and britwatts. The shrimp dish combines plump prawns in a garlicky, spicy chile pepper sauce that's just great. Britwatts are little triangles of baked filo dough filed with vegetables, seafood or a chicken and almond filling. The pastries border on sweet and are dusted with a hint of powdered sugar and cinnamon, but the savory filling keeps it rooted firmly in the savory category. Salads are good, too, especially the lentil salad made with cumin vinaigrette and the beet and potato salad accented with red onions, cilantro and more cumin vinaigrette. Less good was the wildly overdressed spinach and fruit salad with huge blobs of blue cheese.
Tagines, slow-cooked stews, are Morocco's signature dish—the country and the restaurant. On one visit, the chicken tagine was redolent of sour-salty preserved lemons and green olives and cloaked in a rich, sultry sauce. On a second visit, I couldn't detect any preserved lemons or olives and the white meat chicken was dry. Dark meat would perform much better in a braised dish like this. The stewy beef tagine combines prunes, apricots and ginger in a spiced, aromatic sauce. The vegetable tagine, however, made with just potatoes, carrots, olives, garbanzo beans and zucchini, was rather lackluster and tasted just like a plate of boiled vegetables.
Couscous is another classic dish in Morocco. At Morocco's, the couscous comes from a family recipe. The flavorful and juicy lamb couscous is quite good.
Morocco's wine list was rather limited during my visits (several of my selections were unavailable) but I'm interested in stopping back in when they begin serving Moroccan and Lebanese wine. In the meantime, the potent sangria ($8) will do just fine.
For dessert, I was underwhelmed by the almond and saffron crème brûlées, but I loved the mint tea ($3), which given its sweetness is a dessert in itself. Although they're not billed as such, the smoothies make great desserts, too. Try the "nut tree" ($8)—cashews, almonds, pistachios, dates, avocado, vanilla and milk, or the Morocco's smoothie ($6)—apples, bananas, peaches, dates, avocado, yogurt and milk.
In some ways Morocco's is still a work in progress, but it's hard to not be charmed by the restaurant and the hardworking Essadki brothers. I'm rooting for them and hope they become a fixture in downtown San Jose.
---
Morocco's Restaurant
Address: 86 N. Market St., San Jose
Phone: 408.998.1509
Hours: Lunch 11am–3pm and dinner nightly 5–11pm Mon–Fri
Cuisine: Moroccan
Price Range: $12–$18
Send a letter to the editor about this story.