06.04.08
home | metro silicon valley index | music & nightlife | band review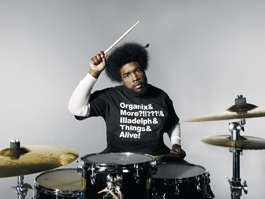 Rhythm Junkie: Ahmir '?uestlove' Thompson holds down the drums for the Philadelphia-based Roots crew.
Roots Beats
Famed Roots drummer talks career, long days and his love for the bay
By David Ma
AHMIR "?uestlove" Thompson is at a prized point in his career, managing different roles as swiftly as he plays the drums.
In addition, the 37-year-old Roots rhythm keeper is an avid vinyl collector and DJ (boasting over 63,000 records), record producer (co-producing Al Green's first decent record in decades) and sought-after writer (contributing liner notes and forewords while maintaining a well-read music blog). He hustles hard but says with nonchalance, "It's just what I do."
Whether performing as part of the Roots or as a lone DJ, ?uestlove is more than familiar with the South Bay. His frequent stops—and prolific activity—in the area have cemented a local following, while his many side-projects draw him back. ?uestlove respects the region, proclaiming: "The Bay Area is definitely a marketplace that is especially thriving in '08. No one can ever tell you guys that hip-hop is dead. I like the fact that when I do shows in your area, people still believe in hip-hop. I really feel like Vallejo, San Francisco, Oakland and San Jose are next in turning the whole country onto something big."
Thanks ?uest, the respect's mutual.
METRO: When did you start playing the drums?
?UESTLOVE: I was 2 years old when I first started. My parents were New Age, meaning they were very accepting parents. They always wanted to let me express myself creatively. If they saw me beating on the table, they'd just let me do it. In most black households, you don't do that. You don't play with the spaghetti someone worked hard to put on your table! But my parents were the opposite. They'd let me put meatballs in my Afro if I wanted to. I terrorized furniture when I was 2, resulting in my first drumset when I was 5.
I've read your recent writing. How did that start? When do you find time to write?
It's funny you asked this because my sister just told our mother that I've plagiarized her writing style, and that my whole self-confessional, storytelling style was taken from her! I've been writing since I was a kid and I write whenever I get the chance to. I actually have these real important liner notes I'm writing for iTunes that are due in a few hours.
You obviously hustle hard. What are your normal days like?
Involved! Long! I get on the bus around 7am. Then I talk to journalists like yourself until the afternoon, and then we stop at whatever venue we're playing at to sound-check and rehearse; which usually takes two or three hours. Then I go back to the hotel, eat, write, relax and talk to friends, family and publicists for a short while. Then, I change my clothes and go perform. Our shows end around midnight, then I DJ our afterparties until 3 in the morning. Then, it's back on the bus at 7am again. Multiply that by 300.
When do you have time to dig for records?
Whenever I can of course. There are off-days when we're out and about in different countries and places, and that's when I'm able to take some time for myself. But record-collecting wise, I'm now at 63,000 strong!
What are some of these favorite records of yours?
Hmmm, I'd say Ask Rufus, by Rufus Wainwright and Chaka Khan, which came out around 1977. To me, in my opinion, it was the record that was unlike any black soul album of the '70s. It was like a mood record. It was real melancholy, something that most black records weren't in the '70s.
A lot of soul records, especially in the late '70s, would have a discolike track for the single, a couple lovemaking songs, one song you knew the artist had to have on there for one reason or another, and the rest filler. Where as this record is like a record Joni Mitchell would have made. It's an album that Prince said also really inspires him and what he's done. Essentially, this record is influential to me, and many, many, more I'm sure.
You've been to the Bay Area many times now. What are your impressions of the area?
I love it, man. The reason I have even run my website is so I can learn about stuff I've never heard of before. I mean, for a while I had never heard of 3 Times Crazy or RBL Posse, and I would always discover new stuff when I'd go to the Bay Area. I've been doing my homework, and I'm up on the Getlow Playaz, the Delinquents and a bunch of others. Peanut Butter Wolf's history, Hiero of course and many more. My knowledge of the Bay Area runs deep. I mean, I have more to learn, but I know more than just Digital Underground and "Mac of the Year."
What local music from here do you dig?
I'm a big fan of early Click stuff. It took me forever to find the Leftside EP, the very first Click record. I'm also a big fan of E-40. Here's something most people don't know: When I was in Japan, I was trying to get my dig on, searching for everything I could find of interest. There was a Japanese collector whose mission in life is to collect every moment of Sly Stone ever recorded on tape; home videos, concert footage, news footage, whatever, this guy had it! He knew I was a collector, so he gave me a bunch of these tapes and records and stuff. On one of the tapes was this quasi-investigative documentary that had this guy walking the streets of Oakland with a video camera, literally looking for Sly Stone.
It's so funny, he's wandering around the Bay Area, San Jose, San Francisco and Oakland. He ends up in Vallejo, and he's already a fish out of water, sounding like Robin Leach and about to be robbed in three seconds. Next thing I know, he focuses his camera on a bunch of black dudes on the corner, and already these dudes are on edge. And I swear, to my amazement, one of the black dudes was E-40! It was the skinniest E-40 I had ever seen in my life.
What about the South Bay in particular struck you, and what do you take with you when you leave here?
New York is on some other shit. In New York, if you're a celebrity, they'll support you. But the bay still has B-boy crews, a deep history of DJing and [even] a constant eye for graffiti culture. I'm always like, "They still make you people?"
THE ROOTS open for ERYKAH BADU on Sunday–Monday (June 1–2) at 6:30pm at Paramount Theatre, 2025 Broadway, Oakland. Tickets are $45.50–$83.50. (408.998.TIXS)
Send a letter to the editor about this story.