06.04.08
home | metro silicon valley index | music & nightlife | band review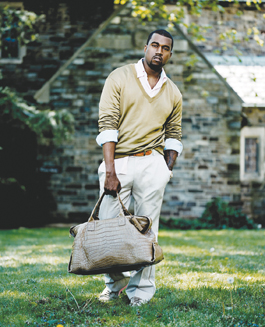 Packed and Ready: Has Kanye West grown too big for his hip-hop britches?
Big Fish
Kanye West is huge—so why does he seem so small?
By John Gentile
IT SEEMS that Kanye West is trying to straddle two worlds, and he might just be titanic enough to do it. On one hand, he is hip-hop's fearless innovator, mixing classic Public Enemy samples with Steely Dan with Daft Punk with 311, taking hip-hop in bold new directions in an effort to steer it away from the ever-looming threat of stagnancy. On the other hand, he's pure pop showman, leading clap-alongs, dancing while the audience sings choruses, surrounded by smoke and flashing lights. On his latest tour, dubbed "Glow in the Dark," West surrounds himself with intergalactic motifs, often referencing Stanley Kubrick's 2001: A Space Odyssey. And just like Capt. Dave scratched his head in the presence of the black monolith, when the audience catch their first glimpse of West emerging from flashing lights, they ask, "Just what is this thing that is Kanye West?"
When West preformed in San Jose last April, the stage show was as important as the performer himself. West appeared in a massive arena surrounded by high-tech gadgetry. As he dropped his verses, laser beams pierced the air, smoke was ubiquitous and a massive LED screen behind West played the foil to his verses. While West was rapping the heartfelt rhymes of "I Wonder," the screen teleported him to the desolate rings of Saturn. During "Can't tell Me Nothing," the hip-hopper aimlessly drifted through the galaxy.
While he pushed multimedia aspect of concerts in April, he also pushed Graduation, with almost half the set being drawn from his newest album. While critical acceptance of Graduation hasn't reached that of his previous two albums, West brought out a number of new cuts not so much to rework them, but to give the audience a second chance at hearing them. For the most part, it seemed this gambit worked, and an interesting contrast arose. The songs off Graduation seem reserved and private, but when he performed them live, they were transformed into snappier crowd chants. Still, when the hammering beats of "Gold Digger" and "Jesus Walks" hit the audience, the entire arena shook.
But even though West is bold enough to mix so much flash into his music, does he become more pop than hip-hop? In 2007, AllHipHop asked hip-hop founding father KRS-One, who recorded the 2007 single "Classic" alongside West and Nas, what he thought of Kanye's newest album. KRS, who refers to himself as the physical manifestation of hip-hop (with good cause,) had a very interesting viewpoint. "Kanye's album was brilliant," he said, "That was a really good work. But is it hip-hop? Flashing? Lights? Camera? Nah, we want the boom bap!"
Certainly Kanye's stage show suggests that he might be drifting away from hip-hop. The Glow in the Dark tour is an achievement in choreography with all of its light up floors, gigantic lit globes and powerful strobe lights. But in this orchestration, a great deal of flexibility is lost. There's almost no room for freestyling; the music is all pre-recorded, giving a DJ no chance to innovate upon the turntable. While the greatest asset of many hip-hoppers is the ability to get down in your face, West elevates himself into outer space, leaving you with just a glimpse of him between whiffs of smoke and blasts of light beams.
By blending the gigantic live show with his music, Kanye implies that the huge show is the new hip-hop and that music can be both hip-hop and pop at the same time. If there's someone with enough bravado and skill to accomplish such a feat, it is Mr. West. No other hip-hop group has come as close to making such a huge show, and such daring is admirable. But, at the Glow in the Dark tour, when West claps his hands above his head, he's just a tiny speck on the huge stage and monstrous screen. It's easy to overlook him in the face of a fancy computer graphics, which raises the question: Has the art grown bigger than the artist?
KANYE WEST performs with RHIANNA, N.E.R.D. and LUPE FIASCO on Friday (June 6) at 7pm at HP Pavilion, 525 W. Santa Clara St., San Jose. Tickets are $39.50–$75. (408.998.TIXS)
Send a letter to the editor about this story.