06.04.08
home | metro silicon valley index | the arts | stage | review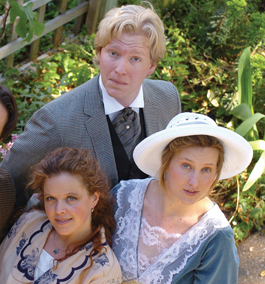 Photograph by Joyce Goldschmid
WILDE ONES: Shannon Stowe (from left), Jeff Clarke and Sarah Cook star in Bus Barn's 'The Importance of Being Earnest.'
Oscar Worthy
'The Importance of Being Earnest' brings out the best in Bus Barn
By Marianne Messina
BUS BARN proves that across the pond and a century later, Oscar Wilde's irreverent look at English society can still be funny. The Importance of Being Earnest, a parlor comedy of the most trivial sort, tells of two bachelors with secret identities that serve as an escape hatch from the demands of social appearances.
"In matters of grave importance, style, not sincerity, is the vital thing," boasts Lady Bracknell's daughter, Gwendolen (Shannon Stowe), one of the play's two hopeful brides-to-be. While encouraging friend Jack "Ernest" Worthing (John Romano) to propose to cousin Gwendolen, Algernon (Jeff Clarke) plots to meet Jack's ward, Cecily Cardew (Sarah Cook). But each of the men must get past the young women's guardians. For Jack, the obstacle is Lady Bracknell (Wendy Howard-Benham); for Algernon, as it turns out, it's Jack.
Director Barbara J. Cannon's creative attention to detail keeps the action hilarious, bringing Wilde's humor to full bloom. Romano's hangdog Jack spits out a mouthful of hat feather as he tries to kiss Gwendolen. The self-loving Gwendolen (who boasts, "I almost always speak when others are speaking") makes a grandiose flourish with her arm, and Cecily has to duck quickly. Lady Bracknell holds her hand out to Cecily for a formal kiss, and the country girl bypasses it to kiss the aghast lady on the cheek. The scene in which Algy and Jack fight like siblings over a tray of muffins escalates perfectly into a riotous final kick.
The production's silky smooth pacing neither hurries nor flounders. Lady Bracknell moves with deliberation, laboriously dabbing her face when flustered, gradually drawing out her spectacles to inspect Cecily. "Your hair is almost as nature left it," she remarks disapprovingly. Many Lady Bracknells speak as blowhards or fools, unaware of the humor in their own statements—"He was a man of peace, except in his domestic life." Howard-Benham speaks as a formidable woman with a withering scowl. She represents the voice of her times, as Wilde would have relished her. However humorously twisted her logic, she must be reckoned with.
Howard-Benham's Bracknell shows humor in her own right, leaving the laughable pomposity of the leisure class to her nephew Algernon. Clarke's lovable Algernon is exceedingly funny. Despite hints of the traditionally debonair (Rupert Everett–type) Algernon, Clarke's shit-eating grins, his balletic stances, his ebullient dress, those curls in the middle of his forehead, all present him as a pampered and puerile Toad of Toad Hall. Though Clarke's Algy is not Toad-portly, when he doubles his chin you can see poundage in his prospects.
This fun production has us waiting for every new hat to emerge (Emily Greene, costumes), the plastering of peacock-eyes, the nest of black bows, the floppy black tulle drooping like a lost veil down the back of Jack's tuxedo as he feigns mourning over his nonexistent brother. Likewise, a nice pair of French doors with brass handles says a lot in Rob Gasparinetti's uncluttered yet delightfully Victorian set. A clever turntable helps to refresh the scene for the play's third act. Bus Barn's thought-out, tightly rendered production acknowledges the theatrical importance of being earnest in a way Wildephiles will appreciate.
THE IMPORTANCE OF BEING EARNEST, a Bus Barn Stage Company production, plays Wednesday (June 4) at 7:30pm, Thursday–Saturday at 8pm and Sunday (June 8) at 3pm through June 21 at the Bus Barn Theatre, 97 Hillview Ave., Los Altos. Tickets are $24–$30. (650.941.0551)
Send a letter to the editor about this story.