06.04.08
home | metro silicon valley index | columns | technology news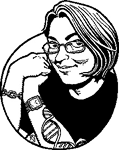 Technology News
A Space Colony In Wisconsin
By Annalee Newitz
EVERY YEAR in late May, several thousand people descend on Madison, Wis., to create an alternate universe. Some of them want to build a galaxy-size civilization packed with humans and aliens who create massive halo worlds orbiting stars. Others are obsessed with what they'll do when all of humanity is left to survive in the barren landscape left after Earth has been destroyed by nukes, pollution, epidemic, nanotech wipeouts or some combination of all four. Still others live parts of their lives as if there were a special world for wizards hidden in the folds of our own reality.
They come to Madison for Wiscon, a science-fiction convention that's unlike most I've ever attended. Sure the participants are all interested in the same alien worlds as the thronging crowds that go to popular Atlanta event Dragon*Con or the media circus known as Comic-Con. But they rarely carry light sabers or argue about continuity errors on Babylon 5. Instead, they carry armloads of books and want to talk politics.
Wiscon is the United States' only feminist science-fiction convention, but in the more than two decades since its founding the event has grown to be much more than that. Feminism is still a strong component of the con, and many panels are devoted to the work of women writers or issues like sexism in comic books.
But the con is also devoted to progressive politics, anti-racism and the ways speculative literature can change the future. This year, there was a terrific panel about the fake multiculturalism of Star Trek and Heroes, as well as a discussion about geopolitical themes in experimental writer Timmel Duchamp's five-novel, near-future Marq'ssan series.
While most science-fiction cons feature things like sneak-preview footage of the next special-effects blockbuster or appearances by the cast of Joss "Buffy the Vampire Slayer" Whedon's new series, Dollhouse, Wiscon's highlights run toward the bookish. All of us crammed inside one of the hotel meeting rooms to be part of a tea party thrown by the critically acclaimed indie sci-fi webzine Strange Horizons (strangehorizons.com), then later listened to several lightning readings at a stately beer bash thrown by old-school science-fiction book publisher Tor.
One of the highlights of the con was a chance to drink absinthe in a strangely windowless suite with the editors of alternative publisher Small Beer Press, whose authors include the award-winning Kelly Link and Carol Emschwiller. You genuinely imagine yourself on a spaceship in that windowless room—or maybe in some subterranean demon realm—with everybody talking about alternative realities, AIs gone wild and why Iron Maiden is the best band ever. (What? You don't think there will be 1980s metal in the demon realm?)
Canadian master of DIY publishing and filmmaking Jim Munroe was at Wiscon talking about literary zombies and ways anarchists can learn to organize their time better, while guest of honor Maureen McHugh gave a speech about how interactive online storytelling represents the future of science fiction—and fiction in general. Science-fiction erotica writer/publisher Cecilia Tan told everybody about her latest passion: Writing Harry Potter fan fiction about the forbidden love between Draco and Snape. Many of today's most popular writers, like bestseller Naomi Novik, got their start writing fan fiction. Some continue to do it under fake names because they just can't give it up.
Perhaps the best part of Wiscon is getting a chance to hang out with thousands of people who believe that writing and reading books can change the world for the better. Luckily, nobody there is humorless enough to forget that sometimes escapist fantasy is just an escape. Wiscon attendees simply haven't given up hope that tomorrow might be radically better than today. They're passionate about the idea that science fiction and fantasy are the imaginative wing of progressive politics. In Madison, among groups of dreamers, I was forcefully reminded that before we remake the world, we must first model it in our own minds.
Annalee Newitz is a surly media nerd who bought way too many books at Wiscon and can't wait to read them all.
Send a letter to the editor about this story.