June 6-12, 2007
home | metro silicon valley index | columns | 5 things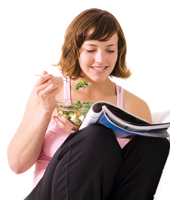 5 Things to Love
Great Food Mags
By Stett Holbrook
DO YOU LIKE food so much that even when you're not hungry you're still thinking about it? These five food magazines are for you.
The Art of Eating: Kind of like The New Yorker meets Saveur. Artofeating.com.
Chile Pepper: For those who like it hotter. Chilepepper.com.
Chow: This lively and entertaining online publication is for people who like their food writing served with a sidedish of fun. Chow.com.
Gastronomica: An academic journal for foodies. Gastronomica.org.
Slammed: A food industry magazine with attitude. Slammedmagazine.com.
Send a letter to the editor about this story.