June 6-12, 2007
home | metro silicon valley index | silicon valley restaurants | review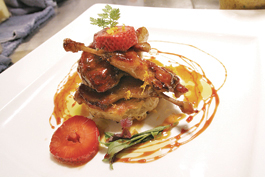 Photograph by Felipe Buitrago
Better than Sammy Hagar: Quail done Mike Miller style at Trevese.
Chef on Fire
Mike Miller is at the peak of his powers with Los Gatos' Trevese
By Stett Holbrook
SAMMY Hagar's loss is Los Gatos' gain. When the Red Rocker sought a second location for Tres Agaves, his popular San Francisco restaurant and tequila haven, he set his sights on the old Chart House building, the Victorian funeral parlor–cum-restaurant that has long been a downtown Los Gatos landmark. But chef Mike Miller was also interested, and ultimately the local boy scored the lease.
After an extensive interior renovation, the restaurant opened in late March. It's called Trevese and is one of the boldest, most delicious restaurants to open in Silicon Valley in years.
Miller became a darling of the Silicon Valley restaurant scene with his Almaden Valley restaurant Umunhum, but in spite of critical acclaim the restaurant didn't last long. It closed in 2003, three years after it opened. Miller went on to other Bay Area restaurants and more recently spent time bouncing around Europe honing his culinary skills.
Trevese, a contraction of Miller's wife's name, Therese, and their son, Trevor, is the expression of a chef at the peak of his creative powers. His describes the menu as "modern American," and it displays elements that are both familiar and exotic. Miller's techniques and ingredients will excite foodies seeking culinary thrills, yet won't scare away diners who think foie gras and arugula are French plots to corrupt American values.
The interior of the restaurant is done up in moss green and black. It creates a somber but elegant tone. There's also a good–looking deck, but there were no takers on my visits. The bar at the back of the restaurant looks like an inviting, fire-lit cave. If there's a more seductive, hideaway bar, I haven't found it.
It's hard to talk about Trevese without mentioning Manresa. David Kinch's Michelin-starred, 800-pound gorilla of a restaurant raised the bar for restaurants in Los Gatos and for the South Bay in general. It also demonstrated that diners are willing to shell out serious cash for seriously good food. Like Manresa, Trevese offers a tasting menu, but unlike Manresa the restaurant also offers an extensive a la carte menu.
As the word about Trevese gets out, I predict Los Gatos diners will divide themselves into Manresa people and Trevese people. Manresa's reputation as a high temple of gastronomy is well established, but for some the food is too esoteric, too precious and too time consuming to eat. Some complain that they're still hungry even after eating their way through a tasting menu of nine courses or more.
Trevese seems to have taken some of those criticisms to heart and created a menu it hopes will appeal to diners with slightly less adventurous tastes who still want a memorable, top–notch meal. Trevese's tasting menu is $90 for seven courses and $135 with wine pairings, much cheaper than Manresa. While adding wines makes for a pricey meal, it's worth a splurge. Trevese has assembled a superb wine list that's deep and wide.
Meals start with a jewel-like amuse bouche. On one visit, the complimentary dish was a tall shot glass filled with cucumber water and melon granita that was at once salty and sweet, a great, appetite-stimulating taste of things to come. On another visit, it was orange and Thai chile gelée atop a wonderfully creamy basil mousse. The interplay of tart, spicy and creamy was brilliant. Trevese also bakes a variety of breads—manchego, pecan, olive, rosemary—and it's all great.
To fully appreciate Miller's considerable culinary skills, head for the tasting menu. For me, a tasting menu should flow like a piece of classical music that rises and falls with intensity, complexity and richness. However, Trevese's tasting menu serves up course after course that are the musical equivalents of finales, big, bold statements that are each quite delicious, but cumulatively had me longing for a few lighter notes to balance the rich, over-the-top flavors that dominate the tasting menu. By the end of meal, I was glad it was over because I was so full. But along the way, I ate some truly great food.
Some of my favorite dishes included the luxuriously creamy asparagus flan, the roasted scallops with crab "fondue" and grapefruit gelée, and the "duck press." The last dish was clever and delicious. Pieces of duck confit are molded into a cubelike shape and crisped on the outside. Inside, an ingot of foie gras in the center of the duck block melts into the meat and suffuses it with dreamy richness.
Other dishes like the rabbit loin and beef tenderloin with marrow sauce were good but didn't scale the heights of the rest of the menu.
The a la carte menu contains nearly a dozen starters and entrees and covers a lot of ground. I loved the plump, seared sea scallops ($13) served with a cold tangle of soba noodles and a tart seaweed salad. The serving of two pea soups ($9), a velvety bisque enlivened with pancetta and serrano chiles and a dark emerald green pea broth, was one of the most memorable dishes I had. Each soup packed the just-picked, sweet flavor of spring peas.
The entrees I tried were not quite as good. The black cod ($24) was pan-fried and beautifully crisp, but inside, the fish was strangely mushy and overly moist, almost oily. I had high hopes for the "vegetarian composition" ($18), a dish described as a "selection of grains, greens, vegetables and starches." What I got was a plate of ho hum grilled asparagus and sautéed pioppini mushrooms served over a bed of gummy brown rice. Not what I had in mind.
But the chocolate–pistachio tart served with a dollop of house-made pistachio ice cream ($10) was great.
If many of the servers at Trevese look familiar, that's because they are. The restaurant's front-of-the-house staff is an all-star team of talent that has worked in the dining rooms of some of Silicon Valley's top restaurants. These guys (and most of them are male) are professionals, and it's refreshing to have knowledgeable, friendly service that matches the talent in the kitchen.
There was a time when Los Gatos was dominated by mediocre restaurants. Those days are over. Manresa and more recently Dio Deka have elevated the city's culinary profile. And now with Trevese, the city has another destination restaurant. Chef Miller made people sit up and take notice with his last restaurant. In spite of a few stumbles, Trevese will make Miller impossible to ignore.
---
Trevese
Address: 115 N. Santa Cruz Ave., Los Gatos.
Phone: 408.354.5551.
Hours: 5-11pm Mon-Sat.
Cuisine: Modern American.
Price Range: $18-$135.
Send a letter to the editor about this story.