June 6-12, 2007
home | metro silicon valley index | the arts | books | review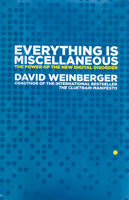 Everything Is Miscellaneous: The Power of the New Digital Disorder
(By David Weinberger; Times Books; 277 pages; $25 cloth)

First we had the "long tail," now David Weinberger (The Cluetrain Manifesto) introduces the power of miscellany. The very nature of cyberspace allows for new ways of organizing knowledge. Because physical restraints don't matter on the web, everything we want can be virtually everywhere instead of in the third aisle from the left. Things that have no apparent connection—miscellany—can be mashed together in infinite ways. In the past, libraries have used markers, like the catalog card, to point to physical locations based on identifiers like author, title and subject. The web doesn't need even that much structure; instead, Weinberger writes, "The solution to overabundance of information is more information." After a brisk overview of humankind's attempt at enforcing orderliness, from Aristotle to Linnaeus to Melvil Dewey's system for cramming all library books into decimal chunks ("What a scam that was," as Kramer proclaimed on Seinfeld), Weinberger praises "tagging" as the future of organization. Tagging digital objects (photos, articles, video clips), as on Flickr and YouTube, "takes the territory subjugated by classification and liberates it." Users will determine what they want to call things. Eventually, statistics will create the most accurate categories, i.e., the ones most people choose. It is the democratization of organization. Projects like Google's full-text book scanning even allow searching for individual words and passages, creating a sometimes-glorious, often-bewildering ultra-index. Unfortunately, democracy can devolve into mob rule, and searching tags can be a frustrating experience. There is still no substitute for the controlled vocabulary and subject hierarchies created by catalogers and librarians.
Review by Michael S. Gant
Send a letter to the editor about this story.