June 6-12, 2007
home | metro silicon valley index | music & nightlife | profile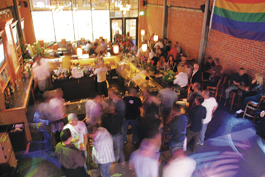 Photograph by Felipe Buitrago
Taste the Rainbow: Hunters Nightclub makes the tasty cocktails.
Pride And Joy
S.J. Pride's pre-party christens a brand-new downtown GLBT club
By Mike Connor
LAST Wednesday at Hunters, a new GLBT club located downtown next to the California Theatre on South First Street, owner Rod Schisler's cell phone was blowing up. It was two days before the club's June 1 grand opening (strategically timed to coincide with Pride month, during which his club will also be hosting S.J. Pride's official pre-party) and the man is a question-fielding machine.
In between calls, we talked about his new club from the DJ booth, an aerial vantage point of his freshly renovated 4,000–square–foot club. The combination of a brand spanking new bar and the plain brick walls makes it feel both fancy and unpretentious—a promising balance in an area still fumbling to find its identity.
While its character may suit its surroundings, the club's identity is also defined by the Hunters franchise. It was started in Chicago 24 years ago by brothers Mark and Allen Seymour, who happen to be the cousins of Schisler's wife, Cindi. The Seymours opened a branch in Palm Springs in '98 and have now put their good name and experience behind the Schislers' club in San Jose.
While he carries himself like an old pro, Schisler's nightclub endeavor is his first.
"My wife and I wanted to [open this club] because we saw there was a need for an upscale gay club in San Jose," says Schiser, a round and rosy–faced retiree from the semiconductor business who's lived in San Jose his whole life.
Modest in size, Hunters nevertheless manages to fit in a front patio for drinking (but no smoking) thanks to the setback facade, and a larger patio out back for drinking and smoking. There's also a pleasant water fountain, the soothing sounds of which were utterly drowned by the pile driving next door.
The rhythmic clanging (ahh, the sound of downtown San Jose up-and-coming) is a sound that daytime downtown denizens have been dancing to for weeks, and can expect for months to come. Fortunately for the Schislers, the work stops during most of their regular business hours, and will cease entirely during Pride out of respect for the occasion—a modest act of conciliation among future neighbors, but a good portent of a future symbiotic relationship (luxury condos + local, upscale GLBT bar = the good, gay life).
Get on the Dance Floor
The Hunters Nightclubs website opens with the obligatory Flash intro showing hip young partiers getting their groove on to teasing captions ("Sexual dances!" "Full Throttle!" "Move Your Body!"), setting the tone for not just a bar but a dance club. And at the pre-party for Pride this Thursday, the dance floor will be in full effect. There's an Internet jukebox available, but the Hunters franchise tends to favor the DJ format. A quick look around huntershunks.com also reveals the franchisors' fondness for mostly naked male dancers performing at their clubs, but Schisler says they haven't yet settled on a set schedule of themes for each day of the week, preferring instead to listen to demand of his future customers. In the meantime, event info is posted on their website.
But even if the format is not yet set in stone, his commitment to upholding the standards of the Hunters franchise is.
"We like to keep consistent the quality of the club," says Schisler. "We like to make it a fun and friendly place for everyone, we like to keep consistent the service to our customers, and we like to have a nice, upscale, fun place for everybody to enjoy themselves."
The Official San Jose Gay Pride Pre-Party happens on Friday (June 8) at Hunters Nightclub, 349 S. First St., San Jose. For more information, visit www.huntersnightclubs.com/san_jose.html or www.sanjosepride.com.
Send a letter to the editor about this story.