June 6-12, 2007
home | metro silicon valley index | the arts | stage | news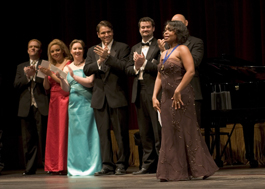 Photograph by Robert Shomler
NaGuanda Nobles (left) topped an impressive field of vocal talent at the Irene Dalis Competition on June 1.
San Jose Opera Contest Picks Vocal Champs
Florida Soprano NaGuanda Nobles won the Inaugural Irene Dalis Vocal Competition last Friday (June 1), held at the California Theatre in San Jose. The competition, named after Opera San Jose founder Irene Dalis, showcased 10 young opera singers, giving each a chance to perform two arias from the repertoire. The panel of three judges-Christopher Hahn, artistic director of the Pittsburgh Opera; Peter Mark, artistic director of the Virginia Opera; and Diane Zola, artistic administrator of the Houston Grand Opera-awarded top honors to Nobles, a graduate of Florida State University, who began her singing career with the Georgia Mass Choir. Nobels has performed as Papagena in The Magic Flute and sun in Europe as part of the Soul of America Tour. She took part in the Austin Lyric Opera's Young Artist program and earned strong reviews for her singing in the opera Dead Man Walking. She currently appears with the Pittsburg Opera Center. Top prize was worth $15,000.
Kristin Rothfuss of Santa Barbara won second prize ($10,000), and Oksana Sitnitska of Ternopol, Ukraine, took third prize ($5,000). The other participants each received $1,000: Adam Flowers, Christopher Clayton, Kimberly Giordano, Jason Detwiler, Alaine Rodin, Scott Six and Scott Bearden. Bearden also won $5,000 as the audience favorite.
Send a letter to the editor about this story.