June 6-12, 2007
home | metro silicon valley index | movies | current reviews | film review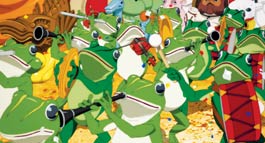 Courtesy Sony Pictures Classics
Kermit's Revenge: The frogs come marching in for a disturbing parade in 'Paprika.'
Dream Therapy
A cross between Audrey Hepburn and Dr. Strange, animated 'Paprika' is the only superhero who matters this summer
By Richard von Busack
BY DAY, the virginal psychiatrist Dr. Chiba (the voice of Megumi Hayashibara) walks the corridors of a futuristic sleep studies lab. She is one of the more high-ranking scientists there, tending a system that can read dreams and display them on a computer screen. But in the mostly male office, she is an underling, enduring condescension from the company's chairman, a grumpus in a wheelchair. In his leisure hours, he vegetates inside a greenhouse, like doddering old Gen. Sternwood in The Big Sleep.
As part of her duties in the new anime Paprika, Chiba must act as the unofficial baby sitter for her co-worker Tokita (Toru Furuya). The grossly obese cybergenius has invented that most remarkable apparatus, the DC-MINI, a hair-beret-size computer with tiny claws. Placed on the head, the DC-MINI allows a witness to enter into a dreamer's dreams and participate.
When she wears this device, Dr. Chiba can assume her other form, the dream detective Paprika. And that's a good thing, because Paprika is the only superhero who matters this summer. Chirpy, page-boyed and tiny, she embodies Japan's well-known Audrey Hepburn fetish. Only a really unthreatening avatar could bypass the defenses of those chauvinist Japanese men, paralyzed inside with frightful anxiety.
Besides Holly Golightly, Paprika's other forbear seems to be Marvel Comics magus Dr. Strange. The doctor's first case, back in 1963 (in Strange Tales No. 110), involved what Paprika is up to here: astral projection into a patient's nightmares.
Paprika begins in a dream sequence within the subconscious of a police detective called Konakawa (Akio Ohtsuka). He escapes a circus of horror into a crazy-quilt Sherlock Jr. overlap of films: first a Tarzan adventure, then the Orient Express fight scene in From Russia With Love and, finally, an armed chase through a wobbly hallway that disintegrates into a gulf of negative space. All in all, a sequence designed to make Jim Steranko fans slaver.
The key to Konakawa's trauma, Paprika guesses, lies in Konakawa's nightmare multiplex. He must return to watch the film through. "I don't like films," Konakawa shouts. His uneasy feelings about cinema mask a buried memory. It must be that way—no one in a movie who doesn't like movies can really be sane.
Paprika has more worries than just Konakawa's baffling nightmares. The DC-MINI is stolen, and someone—a thief or maybe a terrorist—starts using the device to patch into the best minds in the lab. The scientists bubble with euphoria, recite dadaesque gibberish and end up comatose in the hospital.
In recovered images from the victims' dreams, the same recurring story turns up again and again. As they sleep, they imagine a sinister victory parade of home appliances, animals and monsters, marching to the trumpets of an orchestra of frogs. The Statue of Liberty follows the Japanese royal family. A smirking gosho doll, nesting on cushions in a carriage, serves as the grand marshal. The parade swells with new victims as it heads for the center of Tokyo. Around the procession flitter clouds of blue butterflies, maybe related to the green phosphorescent Lunesta moth.
The clues to this deadly dream are sparse yet elegant, found in the rubbish of apartments and abandoned amusement parks and in drains underneath the city. Paprika—hero and therapist—mutates into a butterfly to get to the vortex of this terrible brain-drain.
Paprika is among the most elegant animes ever made, with a lucid, handsome surface and a subtext that will give cinema-loving essayists plenty of work. Susuma Hirasawa's eerie electronica score has both the sugar-frosted prettiness and the requisite scare power of dark carnival music.
Yes, the ending turns out a little disappointing, with Paprika slightly tamed and a little less peppery than her name. We want to see the shy Dr. Chiba become more like Paprika. She does, slightly. But she becomes more womanly than girlish and adventurous. Freed from her mask of cold professionalism, Chiba is now open enough to be able to address her changing feelings for Tokita. If you ask me, a sweaty man-mountain with a severe eating problem probably needs Paprika to fly in and pay a visit to his subconscious.
Anything can happen in Paprika, in which the dream world begins to rupture into the realm of daylight. Our heroine uses everything from detective work to Jungian logic to so-called "movie therapy" to keep our world safe. But though this cartoon has some of the insistently disturbing imagery of David Lynch, it is not incoherent—as incoherent, say, as director Satoshi Kon's Perfect Blue, a murky, exploitive anime fantasy that was like Brian De Palma when he's off his game. As in Winsor McCay's Little Nemo in Slumberland—another source for the ideas here—dream logic doesn't dwarf old-fashioned storytelling. Ultimately, Paprika displays the forward thrust and the satisfying simplicity of a Batman adventure.

Paprika (R; 90 min.), an animated feature directed and written by Satoshi Kon, based on the novel by Yasutaka Tsutsui, photographed by Michiya Kato, with the voices of Megumi Hayashibara and Toru Furuya, opens June 8 at selected theaters.
Send a letter to the editor about this story.