June 6-12, 2007
home | metro silicon valley index | the arts | visual arts | review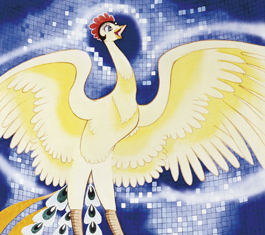 ©Tezuka Productions
Flight pattern: The watercolor for the cover of Tezuka Osamu's 'Phoenix' (1976) shows a resplendent bird arising.
Manga Man
The Asian Art Museum salutes the art of manga master and Astro Boy creator Tezuka Osamu
By Richard von Busack
IF Tezuka Osamu (1928–1989) was the Walt Disney of Japan, Astro Boy was his Mickey Mouse. Astro Boy is the robot of tomorrow. His oversize red boots conceal jet engines, and his chubby, lima bean–shaped body hides a 100,000 horsepower atomic engine. And if anyone doubts the relationship between the mouse and the robot, observe the Disneylandish experience of cruising the gift shop at the Asian Art Museum, where one can find much gotta-have merchandise emblazoned with Astro Boy's determined little cowlicked head.
Dark Horse reprinted Tezuka's Astro Boy graphic novels. They have aged very well; I nearly missed my bus stop reading one. Here we see in abundance the cleverness, gentleness and irresistible appeal of a classic children's cartoon hero. "Tetsuwan Atomu" shies from needless violence; he is the superhero as envisioned by a pacifist, nonpracticing Buddhist physician turned artist.
The Tezuka show, titled "The Marvel of Manga," stresses kid appeal and includes a lounge area where kids can draw their own manga. Nearby, a documentary shows reels of Tezuka's TV adaptations, such as the Astro Boy show that once ruled UHF.
This represents Tezuka at his most mainstream, but the exhibit of original drawings demonstrates a talent so ambitious that it approaches a breaking point. Here is a manga adaptation of Crime and Punishment, for instance, starring a round-headed, big-eyed Raskolnikov.
In the realms of fantasy, religious drama and erotica, Tezuka felt more secure. His long stories of the immortal Phoenix sound strikingly like the plot of The Fountain, with love, death and reincarnation played out over centuries. A panel from Tezuka's Jungle Emperor shows Leo (known hereabouts as "Kimba the White Lion") posing atop a lion-king rock in a fashion eerily familiar to Disney watchers. No comment is needed.
In other exhibits, some comment might have been useful. The splash page of Eulogy for Kirihito, a story of a caninethropic plague similar to Ionesco's Rhinoceros, depicts unimaginable pain with references to other art. A face gives way to the Greek relic the "mask of Agamemnon," which yields to a Polynesian statue and Klee-like doodad figures. Pointing out the Aubrey Beardsley drawing that Tezuka borrowed to illustrate a story of androgyny might have helped in studying how Tezuka adapted Western art to his own genius.
The most savage images come from Tezuka's darkest work. Bomba! concerns the supernatural adventures of a parricide. MW, a.k.a. Mu, tells how Okinawa is wiped out by a stash of American nerve gas; the United States was storing some 13,000 tons of chemical weapons on that island as late as 1971. The biocatastrophe leads to mortal conflict between the only two survivors: a religious penitent and a bisexual male assassin. Gorier still is Tezuka's Black Jack, about a Byronic, scarfaced surgeon and class warrior.
It is as if American cartooning had one figure who combined the talents of Will Eisner, Carl Barks and the Hernandez brothers. Tezuka transformed manga from a static, illustrative art to a medium that rivals cinema. Philip Brophy, the Australian curator who collected this show for the National Gallery of Victoria, takes on English-speaking journalists for regarding manga as mere comics.
Unfortunately, Brophy makes exceptionalist statements about the differences between comics and manga: "Manga is perceived in Japan as capable of a far wider communicative scope by both artists and their audiences than is either imagined or allowed in the west." Tell that to Chris Ware or Robert Crumb.
Tezuka had to fight a restrictive industry, too. The artist's notes mention battles he lost with publishers, and his artistic freedom was fettered by commercial appeal. Though they called Tezuka the "god of manga," his temple was full of hacks. Just how far Tezuka was above his contemporaries can be seen in this show, which is more than just a nostalgia trip for fans of Astro Boy.
Tezuka: The Marvel of Manga shows through Sept. 9 at the Asian Art Museum, 200 Larkin St., San Francisco. (415.581.3500)
Send a letter to the editor about this story.