June 6-12, 2007
home | metro silicon valley index | the arts | books | review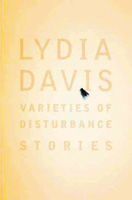 Varieties of Disturbance
(By Lydia Davis; Farrar, Strauss & Giroux, 217 pages; $13 paper)

It is a tiny misnomer to label this book by Lydia Davis a collection of stories. Many of the pieces run to just a paragraph in length. Their footpaths from here to there are zigzagged, discursive; there are no cliff-hanger endings. Then again, Davis has never been about cheap or tidy thrills. She's rather more like a literary equivalent of a CSI criminologist who shows up in the vicinity of a story and begins dusting for clues. To her, how a story is put together is as interesting as what a story wants to tell us. Varieties of Disturbance shows Davis at her technical best, telling stories through inspired deconstruction. "We Miss You" parses the sentiment from the cliché in a children's letter of sympathy for a sick classmate. Davis is extremely skilled at breaking down an experience without letting her prose turn analytic, or cold. "Television," for instance, begins with a series of observations on why we watch the flickering screen. Each line manages to weave sociological and sensory insights. "We listen to the ads until we're exhausted, punished with lists: they want us to buy so much, and we try, but we don't have a lot of money. Yet we can't help admiring the science of it all." Sometimes, Davis loses a handle on tone and winds up with an observation that feels scientific, or a story about making a story which never transcends its device. The entirety of "Insomnia," for instance, reads "My body aches so/ It must be this heavy bed pressing up against me." Davis is extremely good at turning our perception on the sharp pivot of a single line. The best stories pile up one such mind-bender after another, and then turn this observational jujitsu on the form of the story—and often memory too. The gem is a three-page piece called "Grammar Questions," in which the narrator studies the words she uses to describe her ailing father. "People may say "the body" and then call it "it." I will not be able to say "the body" in relation to him because he is still not something you would call "the body." This is tricky, sometimes miraculous work.
Review by John Freeman
Send a letter to the editor about this story.