June 7-13, 2006
home | metro silicon valley index | music & nightlife | interview/preview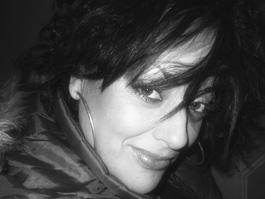 Freestyle Fellowship: Gwen Stefani and Janet Jackson honored Debbie Deb in the past year.
Weekend Warrior
How freestyle legend Debbie Deb overcame body image issues and an imposter to persevere
By Todd Inoue
RECORDED 20 years ago, Debbie Deb's "Lookout Weekend" enjoys anthem status in the Latin freestyle genre. The song, produced by Pretty Tony, bridged Miami bass and New York electro with an express subway car. Debbie Deb was the 16-year-old conductor, documenting the drama and excitement of hitting the nightclub with the girls. "Jumping music, slick DJs, fog machines and laser rays/ Lookout weekend 'cause here I come/ because weekends were made for fun."
To Debbie Deb, the song became her destiny. During the week, she works as a stylist at Talking Heads Hair Design in Newtown, Pa. On weekends, she flies around the country singing "Lookout Weekend" and her other hits ("When I Hear Music," "Funky Little Beat," "I Wanna Work It Out"). On Sunday, she appears at the SJ Gay Pride Festival.
"My mom is gay," Debbie reveals. "She and her partner have been together for 28 years. I support gay pride all the way."
After being pushed aside by reggaeton and hip-hop, the atmosphere is right for a freestyle comeback. The upbeat club music embraces innocent themes of unrequited love—a distinct change from the more aggressive and explicit R&B songs of today. Its futuristic core possesses leverage to move the laziest dance floors.
"The songs back then were written from the heart," she says. "They made you want to dance. Songs today are written to sell records. Everything is a carbon copy of each other. It's not wholesome any more."
Freestyle is gaining cool points. Pop stars young enough to have lived through that era have name-checked Debbie Deb and freestyle. In interviews, Gwen Stefani puts Deb alongside the Cure when listing her influences. Diplo and DJ J-Rocc included "When I Hear Music" in recent remix projects. Last month, Janet Jackson posted a cover of "Lookout Weekend" on her website.
"That blows me away," she says. "I'd love to meet her and say 'Thank you.'"
Collecting props from famous stars is something she never thought would happen. The label made the decision to not put her picture on the record jacket, even going as far as hiring an imposter to pose and perform as Debbie Deb. The experience torpedoed her confidence and her financial portfolio; she earned little to nothing from her early singles. She fell back on her hair styling background.
"It crushed me for many years," she says. "When Pretty Tony came to me, I had no training. I was 16 years old and just loved to sing. I had no desire to be a performer. I was thrown into it. Then when push came to shove, I didn't know what to do. They wanted to make money quickly so they kept the name and hired an imposter."
At the time, many of the freestyle artists were cavorting in negligees and biker shorts on their covers. Being overweight, Deb struggled with self-image and self-confidence. Four years ago, she had gastric bypass surgery and lost 100 pounds.
"Time was an amazing healer," she says. "I didn't do anything wrong. It might take 20 years but something good has come out of it. I'm loving life. I've never been happier. And the truth is out."
Debbie has experienced a tremendous reversal of fortune. She tours regularly for "freestyle explosion" concerts that include artists like Lisa Lisa, Shannon and the Cover Girls. Future aspirations for Debbie Deb include possibly recording with Egyptian Lover and a surprise reconciliation with Pretty Tony. Though they made history, she's aware that his business decisions denied her adequate compensation and dramatically altered the course of her life. She's willing to forgive.
"He knows what he did to me; he took advantage of me being a minor," she says. "He didn't do it to hurt me, he was just making business decisions that benefited him. But he is a genius. I do owe him some credit for finding me and exposing me. Without him, I wouldn't be here talking to you. Was it worth getting ripped off? Yes."
Debbie Deb plays the SJ Gay Pride Festival at 4pm on Sunday, June 11, at Discovery Meadow. Other acts include Betty, the Lovemakers, Lisa Dewey and the Lotus Life, the Cheeseballs and the Ex-Boyfriends. Tickets are $15.
Send a letter to the editor about this story.