June 7-13, 2006
home | metro silicon valley index | silicon valley restaurants | review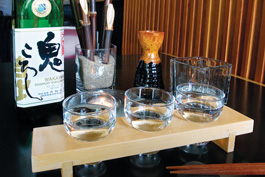 Photograph by Felipe Buitrago
Deal or No Deal?: At Yasu in Japantown, you can trade up for top-grade sakes.
Lost in Translation
How to decode the secrets of sake and find San Jose's best
By Stett Holbrook
IF YOU'RE like me, your first experience with sake was the hot swill dispensed at sushi bars. It's usually bad, headache-inducing stuff. It's served hot because higher temperatures are supposed to mask the inferior taste and body of the sake. If that's the case, it must really taste like bong water when served cold. But hey, when you're eating with chopsticks and wiping your face with a hot washcloth, you go with the flow.
Guess what? It doesn't have to be this way.
Just as Jose Cuervo bears no resemblance to the fine, barrel-aged sipping tequilas of Mexico, there is an entire galaxy of premium sakes that will forever change what you consider sake. The tricky part is finding them. And even if you can find a store or restaurant that sells the good stuff, the labels are in Japanese and offer little guidance about the contents therein.
First, here's a quick primer on sake. It's brewed using special sake-grade rice, water and yeast. Although it's brewed like beer, it's not carbonated (although there are now some premium grade sparkling sakes) and it tastes more like wine. While some sake is good served warm, the best stuff is served chilled.
Among the premium grade sakes, there are three main types: daiginjo, ginjo and junmai. They're distinguished by the amount of rice that is milled or "polished" away. Polishing rice to get at its starchy core removes various compounds that contribute to undesirable flavors and aromas. Generally speaking, the more polished the rice, the finer the sake. Daiginjo is ultrapremium sake and has at least 50 percent of the rice milled away, leaving just a speck of the grain behind. Ginjo has at least 40 percent of the rice milled away, while junmai has 30 percent polished away.
If you can't remember this arcane nomenclature, don't worry. I've come up with a helpful memory device to help. Instead of the daigingo-gingo-jingo hierarchy, just remember "damn good juice." Get it? D.G.J. So when you're looking at a menu or sake label you'll have a basic idea of what's inside.
While daiginjo is generally the most expensive sake, there's a great deal of overlap among the three types and a good junmai can be just as fresh and delicious as a top-of-the-line daiginjo. Generally, junmai and ginjo have a little more body and fruity, semisweet flavors, while daiginjos taste as clean and pure as glacier melt. I think junmai and ginjo sakes are the best matches for food, and daiginjo is best sipped alone. Japanese food is a natural, but foods with lighter, cleaner flavors like fresh shellfish and salads as well as richer foods like foie gras and even bittersweet chocolate are good matches.
In addition to sake's clean, balanced flavors and food friendliness, I love the names brewers give their products. How can you resist sakes with names like "Demon Slayer," "Mirror of Truth" and "Heaven of Tipsy Delight." In spite of these names, Japanese sake brewers do a poor job of marketing their products in the United States. Labels are written in Japanese, so if you're not J-lingual, you're out of luck. Your best bet is to go to a restaurant that specializes in premium sake and has a waitstaff that can make a recommendation.
Sake aficionados got a great introduction to sake at Sake San Jose last month. Held in San Jose's Japantown, the event was a fundraiser for Yu-Ai Kai, a nonprofit senior center in Japantown. It was a self-guided tour with 23 (!) businesses and restaurants offering different samples of sake. If you happened down Jackson Street a couple of weeks ago and wondered what all those happy but slightly dazed people were doing wandering around, that was Sake San Jose. (If anyone sampled sake at all 23 stops, please let me how you got home alive.)
Not all Japantown restaurants serve top grade sake, but one of the best sources for premium sake is Yasu restaurant. Chef and owner Brett Yasukawa offers some of finest sake you'll find in the United States, not to mention a great menu of inventive, modern Japanese food.
One of Yasukawa's favorite sakes is the Hoyo Kura No Hana "Seventh Heaven" ($38 per bottle). It's one my top picks, too. It's got a luscious, almost creamy mouthfeel with rich yet balanced floral flavors. This sake is just dying to wash down a dozen fresh miyagi oysters.
"That just sends chills up my spine," says Yasukawa after tipping back a glass.
Another great source for sake is Kitsho in Cupertino. With its extraordinary list of hard-to-find sushi like pen shell (a giant shellfish), Copper River salmon and the snapperlike alfonsino, Kitsho is a temple for Silicon Valley's sushi cognoscenti. It also has a fantastic sake list.
This spring they're featuring a really special "namazake" made by Masumi ($13 a glass, $52 a bottle). This unpasteurized, undiluted sake is released in the spring instead of the fall and has a bracingly clean, fresh taste with a hint of crisp pear and vanilla. It's off-dry with a finish that goes on forever. And at 18 percent alcohol, it's really potent, too. Speaking from experience, I don't recommend drinking a glass and then going back to work.
Also great is the Nishida "Fountain of Joy" ($12 a glass), a deep, rich ginjo with peach and orange notes that feels like a mouthful of melted pearls going down.
Japanese restaurants like Kaygetsu in Menlo Park, Gochi in Cupertino and Saizo in Sunnyvale that cater to a Japanese clientele rather than the Godzilla-roll-and-tempura masses are your best bets for discovering premium quality sake. True Sake in San Francisco, the first all-sake shop in the States, is the mecca for sake lovers.
While the demand for sake is growing (according to World Sake Imports, an importer of premium grade sake, U.S. imports have doubled in the past 10 years), most restaurants and markets are slow to stock the good stuff.
"I think a lot of places just won't fork out the money for it," says Yasukawa. "It's a shame. Once people taste it, the price is secondary."
---
Gochi 19980 Homestead Road, Cupertino. 11:30am-1:30pm and 6-10:30pm Mon-Fri. 408.725.0542.
Kaygetsu 325 Sharon Park Drive, Menlo Park. Lunch 11:30am-2pm Tue-Fri and dinner 5:30- 9:30pm Tue-Sun. 650.234.1084.
Kitsho 19541 Richwood Drive, Cupertino. Lunch 11am-2pm Mon-Fri and dinner 5:30-9:30pm Mon-Sat. 408.873.1444.
Saizo 592 E. El Camino Real, Sunnyvale. 11:30am-2pm Mon-Fri, 6-10pm Mon-Wed and 6-11pm Thu-Sat. 408.733.7423.
True Sake 560 Hayes St., San Francisco. Noon-7pm Mon-Sat and 11am-6pm Sun. 415.355.9555.
Yasu 211 E. Jackson St., San Jose. 5-9pm Tue-Sat. 408.291.0684.
Send a letter to the editor about this story.