June 7-13, 2006
home | metro silicon valley index | music & nightlife | interview/preview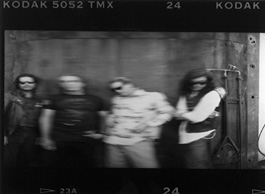 Photograph by Jay Blakesberg
Generic Picture/b>: Flipper had fans in Kurt Cobain, Henry Rollins and Jello Biafra.
Blow'n Chunks
Flipper flagellates the punk rock-spirit once more
By Gary Singh
RE/Search Publications has just released yet another version of the glossy book Punk '77: An Inside Look at the San Francisco Rock N' Roll Scene 1977. It's filled with photos from that era, including ancient shots of Will Shatter, who a few years later would become one of the architects of the notorious San Francisco punk band Flipper. And guess what? A new version of Flipper has been exhumed, and it will dive-bomb the Blank Club on Friday. Prehistoric San Jose punk legends Ribzy will open up.
Music writers have described Flipper with all sorts of hodgepodge terminology—atonal dirge; lo-fi sonic nausea; the lepers of hardcore—and it's all true. During its heyday, Flipper was all about anger, drugs, noise, feedback, insane volume and letting the audience play the instruments. The inhumanity of it all led to the universal tag line: FLIPPER RULES. Basically, the band's music was "grunge" long before a bunch of stoners from Seattle took that word and made a fortune off it. And a famous photo of Kurt Cobain wearing a homemade Flipper shirt still circulates.
My main experience with the band was in 1991. I presented bass player John Dougherty with a bottle of Bushmills at 469 S. Third St., where a bunch of us were partying before the show. The rest of the band was somewhere else. Dougherty was Flipper's replacement for Will Shatter, who had overdosed on heroin in 1987. Later that evening, Flipper played at Marsugi's, which is now the upscale Agenda Lounge. I joined in for the pre-show indulgences (at least the legal ones). Dougherty was making fun of me because I wouldn't do rails of speed with him.
Later at the gig, nobody was in a good condition—the band or the audience. After shooting up in the kitchen, frontman Bruce Loose made it to the stage, and the first thing he did was insult all the opening bands. He then proceeded to bash San Jose throughout the entire show. It was wonderful. Someone in the crowd finally shouted, "You suck!" Then Bruce replied, "How can you say what sucks? You live in San Jose!"
At that point, gobs of spit flew onto him from every direction, and people hurled plastic beer cups from every corner of the bar. I guess you could say it was punk rock. But the band plodded on nevertheless. In fact, a good portion of Flipper tunes can be described as "plodding on," which is precisely why many folks never appreciated the rotgut genius of it all. At the end of the gig, someone from the crowd jumped onstage and joined in for "Sex Bomb Baby," the band's signature droning classic, and it went on for God knows how long. After the show, the booze flowed back at 469 S. Third St. and Dougherty carried on with us into the night. Ironically, that house is now a "registered historic landmark"—a phrase that pretty much describes Flipper as well.
That was 15 years ago, and even then Flipper was past its heyday, but band members were the same stumbling discourteous drugged-out wrecks that they always were and they had a uniquely humorous way of disgracing everybody. Sadly, John Dougherty would later also overdose on heroin, leading to Bruce's famous quote: "We're just like Spinal Tap except the bass player keeps dying." Since just about every '80s punk band that became bored enough to reunite has played at the Blank Club, the time is right for this bunch of cranky old smartasses to fill that place with a sonic racket so preposterous that everyone walks away thoroughly confused and enlightened. And even though Bruce Loose lumbers around with a cane these days, Flipper still rules.
Flipper, Ribzy and Fabulous Disaster play Friday, June 9, at the Blank Club, 44 S. Almaden Ave., San Jose. Tickets are $10 and available at the door. (408.29BLANK)
Send a letter to the editor about this story.