June 7-13, 2006
home | metro silicon valley index | the arts | stage | review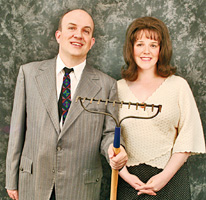 Photograph by Otak Jump
English Gothic: Gerald Seminatore and Rhoslyn Jones negotiate the moral hazards of 'The Rake's Progress.'
A Clean Sweep
West Bay Opera finishes season with triumphant production of Stravinsky's 'Rake's Progress'
By Scott MacClelland
READING W.H. Auden's libretto for Stravinsky's opera The Rake's Progress is to laugh out loud at a cornball melodrama (based on engravings by the English satirical artist Hogarth) rife with over-the-top twists delivered at a rim-shot pace. A Mephistophelean scoundrel (Nick Shadow), damsel in distress (Anne Truelove), bearded lady (Baba the Turk) and ne'er-do-well good guy (Tom Rakewell) are only the leading stereotypes. Enter Stravinsky, a genius musician who managed to conjure up a startlingly original score whose only failing, it must be said, is to obscure Auden's brilliant manipulation of the old poetic rhyme schemes. The best outcome is a melodrama-morality with odd turns and a musical image that strikes an ever-surprising pose between the inane and the exalted.
The other best outcome is a production like the one West Bay Opera just finished at Palo Alto's intimate Lucie Stern Theatre. In fact, it was a triumph when one considers the tough season just concluded in the wake of the abrupt resignation of its general director (amid rancorous finger-pointing over deficit spending) and the decision to go forward with a work that, for all its brilliance, will never rank among the Top 25 most popular operas.
While the Rake moves itself along smartly, it does require adroit production choices by the set and lighting designers and stage director, and indeed, this team came through with great imagination and coordination. Eliding from the scene where Tom beds down with Mother Goose (madam of a London brothel) only to have Anne emerge the following morning from under the same covers was pure sleight of hand. Nevertheless, liberties were taken: Baba was not bearded but only mustachioed, the inmates of the Bedlam asylum were costumed as medical staff and the "treatment" of the finally insane Tom looked more like an electrocution. (I never quite made the connection between Nick's gesture in Act 1—an outstretched fist of one hand with the fingers of the other over his face—as it recurred in the chorus later during the auction scene.)
The orchestra of 25 players was tight and responsive under conductor Mary Chun, etching their numerous cameos, solos, duos and other colorful ensembles crisply and transparently. (If the score is an example of the composer's neoclassical style—which he freely admitted without having been asked—it similarly offers its executants no place to hide.) Likewise, the cast of singing actors formed a taut ensemble. Tenor Gerald Seminatore (Rakewell), a veteran of Santa Fe, Glimmerglass and Chautauqua opera, fought for his high notes early on (Sunday afternoon) but otherwise warmed into the role with ease and dramatic flare. Kirk Eichelberger, well known for leading roles at Opera San José, was vocally and dramatically dominant as Shadow. Soprano Rhoslyn Jones, a San Francisco Opera Adler Fellow and Merola participant, sustained an always-sympathetic Anne Truelove (no small achievement for this ultimately demanding role.) Mezzo-soprano Carla Lopez-Speziale, of Mexico's Bellas Artes Opera and Golden Gate Opera, chewed the scenery with bravura as Baba. Familiar cast members were Douglas Nagel (Truelove), Ariela Morganstern (Mother Goose) and Michael Mendelsohn (Sellem, the auctioneer.)
For its 2006-07 season (its 51st), West Bay Opera will stage Verdi's Macbeth, Tchaikovsky's Queen of Spades and Lehar's Merry Widow.
Send a letter to the editor about this story.