June 7-13, 2006
home | metro silicon valley index | music & nightlife | profile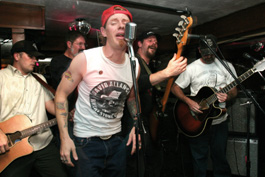 Photograph by Felipe Buitrago
Kick It: The Shitkickers, from left to right: Josh Williams, Murray Bowles, Brian Christian, Branch Benson and Shawn Packer. Julie Freitas is sitting behind them, and as is the lot of many a drummer, is not pictured.
Urban Cowpunks
Even in a city like San Jose, country makes great outlaw music. The Shitkickers have become a local phenomenon by playing their own brand.
By Steve Palopoli
SINCE at least as far back as 1989, when Ice Cube, Dre, Eazy-E and Ren "from a gang called Niggaz With Attitude" took over Los Angeles with Straight Outta Compton, hip-hop has reigned as the music of the American city. You can argue all day about the sociopolitical reasons, but it all comes down to just one real one: it's badass.
In its purest gangsta form, hip-hop is as gritty and menacing as the sprawling cityscapes it comes out of, so why shouldn't it be considered the undisputed winner of the title "urban music," right?
But Texas singer/songwriter Ray Wylie Hubbard isn't having any of it. To him, country music speaks to contemporary urban ills with the same urgency as hip-hop or any other kind of music. As he's fond of saying at his live shows: "We must always remember that Ralph Stanley has killed more people in song than Ice-T."
Hubbard, whose own music hums with citified ambience on songs like "Last Train to Amsterdam," isn't the only one who's noticed the relevancy of bluegrass legend Stanley and other country greats. Johnny Cash is a bigger punk icon than the Sex Pistols. And a whole new generation of modern country artists—who tend to be grouped under the moniker "Americana" or "alt-country" to distinguish them from Nashville pop stars who sing about Brad Pitt—are bringing a progressive country and folk sound to an urban audience that once looked down on the music. A lot of kids who love Wilco had never heard a Woody Guthrie song until the band released the Mermaid Avenue albums of Guthrie covers they did with Billy Bragg. Steve Earle's drug problem was getting as much press as Keith Richards' for several years there. Robert Earl Keen's acoustic song "Blow You Away" was one of the best expressions of urban paranoia in the last 15 years. And from X to the Groovie Ghoulies, it's now perfectly acceptable for a punk band to have a country-band alter-ego.
The Prairie Home Invasion
How this phenomenon got to San Jose is an interesting story. It ends with an acoustic cowpunk band whose second album was called Gunfighter Ballads and Drinking Songs becoming arguably the most popular live band in the city. But the story of the Shitkickers begins before the band did. If you had to pick a moment, you might choose sometime in 1994. That was the year Dead Kennedys frontman Jello Biafra and college-rock wildman Mojo Nixon teamed up for the landmark record Prairie Home Invasion. The name was perfect, putting a country spin on Ice-T's record from the year before, Home Invasion. The album paid tribute to him, too, berating white folks who worship John Lennon but think "Malcolm X and Ice-T had it coming" on a scathing update of Phil Ochs' "Love Me, I'm a Liberal." In general, the record was a powerful mix of country sound and urban concerns, tossing in protest songs, drinking songs, punk attitude and anti-Nashville tirades. It was the most radical record of the year.
Of course, most kids in 1994 were listening to the "modern-rock revolution" of Green Day and Nirvana. If that ever was a real revolution, it was dead before Kurt Cobain's body was found in April of that year. Both were victims of mainstream assimilation.
Two people who were listening to Prairie Home Invasion, though, were future Shitkickers lead singer Brian Christian and guitarist/banjo picker/vocalist Shawn Packer. They were housemates in Santa Cruz and put the album in household rotation for an entire year. Songs like "Are You Drinkin' With Me Jesus," and its lines like "I know you can walk on the water, but can you walk on this much beer?" spoke to them.
"Freakin' brilliant," says Christian. "I love that kind of songwriting. That's how I personally like to write, kind of smart-ass like that."
"That album was huge for me," says Packer, "because Hank Williams was, you know, Hank Williams. Unreachable, untouchable. When that Mojo thing came around with Jello, it was very tangible for me. It's like, there's the singer of the Dead Kennedys, and there's that country beat. They used it, and it was awesome. It had bass and drums and all the stuff that we were used to. We listened to that album every single day."
Later, after they'd come to San Jose, formed the Shitkickers and found a huge following at local clubs, it all came full circle when someone compared their own work to Prairie Home Invasion, specifically Nixon's amazing, angry requiem for 25 people killed in a 1991 chicken-processing-plant fire in Hamlet, N.C., who had been locked in to their workplace by their bosses.
"Somebody left us a comment on our MySpace where they said one of our songs was the best cowpunk song they had heard since 'Hamlet Chicken Plant Disaster,'" says Packer. "That was a big deal to me."
And they even got to play with Nixon. They won't ever forget it, and he probably won't either.
"He played at the Cactus Club," says Christian. "I busted balls. He was a DJ in Memphis at the time, and I got his voicemail number. I was calling him every day, and I got us on that bill. He showed up and was like 'That was you? You son of a bitch! Lose my number!'"
Banjo San Jo
Its members were already established in other San Jose bands when the Shitkickers was born in the basement belonging to District 3 City Council candidate Dennis Kyne seven years ago.
"I lived at his house," says Packer of Kyne. "Me and Brian wrote the songs there, and our first show was in the basement. It was a big-ass party."
"We started out as just me and Shawn, and Julie [Freitas] on drums," says Christian. "We did a show at the Cactus Club, and then went from a three-piece to a six-piece overnight."
"People liked it for some crazy reason," says Packer. "Then we kept playing—we must have had 30 shows in the first three months. OK, that's an exaggeration. But we played a lot."
The Shitkickers' rise on the live scene defied all odds. Not even the band members themselves counted on a cowpunk band—and make no mistake, the Shitkickers were the only one around at the time—lasting in San Jose. If there was some novelty in it for the audience, the band claim that at first they themselves were motivated largely by laziness: playing acoustic meant no loading and unloading gear, for one thing, and they could walk Freitas' drums from her house around the corner to the Cactus Club when they first started out.
"I was in a metal band when this band started," says Packer. "It was a great relief to just sit around acoustically and sing songs about what we were doing, as opposed to writing these big metal ensembles. Huge breath of fresh air for me."
Plus, says Christian, "we could bike to the shows."
Even the addition of the banjo to the band was pretty much a fluke.
"My friend, he used to clean houses after people died who had no relatives," says Packer. "They were cleaning out this old guy's stuff who died, and they were getting rid of everything. This kid who was working there threw the banjo out the second-story window, and it landed and broke the neck off. He picked it up and called me and I went over to his house and picked it up. It was just a mess. I glued it all back together and went and bought strings and a 'learn how to play banjo' book. I almost gave up because I couldn't figure it out, then one day I just kind of got it. But I'm by no means a good banjo player."
But at this point, there's no way the band is giving up on what Packer calls "banjo punk."
"A banjo has that distinct sound," says bassist Branch Benson, "and you take that and mix it with the punk styling or more aggressive rhythms, it sounds cool. It cuts through."
Adds Christian: "I think it was Steve Martin who said: 'No one can be pissed when there's a banjo playing.'"
Roots to the Roots
However dismissive they might be of their country ethos, dig a little deeper and you'll find that all of the band members have a real understanding of and dedication to country music's outlaw traditions. They worship David Allan Coe, one of country's most important renegades.
"My grandparents raised me on George Jones and Marty Robbins," says Christian. "We all remember that from being kids. But we all grew up on punk rock, and we were able to combine it, all the stuff we like."
They also understand the uniqueness of true country songwriting, in that—very much like hip-hop—it's always been an extremely direct way for a musician to communicate with the audience. That, band members agree, is more important than location—San Jose may seem like one of the least likely places in the country to inspire a country song, but it doesn't matter, if you really understand the form of the genre.
"There's an element of us in most of our songs," says Christian. "That one of the things that got us together as a band doing country music."
"It's real," says Packer. "We write story songs that might be funny or whatever, but we mostly try to write about things that we all do. Like, we go to the bar. And people who seem to like listening to us or coming to see us, they go to the bar, too. Or maybe they used to go to the bar. I think any music that's from the heart, or honest about what you do, anybody's going to like it if they're into music. You can add some flair to it, exaggerate here and there, tell some tall tales. Luckily for us, people who listen to us I think really listen to us. They've been able to get around the name—Shitkickers is kind of a joke name and all."
The band are dedicated enough to their sound that Packer and the band's other guitarist, Josh Williams, made a pact that they would never go electric.
"It keeps us honest," says Packer. "It keeps me honest. It's a lot harder to play acoustic guitar. You can play an AC/DC riff on an acoustic guitar, and the power can still come through. It has more of a raw feel to it. There's been times when I was like 'I gotta go back electric,' and the other guitar player gets mad at me for saying that."
Of course, some of the early contrarian idealism did have to fall by the wayside.
"We also said we'd never stand up—we were always going to sit on chairs. And that went out the window real quick," says Packer.
Nobody missed it.
"I was having real trouble singing sitting down," says Christian.
"I wasn't going to sit down and play bass," Benson concurs. "You're not going to have an exciting live show like we do now if you're sitting down."
Indeed, their gigs, while acoustically accompanied, are electric affairs. That punk-rock sense that there is barely any divide between band and audience is in full effect. There is nonstop raising of the glasses, and sometimes the spilling of beer into cleavage. Christian has a stage presence that recalls Danny Elfman's early days with Oingo Boingo—spooky eyes and a matching deep voice that rises out of the band's driving acoustic riffs and shuffling backbeat. It's a unique live vibe that suits the band's maverick sound.
"Metal shows, that's cool when you're young, I guess," says Benson. "When people are getting knocked down and bleeding and stuff, I just don't see that as a good time. But when everybody's doing it and they're laughing their asses off and picking each other up, like we have at our bigger shows, that's my idea of a killer show."
"You can't deny that country beat," says Packer. "The swing beat. You have to tap your foot when you listen to that."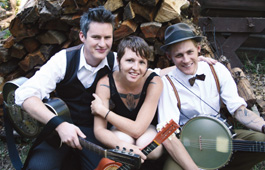 The Devil Needs Wood: From left to right: Pete Bernhard, Lucia Turino and Cooper McBean of the Devil Makes Three.
Country Devils
Another band that understands where the Shitkickers are coming from is the Devil Makes Three, who formed in Santa Cruz a few years ago and play a similar breed of high-energy acoustic folk-country music. They may have a throwback sound, but their sharp riffs have won them a young and energized audience—lately they've broken into San Francisco with regular gigs at the Great American Music Hall.
"The stuff that the Devil Makes Three does is more like a punk band, really," says lead singer Pete Bernhard.
All three of the band's members are originally from Vermont—guitarist Cooper McBean has the state's name tattooed across his neck. But though he grew up in an area that he calls "really damned rural," Bernhard's never written songs in a locale anyone would call classically country. He and bassist Lucia Turino now live in Sacramento, a city that has cows and punks but not necessarily a lot of cowpunks.
"Where I'm at doesn't necessarily affect my writing," says Bernhard. "In the city, in the country, it doesn't really matter. It's the people I'm around. That's where I get my inspiration. There are so many stories to tell."
Perhaps part of the band's success is that, like the Shitkickers, they take an organic approach to the music that comes out of their own experience.
"It's not like 'When I was down ye olde mining shaft,'" says Bernhard. "How could we write a song like that? We don't know what that's like."
The sad truth, of course, is that many people think they do have to shellac on a fake veneer of some kind of stereotype of what country music is supposed to be. Some of the newer names to rise out of the alt-country scene have a pronounced and very annoying affected quality to their delivery.
"One of the things we had a talk about in our band is I don't really allow songs like that to be written. I don't want to be in that kind of band," says Bernhard.
Now that that Devil Makes Three has broken into the big city, he feels even more strongly that the language of the genre is universal.
"I just really like it as a medium," he says. "Folk music and country music to me is the simplest way to say what you want to say."
Bernhard has just put out a solo EP called Things I Left Behind. Looser and more introspective than the work of the DM3, it's reminiscent of Todd Snider and mid-'60s-era Ramblin' Jack Elliott.
"With folk music, it's like 'wherever,'" he says. "Sing a song about where you're at."
Memphis in the Meantime
The Shitkickers also have a new album, Noon's Moonlight, and ironically they did reach back into roots-music history to get it done. Escaping briefly from the city streets of San Jose, they recorded and mixed the album at the legendary Sun Studios, where country and blues became rock & roll. Now, we can all say it doesn't matter where you play country music—and mean it—but even this band was knocked out making music on hallowed ground.
"You know that picture of the Million Dollar Quartet?" asks Christian, referring to the famous photo of Elvis Presley, Johnny Cash, Jerry Lee Lewis and Carl Perkins, who all recorded for Sun and were snapped jamming together on Dec. 4, 1956, at the studio. "That poster's hanging on the wall, with Elvis sitting at a double-decker piano, and that little songbook holder's busted. So I'm looking at that poster, I turn around, and there's the double-decker piano with the busted thing. Total chills, man."
In preparation, the band recorded the album's songs over and over at home.
"When you fly all the way out to Memphis to record 16 songs, you better have 'em down," says Packer.
"You definitely feel like you've got to step it up," agrees Christian. "You're not just going to go in there and bullshit your way through the songs. You've got to give it your all."
And they did, finishing Noon's Moonlight in four days, including a grueling mixing session at the end.
"It's a little tough, because the studio does tours, so you can't even get in there until after 6pm," Christian says. "Then you've still got to set up. So a lot of the sessions would go until 2 or 3 in the morning, and you've got to try to keep yourself from getting drunk or whatever. It makes for a long day and night. We did the mixing in one session—14 hours straight."
The result is a third album that's the best-sounding they've made yet. And while ... Drinking Songs may have had "Whiskey," this record has "Beer N Bacon," "Pacifico Clara," "Bartles and Jaymes," a "Whiskey Haze" and two "Bloody Mary"s, not to mention "I Need a Bottle."
They're using Noon's Moonlight as a springboard for a couple of tours, around Southern California and through the Southwest. And they see some hope for the cyclical local live scene, where they're favorites at the Blank Club and Johnny V's.
"I've only been down here for a few years, like eight years," says Packer. "When I got here, it was awesome, with the Cactus Club and the Usual. Then all of a sudden it went to crap. Now it seems like it's getting better."
"We've always had great support here in San Jose," says Christian. But look out, local fans, Europe is right on your tail. "We are huge in Sweden, actually," he says, and he's not totally kidding. "We've got some friends that bounce back and forth, and they came over with a crew that knew our songs."
"When we play here in town," says Benson, "we just try to put together shows where we like the bands that are playing, whether that's a punk band or metal band or whatever kind of music. Our friends' bands, whether it's Whisky Sunday or Arsenic or the Forgotten or whatever. It usually ends up being a pretty good bill, and the music will vary, which is a little more interesting for people who are at the show. It's not just all wannabe country bands or cowpunk bands or whatever."
Members still divide their time between the Shitkickers and other bands. Packer has two electric bands that he plays in, but he won't play banjo with them no matter how many times they ask him to—and they do.
"That's just for the Shitkickers," he says.
So San Jose's leading country band just might break out beyond the local scene. Which means they have to decide if they're going to keep the name, which has its obvious downside.
"At first it was like, 'OK, Shitkickers isn't the most original name. But I think over the years we've grown into the name and the name has pretty much become us," says Benson. "The style of music we play is only going to go over well with the people that get it, that want to get it, and the same thing with the name. And really, it's not all that bad."
"When they announce our shows on the college station, they have to get creative," says Christian. "The best one I heard was 'Stuff That Comes Out of Your Butt Kickers.'"
Send a letter to the editor about this story.