June 7-13, 2006
home | metro silicon valley index | columns | silicon valley veggie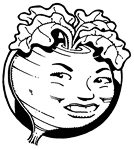 Silicon Valley Veggie
Some Dim Sum
By Elisa Camahort
BEING A vegetarian all of my adult life, I can count the number of times I've eaten dim sum on two ears. Being at a dim sum restaurant with nonvegetarian friends is like being at a sushi bar. Plates of fascinating food pass and while your friends point to interesting choice after interesting choice, you're left with one token vegetarian option, maybe. It's not just the dearth of your options that feels unsatisfying; it's the jealousy at seeing friends presented with so many options.
I have used this column in the past to get over my aversion to Indian food, so I decided that this month I would see if I've been wrong all these years about dim sum. What better place to do it than hip new addition to the Santana Row restaurant factory, Sino? I took along a nonveggie friend who eats dim sum on a regular basis and got ready to be open-minded.
Sino is the brainchild of Straits cafe chef and owner Chris Yeo and the ambience is impeccable. You feel like you're in for a special experience from the moment you walk in. Matching the quality décor, the service at Sino was appropriately attentive, but nonintrusive.
Sino offers an a la carte menu in addition to dim sum, and though neither is heavy on the vegetarian options, I built myself a hearty meal with two vegetarian dim sum options (mixed vegetable and three-mushroom dumplings) and "Buddha's fried rice." My companion ordered seafood spinach dumplings and baked pork dumplings. (All of the other dumplings we tried were steamed.) She also ordered soft-shell crab.
The Buddha fried rice was very good—light, fresh-tasting, not at all greasy. The healthy portion size will end up contributing to three meals for me, well worth the $10 price tag. The dumplings were also fresh and light, albeit not intensely flavorful. Not being a dim sum maven I do question the appeal of a meal comprised of what are essentially potstickers. My friend, the dim sum doyenne, summed up this way: "This was very good, perhaps not the most authentic, but definitely worth visiting if you don't want to go hunting the streets of Chinatown for a better experience." Given that Sino describes its own food as "modern delectable Chinese influenced dishes" (as opposed to dim sum), I'd guess they won't mind not being the most "authentic" dim sum purveyor out there.

Sino, 377 Santana Row, San Jose. 408.247.8880.
Send a letter to the editor about this story.