06.10.09
home | metro silicon valley index | music & nightlife | bars & clubs 2009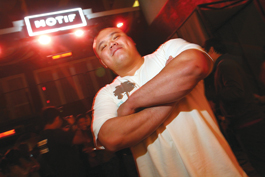 ike Nguyen of Mike and Tribe Promotions has a weekly gig at Motif in San Jose.
Go East, Young Clubber
A burgeoning Asian population fuels the valley's strong club scene
By Garrett Wheeler
IT'S AN off-night at Club Milano in downtown San Jose, but that hasn't stopped a crowd of well over 30 people from gathering inside its spacious ballroom. The club's airy interior looks like a chic Manhattan nightclub, dimly lit and decorated with enormous white balloons and flashing disco lights. Several couples are moving gracefully on the dance floor, gliding and twirling to the beat of a Latin love ballad. Apparently, 11:30pm on a Wednesday night is as good a time as any to visit this Italian restaurant–turned–Vietnamese nightclub—or so it seems.
"You should see this place on a Thursday or Friday night," says Paul the bouncer, a jovial character built like a Spartan linebacker. "That's when things really get going." As the ballad draws to an end, the couples take their seats along a long line of tables placed between the hardwood and an expansive bar.
In the pulpit above the bar, I notice a man operating the lighting effects, which are now pulsating to the beat of an '80s pop song. The crowd itself is an older one, handsomely dressed and professional. Men are clad neatly in slacks and dark T-shirts, while their female partners wear slim cocktail dresses. I watch as one of the couples performs a nifty dance move competed by spin and a dip, all the while maintaining an almost businesseslike poise. Wednesday night never looked so good.
A recent article published in the San Jose Mercury News last month reported that Silicon Valley's Asian population continues to grow steadily despite the fact that a slowing economy and changes in immigration policy have led to a curbed growth in other minority populations. New data presented in the article showed that from 2007 to 2008, Santa Clara County added nearly 18,000 new Asian residents, more than any other county in the nation. And while the South Bay has long been home to a varied array of Asian culture, the popularity of clubs like Milano reflect San Jose's thriving Asian nightlife.
While couples in their 30s, 40s and 50s enjoy the dance-club atmosphere of Club Milano, an entirely different scene is unfolding just a few blocks away at the Temple Bar and Lounge. An oversize facade on the face of building seems to dwarf the interior of this narrow bar, which is tastefully furnished with cherry-wood paneling and the dim glow of candlelight.
An extensive bar runs the length of half the room; in the back a large area is cleared for dancing, but tonight the scene is Guitar Hero, or Rock Band, technically speaking. A few dozen patrons share drinks at the bar while groups of friends take turns playing America's most popular video game. The game is being projected on two large walls for all to see, while speakers blare a familiar tune: Blink 182's "All Small Things." The mixed crowd ranges in age from young 20s to 30s, and for the most part, people are dressed casually. Though the bar's name suggests a dominantly Asian scene, its occupants are a diverse group of Wednesday-night revelers content with a few cocktails and a game of Rock Band.
In a city where Asians make up a third of the population, Asian nightclubs and bars are popular night-out destinations, providing experiences that range from semiformal dance clubs like Milano to laid-back bar scenes like Temple (although it should be noted that Temple does have a dance scene of its own on busier nights), from the high-end scene at Sino Restaurant and Lounge to the now-for-something-completely-different experience of San Jose's busy Vietnamese coffee-shop phenomenon, which manages to combine caffeine and nearly nude waitresses. Whatever your idea of a good time may be, there's plenty to discover within the South Bay's vibrant assortment of nightlife establishments.
Send a letter to the editor about this story.