06.10.09
home | metro silicon valley index | music & nightlife | bars & clubs 2009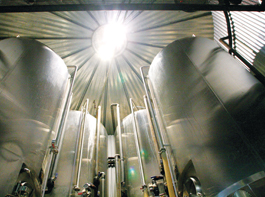 The brewing tanks rise like skyscrapers at the Faultline Brewery in Sunnyvale.
Beer Here Now
The valley is awash in brewpubs that extend our ideas of what beer can be
By Richard von Busack
JUST AS almost every independent filmmaker in America can trace the lineage of their craft back to Cassavetes, almost every microbrewer practicing today can trace their skills back to a tap beer that used to be poured in Menlo Park.
Fritz Maytag, today proprietor of the 100,000-barrel-a-year Anchor Brewing Company, was once a patron at the Oasis Bear Garden in Menlo Park long ago when he was a student at Stanford. After graduation, Maytag revived the moribund San Francisco brewery and turned it into the success it is today. Later, the home brewer Ken Grossman in Chico began his Sierra Nevada Brewery, which turns 30 next year. Buffalo Bill's Brewpub in Hayward started in 1983. Peter Slosberg's Pete's Wicked Ale is another locally originated success story.
No surprise, then, that brewpubs aren't really matter of comment around here. Since the beginning of this new trend in specialty dining more than 20 years ago, the valley has seen an explosion of on-premises brewing. There have been changes and growing pains. The closing of the downtown San Jose branch of Mountain View's Tied House is one more sign of the coming of the rise and fall of local brewpubs. So many places are following ex–Ag Sec Earl Butz's words, "Get big or get out."
Thus many of the brewpubs in the valley are chains. BJ's (two locations, Cupertino and Blossom Hill Road) is a franchise with locations in 14 states. The Rock Bottom Brewery, with 30 outlets nationwide, has a local branch in the Pruneyard in Campbell. The site at the now nostalgically vintage shopping center is a prime people-and-pooch watching spot during the summers. If a beer can be said to be both wet and crispy, the very good Bottoms Up Kolsch fits the description; the Raccoon Red Ale is even more popular. Rock Bottom's cask-conditioned Brown Bear Ale is an emulation of the style that made Newcastle famous.
Now in 27 locations, Gordon Biersch is a local success story. It began brewing first-rate German-style beers in Palo Alto in 1988, available both on tap and (it's an open secret) under contract as a Trader Joe's Brand. The courtyard at Biersch's San Jose location is still one of the best places to watch the waning of a hot Silicon Valley day.
The rising Sonoma Chicken Coop has four local locations, three of them in San Jose; it has also made a success out of a Campbell Avenue spot that was the site of two previous brewpubs. Serving pizza, rotisserie-cooked bird and other quick foods, they're aiming for new venues on the East Coast.
Today, a brewpub has to have food good enough to lure in women as much as the men; no matter how good the beer and ale is, some patrons will want chocolate martinis or a glass of chardonnay.
Take the Faultline Brewery in Sunnyvale, which has a number of attractions: live comedy nights, a full bar and a regular happy hour for the toilers in the local light-industrial parks. The fine location features a patio fountain, a pond, mallards and fat squirrels frisking around it. Like other brewers in the Bay Area, including the Los Gatos Brewery, Faultline has been trying its hand at pumped, cask-conditioned ales that don't have the bloat of gas-powered beer. Faultline's casked-conditioned IPA at 6.8 percent alcohol is a real nice try. Even more ambitious is its cloudy, sweet Belgian Trippel Ale, which at 9.3 is probably the strongest ale made at any local brewpub—unless you count the Sunnyvale FireHouse's excellent Old Volstead Barley Wine, and you can't, because barley wine is a beer, not an ale. With two locations, in Sunnyvale and East Palo Alto, FireHouse has expanded from the demised Stoddard's Brewery in downtown Campbell, taking over a location in the old town strip.
Arguably the most high-class brewpub in the area is the 18-year-old Los Gatos Brewing Company (130 N. Santa Cruz, Los Gatos), vital to the town's night life since it began; this elegant destination pub pours a chain of styles as dark as the Sherman Stout and as light as a pilsner. It, too, has been lately expanding into specialty brews; both cask-conditioned and highly hopped India Pale Ales.
Send a letter to the editor about this story.