06.10.09
home | metro silicon valley index | music & nightlife | bars & clubs 2009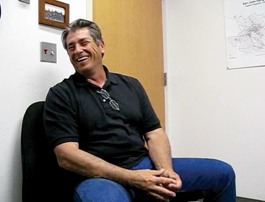 FRIENDLY FORCE: The promotion of Lt. Larry McGrady to head the downtown enforcement unit could mark the beginning of a new era in community relations for SJPD. A video version of the interview with Lt. Larry McGrady appears on SanJoseInside.com.
Club Cop
Lt. Larry McGrady, head of a newly expanded downtown unit, says he and his officers are moving to a new policing model
 AMORE enlightened police strategy appears to be taking hold in downtown San Jose´s entertainment zone. In the past, aggressive law enforcement tactics resulted in large numbers of public-intoxication arrests and lawsuits from club owners and members of the public, as well as packed council hearings, heated public debates over racial profiling and complaints of economic damage to downtown's business community. Faced with community uproar, fiscal issues and political pressure, SJPD seems to have gotten the message.
Late last year, San Jose Police Chief Rob Davis asked 25-year veteran San Jose cop Larry McGrady to take over the downtown. Previously, a cluster of smaller units was tasked with policing garages, controlling cruising and clearing club crowds—often using overtime officers. The merged downtown unit now reports to McGrady, a lieutenant. The entertainment zone head for the past three years, Sgt. Brian Kneis, now reports to McGrady rather than Chief Davis.
McGrady and his superior, Capt. Phan Ngo, hold to a party line that casts the unit's upgrade as an evolutionary step rather than an admission that previous police practices had created a community rift.
"He's done an excellent job," McGrady says of Kneis. "He's done a lot of hard work. Sometimes when you've got hard work to do, you're not the most popular guy in the world."
So far, the personable McGrady has been getting good reviews from club owners, who complained bitterly for years about the unfriendly approach. For McGrady, the key is looking at the "bigger picture" and working "collaboratively" to maintain a downtown that is both safe and viable.
Previous lieutenants visited downtown during incidents and for occasional fact-gathering tours. McGrady is on-site each weekend night and regularly stops by clubs to chat with owners and develop relationships with club security personnel. On a recent Friday night, a security worker alerted McGrady that a departing club-goer had taken a long-stem rose from a flower vendor. McGrady and an officer walked across the street, and the flower thief wound up paying for the rose.
"We can resolve [minor incidents] without taking formal police actions," McGrady says. That will undoubtedly please those club owners who previously felt their customers were being harassed.
"They feel comfortable coming to us," McGrady says about club security. He says he will rely on club personnel to clear sidewalks and deposit drunks in taxis.
"We don't hunt for 647Fs," he says, reporting that public intoxication arrests occur primarily when patrons come to their attention through a fight or other action that they initiated. McGrady points out that entertainment permits require club owners to keep the sidewalks in front of their clubs clear, and to provide security for their patrons. "The officers are there to oversee," he says, "to make sure there is no violence taking place, or interdict when there is an issue of violence."
He adds, "I want to see our people interact with the people there, to talk with them, not just in a negative way but in a positive way."
McGrady admits that he's "a very friendly, outgoing guy" and says, "I talk to everybody. And so I think that rubs off on people sometimes, when they see the lieutenant doing it."
He also professes to be a big fan of downtown.  "It's a great place to be," he says. "It's very vibrant. There's a certain amount of energy that you can't get anywhere else in the city of San Jose."
He recalls that when he started his job, in 1985, there were no families downtown.  "Now you're seeing families, you're seeing couples, you're seeing people walking downtown. Part of it is we also have people living downtown, where in 1985 we didn't. And so there is that change of the downtown that is going on, that we're working to be a part of."
McGrady is a former member of the department's SWAT team, MERGE, and a former undercover narcotics officer with a DEA task force—a position, he agrees, that helped develop his social skills. He was promoted to lieutenant three years ago by Chief Davis.
Since taking the assignment, McGrady has made some "subtle changes to the way we do things." He has sought to improve officer safety by deploying officers in two-person teams, while halving the number of patrol cars on the street. He has also reduced overtime, which saves tax dollars and results in fewer officers standing around on slow nights, which looks bad.
When not watching club personnel herd customers to their cars, McGrady is a "team roper" on his ranch south of San Jose, where he keeps 10 horses and as many head of cattle.
Send a letter to the editor about this story.