06.10.09
home | metro silicon valley index | music & nightlife | bars & clubs 2009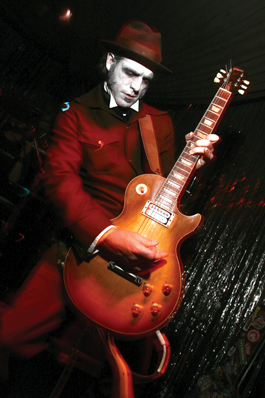 Photograph by Felipe Buitrago
DON'T BURY ME, I'M NOT DEAD! Shawn Packer helps to keep the scene alive in the barely classifiable Suicidal Barfly.
It's Alive!
Policy shifts, changes in policing and a few gutsy gambles are bringing new life to the South Bay's live-music scene
By Steve Palopoli
FOR DOWNTOWN live-music events, Left Coast Live was the biggest gamble San Jose has seen in years. With only one truly big act, Booker T., on which to pin hopes for some must-see drawing power, organizers of the five-day festival banked instead on the idea that if they put live music into 40 different venues downtown, the crowds would come. After locals have been complaining for years about too little live music in the streets of downtown, Left Coast Live packed them with 150 acts. The question remaining was, would anyone actually care, or would all of the worst stereotypes about downtown's supposedly dismal scene prove to be true?
It's no wonder Chris Esparza was nervous. As the man who came up with the Left Coast Live concept a year and a half ago, developing it with South Bay Live and working with hundreds of people in the community to make it happen, he's not ashamed to admit he was sweating it down the stretch.
"In the weeks leading up to it, I thought, 'What am I doing? What was I thinking?'" says Esparza, who has been booking live music in San Jose since the mid-'80s. "We were very worried that we were going to let down the music community—500 musicians, 40 small businesses, music fans. If you can imagine that fear."
The result? A total turnout of more 5,000 people, 1,500 of those for the Monday–Thursday events and the rest for Friday night. By comparison, one visiting organizer from South by Southwest, the Austin, Texas, phenomenon that Left Coast Live emulated, told Esparza that their first festival drew about 700. Within 10 years, SXSW was registering a $100 million impact on the Austin economy.
"We were blown away," says Esparza of the turnout for LCL. "If 5,000 was our first year, what's year five or 10 going to look like?"
There was one important factor in the success of the festival that Esparza couldn't have foreseen when he conceived it: a new optimism about the state of the live-music scene in the South Bay.
"It was good timing," he admits. "Live music is coming back."  
A Music Truce
If the organizers of Left Coast Live were on edge, the crowds were not. That was a noticeable difference for Jeff Evans, co-owner of Campbell's On the Corner Music. A veteran of the local live-music scene since the mid-'90s, he was surprised to find a restrained and subtle police presence, the opposite of the heavy-handed tactics that have been the source of complaints from downtown visitors, club-goers and business owners for years.
"It was exactly how it always should have been," says Evans. "There were police cars, but they weren't blocking the street or anything. People were partying, and they were letting them party."
The shift in police tactics hasn't gone unnoticed. John Conway, owner of Britannia Arms and a longtime advocate for a community-policing model that emphasizes a live-music-friendly agenda and downtown hospitality, credits the new officer in charge of policing in downtown's entertainment zone, Lt. Larry McGrady.
"Lt. McGrady has already implemented some changes. I think he's the real deal," says Conway. "He sincerely cares about what he's doing, and he's trying to do the right thing."
Among the recent changes to downtown policy are last week's San Jose City Council vote to ease off on arrests for public drunkenness—the SJPD made more of them than any department in the country in 2007, and drew charges of racial profiling because more than half of those arrested were Latino. Police blockades have also been eliminated; gone are the patrol cars lining Santa Clara Street on Saturday nights.
Conway says the "shift in mentality" has led to a thaw in the traditionally strained relationship between club owners and police.
"It's not the bars and nightclubs against the cops," he says. "That us-vs.-them mentality is behind us."
Councilman Sam Liccardo also applauds McGrady's work so far. "He believes in community policing, and that's a model that San Jose really initiated as a national model back in the 1980s," says Liccardo. He also credits Lee Wilcox, the downtown coordinator hired several months ago, as instrumental in bringing club owners and police to the table.
The result of all the policy changes, Liccardo says, is an atmosphere that will help a resurging music scene to prosper. He hopes that big pieces like the renovation of the San Jose Civic—a $13 million joint project between Team San Jose and Nederlander Concerts—will fall into place. Since first opening in 1934, the civic has hosted music giants like Bob Dylan, Buddy Holly and the Rolling Stones over the last 75 years.
"When we started looking at the Civic we realized what an extraordinary history San Jose had in live music," says Liccardo. "There's no reason why this can't again become a magnet for both talent and fans. The momentum's there."
Up From the Underground
What hasn't always been there in recent years is the fully developed food chain of venues. When music fans talk about the glory days of the South Bay scene, they usually reference the live-music spots that helped to create a critical mass in their time: Marsugi's, F/X, the Cactus Club, the Usual, Palo Alto's Edge, the Los Gatos Outhouse, Campbell's Gaslighter and many more.
A bit of a feeder circuit has begun to develop again: Los Gatos' Venue books mostly high school and college bands for all-ages shows, downtown venues like the Caravan, Mission Ale House (the new home of Johnny V's impresario Johnny Van Wyk) and the WORKS/San Jose gallery book underground bands from several genres, VooDoo Lounge and Blank Club book both local and touring rock bands, and Mountain View's Shoreline, Saratoga's Mountain Winery and the HP Pavilion jump to mega-acts.
San Jose's Rodeo Club books country shows; Esparza has been booking live music into the renovated ballroom at the San Jose Woman's Club; and Redwood City's Fox Nightclub books some big names as well as lesser-known folk and roots act in its Little Fox theater. Live Nation brings some name-brand alt-rock acts like Modest Mouse to the SJSU Event Center, but overall there seems to be a consensus from all sides of the scene that a midlevel venue along the lines of San Francisco's Fillmore and Warfield is a crucial missing link—and a hope that a restored Civic could provide it.
Fixture music festivals like San Jose's Music in the Park and Los Gatos' Jazz on the Plazz have gotten an infusion of new blood with the likes of Left Coast Live and SubZERO, an offshoot of the tech-oriented ZERO1 festival, which brought two stages of music and 100 artists to the SoFA district last week in conjunction with the successful South First Fridays series.
Meanwhile, a few promoters and business owners continue to feed the scene by providing alternative venues, from Good Karma downtown to Psycho Donuts and On the Corner Music in Campbell. Through his Grand Fanali productions, promoter Eric Fanali is bringing indie bands every week to the Nickel City arcade in San Jose. He has noticed a change in the outlook for live music, as well.
"There was a two-year period between 2005 and 2007 when it was a hard time for the scene," he says. "But there's always a contingent of people into independent art, and San Jose's got the same thing. It's just a matter of mobilizing people."
Coming up in the scene himself in the '90s, Fanali has seen live-music cycle in and out of popularity before.
"It's easy for everyone to say how terrible it is, and not do anything about it. But it just takes a few people. Once it builds, everyone else will jump on."
On the Corner's Evans sees positive changes within the community of local bands, as well. While the scene tends to recede into its core genres at its lowest points, the last couple of years have seen the rise of harder to define acts like the Mumlers and Suicidal Barfly.
"I think with bands like the Mumlers, it's kind of opened the door, where it's OK not to be just a heavy band, or a rap group, or a punk band. Now it's kind of just wide open," he says. "There's a lot more variety, and that's leading to renewed interest. You have a chance to draw more people in, because it's not just one style that's taken over."
Clubs Step Up
Meanwhile, changes on the club circuit have the potential to shake up the scene, as well. VooDoo Lounge, initially building on San Jose's strong rockabilly and metal scenes, has been nabbing national acts this year, and plans to step up its booking even more.
"When we were first dealing with the booking agencies, they thought San Jose was a dead market, so they wouldn't give us anything," says VooDoo's general manager Matt Crudo. After bringing in the likes of the Rev. Horton Heat, the club has upcoming shows scheduled with David Allen Coe and the Supersuckers, two artists who would have previously played San Francisco but skipped over the South Bay.
"We're building a good relationship with these national acts," says Crudo. They leave happy, even if they don't usually play a venue this small."
Van Wyk is also making big changes, ending the six-year run of his bar Johnny V's after both his lease and his entertainment permit expired, and his rent seemed too high for the current market. As his closing blowout party for Johnny V's on June 28 approaches, he has taken over as general manager at Mission Ale House, where he has already had as many as three stages going at the same time.
"I can book bigger bands, and I've got more room to play with," says Van Wyk. "I'm bringing in the Johnny V's concept, mixing it in with what they do. Now I can put death metal over here and hip-hop over there and see what happens."
Van Wyk believes the live-music landscape has gotten more eclectic, but that it's still a core rock & roll fanbase—the one that brought up top local bands like the Shitkickers—that drives the scene and can make or break a show some nights. "That Caravan/Cinebar crew—they're strong," he says.
And while fans are turning out, Van Wyk says the state of live music is still sometimes anybody's guess. "It's night by night," he says. "You get three good bands on a bill, you know you're going to have a good night. But it's not a guaranteed home run by any means."
The general consensus about the South Bay music scene is that it has turned a corner thanks to a big push from the likes of Esparza, Fanali and small businesses; supporters in high places like Liccardo and Wilcox; and a new spirit of cooperation from city officials and police. "We're not there yet" is a common refrain, but the conspiracy theories about an anti-fun agenda have largely been replaced by cautious optimism, and even surprise that live music has made so many gains during one of the worst economic crises in modern history. Conway thinks it's the start of something big.
"The more we can facilitate live music, the more diverse crowd we can draw," he says. "I've never been as optimistic about the future of downtown San Jose. We need people to take another look."
Send a letter to the editor about this story.