06.10.09
home | metro silicon valley index | music & nightlife | bars & clubs 2009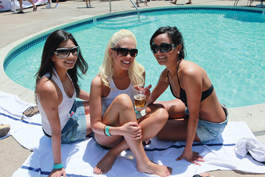 The opening day at Detox drew an enthusiastic crowd of sun lovers.
Wave Forms
Pool parties bring the water to the people
By Andrea Frainier
HOT SUMMER DAYS in the South Bay encourage a hint of exhibitionism. The beach isn't always an option, given the layer of fog that often settles over Santa Cruz just about the time school lets out. That seasonal weather pattern helps explain the burgeoning popularity of pool parties. Infused with the spirit of an MTV spring break, these poolside gatherings feature DJs, club music, cocktails and plenty of tanned, toned, bikinied bodies.
Returning for a second season is Detox Sundays at the Doubletree Hotel in San Jose. Modeled after the Rehab Sunday pool parties hosted by the Hard Rock in Las Vegas, Detox Sundays are touted as a cure for the Sunday blues, giving patrons the chance to detoxify the mind, body and soul while lounging poolside and sipping cocktails. Local DJs spin sizzling beats, and VIP cabanas and tables are available (for an added fee) for guests who demand a bit more attention. While Detox Sundays may not be as star-studded as the soirees in Sin City, they do sell out—several hundred people attended its season opener on May 24 (which was held at the Clarion Hotel). Detox Sundays take place the last Sunday of each month through September, starting at noon and ending at 8pm; the cover is $20. The Doubletree Hotel also offers special room packages for patrons who wish to spend the night.
Skin, Club Wet's answer to Detox Sundays, debuts this Sunday at the rooftop pool at the San Jose Fairmont Hotel. Similar to Detox Sundays, Skin brings the beats, drinks and VIP cabana and bottle service to the pool—all guests need to do is suit up (sorry, birthday suits are not allowed). For its grand opening, DJs As-Is, Slick-D and Hellamiles plus headliner DJ Fashen will be spinning club hits, while guests snack on free appetizers and work on their tans. The soiree begins at noon and will go late into the evening. Those wishing for a private patio and entrance to the pool can reserve a cabana bedroom or suite. Wet will continue the parties the first Sunday of the month through September. 
Send a letter to the editor about this story.