06.10.09
home | metro silicon valley index | silicon valley restaurants | review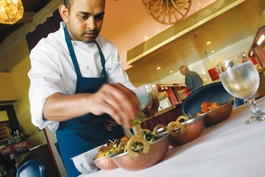 Photograph by Felipe Buitrago
THE HANDS TELL A STORY: Chef Rajesh Selvarathnam puts the finishing touches on a Spicy Leaves special.
Spicy Leaves Indian Restaurant
Los Altos dining spot serves a tasty range of Indian and Sri Lankan dishes
By Stett Holbrook
THE OBSERVANT reader will note that just two weeks ago I wrote about the South Indian restaurant Saravanaa Bhavan, and now here I go again with another Indian restaurant, Spicy Leaves. Generally, I try to put a little more space between restaurants serving the same kind of cuisine, but the food was so good at this new Los Altos restaurant that I didn't want to wait.
I read about Spicy Leaves on Chow.com and was attracted by what I heard were the restaurant's Sri Lankan specialties. As far as I know, there are no Sri Lankan restaurants in Silicon Valley, so I was keen to sample its wares.
The 2-month-old restaurant is an upscale-looking place with colorful, flowing fabric hanging from the ceiling and plush, comfortable seating. While the owner and one of chefs are from Sri Lanka, there are only three items on the menu from the island nation. The rest of the menu trots all over India from north to south. Oh no, I thought, another scattershot restaurant that's seeking to please everyone by offering a little bit of everything. Jack of all trades, master of none, etc., etc. Turns out, my fears were unfounded.
Two of the three Sri Lankan dishes were very good, especially the fiery chicken-curry drumsticks ($13.95). While the salt level was a bit too high, the thick tomato- and onion-based curry that covered the juicy chicken was superb. I also really enjoyed the wattalappam ($4.50), an uncommon, flanlike dessert made from coconut milk, honey and cashews that offers a break from the same old gulab jamun and halwa that dominate Indian dessert menus. Although the light and creamy texture of the dessert resembles flan, it's not made with eggs.
The Sri Lankan fish cutlets ($5.95) were not as memorable. Made with mackerel and potatoes, the little fritters were served with a spicy-sweet tomato sauce that was nothing special. But elsewhere on the menu, I found several other regional-dish standouts. The Goan scallops ($16.95) come from the tiny southwestern state of Goa. The delicious fat scallops are slathered in a shimmering, delicately spiced curry based on long-cooked tomatoes and onions. The sweetness of the shellfish is good match for the rich sauce.
Spicy Leaves offers an array of tandoori meats, and one of the best is the North Indian reshmi tikka ($10.95), intensely spiced kebabs of minced chicken blended with cilantro, cashews, onions and saffron. The chicken is rubbed with an aromatic yogurt- and ginger-based marinade and blistered a beautiful golden brown in the tandoor oven.
Chicken korma ($12.95) is a Indian classic dish that's particularly creamy and rich here. Made with a luxurious cashew-based sauce, it was comforting and satisfying. Bhindi masala ($9.95) was another of my favorites. While the advertised green mangos were really quite ripe, the combination of sweet and salty flavors and the blast of dry spice aromatics were great.
I've never encountered pumpkin and carrot soup ($3.50) at an Indian restaurant, but it was great here, silky, creamy and delicate. I almost passed on an order of daal, but I'm glad I didn't miss the yellow daal ($8.25), a trio of lentils simmered with the distinctive flavor of curry leaves and tiny dried chiles. It was quite spicy, but the richness of the lentils helped round it out.
One of the strengths of Spicy Leaves' menu is the delicious flatbreads. There's the regular lineup of naan, which is quite good, but what really stood out were some lesser-known breads like the ajwain lachha paratha ($3.95), a light and flaky North Indian bread sprinkled with ajwain seeds, an aromatic seasoning with a flavor similar to caraway seeds.
Best of all was the outstanding Peshawari naan ($3.95), fresh and hot naan glazed with honey and butter and layered with cashews, raisins and dried cherries. It's too sweet to eat with your meal, but save it for dessert and a cup of chai. It's outstanding.
What's up for next week's review? I can't tell you, but I'm reasonably sure it won't be another Indian restaurant. But then again if I find another ringer of an Indian restaurant like Spicy Leaves it just might be.
---
Spicy Leaves
Address: 4546 El Camino Real, Los Altos.
Hours: 11:30am–2:30pm and 5–10pm daily.
Phone: 650.948.9463.
Cuisine: Indian.
Price Range: $8.95–$27.95.
Web: spicyleaves.com.
Send a letter to the editor about this story.