06.10.09
home | metro silicon valley index | movies | current reviews | dvd review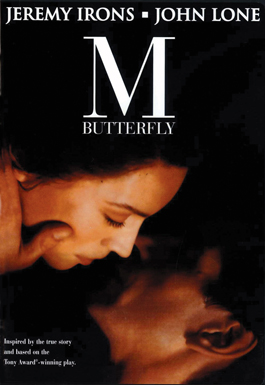 M. Butterfly
One disc; Warner Home Video; $19.98
By Richard von Busack
"We can always fool a foreigner," is supposedly a common Chinese saying. When the foreigner is ready to be deluded, as is Jeremy Irons' Gallimard in M. Butterfly, director David Cronenberg's 1993 adaptation of David Henry Hwang's play, the job is halfway done. Gallimard is a naive embassy employee in Peking during the Cultural Revolution. He is possessed of poisonously romantic notions, particularly of Puccini's suicidal heroine Madame Butterfly. When Gallimard meets Song Liling (John Lone), a transvestite diva of the Chinese Opera, he projects upon him a pulp fantasy of Oriental love, a fantasy of absolute passivity, of yielding up under the irresistible pressure of a Western man. But nothing is as it seems in this situation, and the diva is not even a woman. Tangled in a web of erotic longing and espionage, Gallimard is destroyed by a love of his own creation. His downfall is summed up by Song—who would know better what a man would want in a woman than another man? Cronenberg hits all of the salient points in Hwang's play about the distorted view of Asians that causes Europeans to see them as children secretly craving a display of power. He also provides a brilliant and tasty critique of obsessive love, right up to a memorably frightening ending when Gallimard gets his wish and becomes a horror-clown version of his own imago. This release (part of Directors Showcase: Take Four, a revival DVD series from Warner) includes a recent interview with Cronenberg about the making of the film. Interestingly, Cronenberg draws an unexpected line from his earlier, horror-seeped movies, like Dead Ringers, to M. Butterfly, commenting that he has always been interested in questions of identity and groups that create their own reality. He also stresses an important point about the film's structure, noting that the audience is not meant to be deceived about Song's gender, only Gallimard is.
Click Here to Talk About Movies at Metro's New Blog
Send a letter to the editor about this story.