06.10.09
home | metro silicon valley index | music & nightlife | band review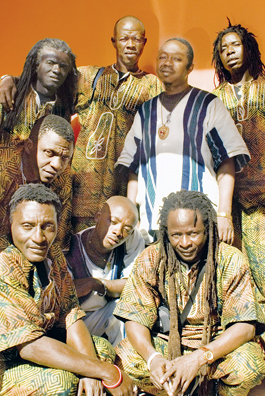 FREETOWN SOUNDS: Sierra Leone's Refugee All Stars provide some musical optimism about the dire conflict in their home country.
Music in the Park
By Garrett Wheeler
THIS WEEK'S edition of Music in the Park brings Sierra Leone's Refugee All Stars to town. Less than a decade ago, Freetown, the capital of Sierra Leone, erupted in violence as the West African country's bloody civil war tore through the city, leaving thousands of refugees in its wake. Among those displaced by the conflict were Reuben Koroma and Francis Lamgba. The two musicians met at a refugee camp in Guinea, West Africa, and began playing together, often performing for their fellow camp residents. The situation in the camp quickly disintegrated and forced the refugees to flee to a new site set in the remote Guinean countryside. At the new camp, a Canadian aid organization provided a few beat-up electric guitars and a rusty sound system to the growing collective, which now included Black Nature, a teenager with a love for hip-hop, as well as vocalists Abdulrahim Kamara and Mohamed Bangura.
As a vibrant blend of traditional West African song, roots reggae and rock-tinged rhythm and blues, the music of Sierra Leone's Refugee All Stars offers listeners a diverse artistic experience rich in melody, texture and culture. At the heart of the Refugees' sound is a pulsating optimism that burns bright in the face of unfathomable adversity. Beautifully amalgamated arrangements seem to float directly from the heart, with lyrics that evoke hope, courage and the need to stand up for peace at any cost. No song greater embodies this struggle than the groove-laden title track "Living like a Refugee," which recounts the hardships of life in a refugee camp while simultaneously anticipating a positive future. In Sierra Leone's Refugee All Stars, the human spirit is a symbol for the ability to effect change not only in Africa but across a world in which oppression and cruelty continue to roam.
THE REFUGEE ALL STARS play MUSIC IN THE PARK on Thursday (June 11), 5:30–9:15pm, in Plaza de Cesar Chavez in downtown San Jose. Free. (Full Disclosure: Metro is one of the sponsors of the series.)
Send a letter to the editor about this story.